How do you know which is the right jacket while going for hiking or skiing? After doing a thorough research, the ones you are going to read about in our article proved to be the best for women.
Additionally, the article also focuses on tips for buying the best hardshell jacket for woman, as well as the features to look for and functions that make them worthy of your consideration.
Let's face it, buying such jacket is not something you do so often since they cost a small fortune. To purchase a highly versatile jacket that can manage to offer you comfort while on outdoor adventures, you will need to carry out a thorough research.
To make it easier for you to pick the perfect one for you, we've done all the research and it is only up to you to discover how to recognize the perfect one, and to pick it.
A Few Questions You Need to Ask Yourself Before Buying
Like with everything else, before buying a product, there are some questions you need to ask yourself to make sure you really need that product because you don't want to spend money on something that will just collect the dust. The same goes for hardshell jackets, and here are the most important questions:
Do you really need a hardshell jacket?
This question can be clarified depending on where you live and what activities you are involved in. Hardshell jackets are usually manufactured to keep you protected from harsh weather such as a hailstorm, ice, sleet, snow and harsh wind.
Besides keeping you warm, they are also manufactured in such a way that you won't sweat while wearing them.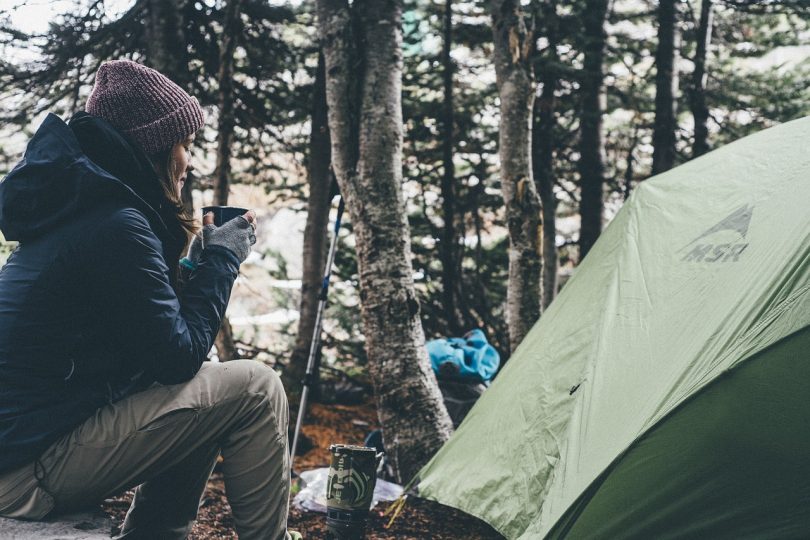 With such capabilities, you can bet you will need to break an arm and a leg to purchase one. You can get some going for around three hundred bucks, while others cost as much as seven hundred dollars. Fortunately, they last for up to ten years or more and hence worth your investment.
Should you go for the alternative rain jacket?
Before buying a hardshell jacket, it is important you ask yourself if a rain jacket can serve the purpose. In case you have no plans of visiting a place with extremely wet and sloppy weather, then the latter will do just fine. When new, both jackets are equally water resistant, the difference comes in breathability and durability.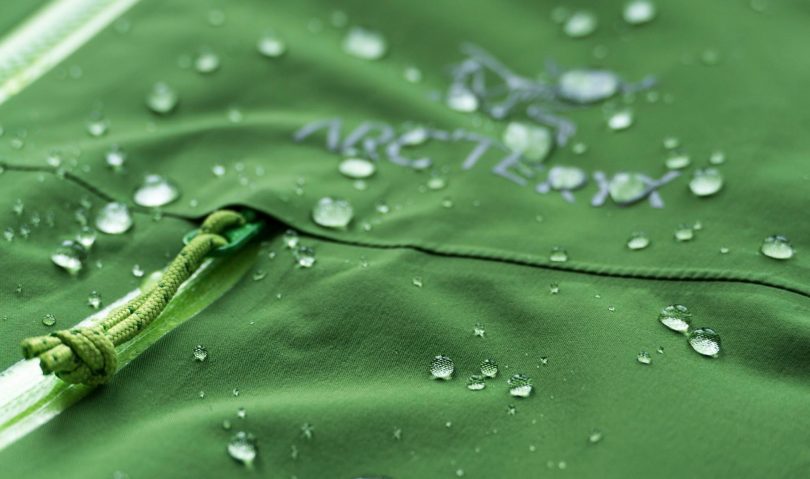 Hardshell jackets are made with more durable materials and use technology that improves on their breathability for a long time. The type of weather should dictate the choice of the jacket you purchase. Again, if you are looking for breathability, then a hardshell jacket should be your first choice.
How much money are you willing to spend?
Again, as with any other quest for a certain product, you need to know how high your budget is. Once you know how much you are willing to spend on a jacket, it will help you in narrowing your choice, meaning you will not waste time on looking at the models that are out of your reach.
Fetaures to Consider Before Buying a Hardshell Jacket
When buying a hardshell jacket, you need to know what are the features that make it so special, so that you know if the model you are looking at is worth the money you are about to spend on it. Therefore, we will help you again and give you an insight in the features that make a hardshell jacket the best.
Each hardshell jacket is made with the strongest fabric which is further enhanced by highly innovative and waterproof membrane to ensure durability. To achieve this, each jacket comes in three layers, each serving a unique purpose as we are going to see.
Outer layer
Waterproof breathable membrane
Inner layer
The Outer Layer
The outer layer is what you see on the outside of the jacket and is usually made of either polyester or nylon, closely woven together to provide durability. Different jackets differ in fiber thickness and tightness hence the different qualities.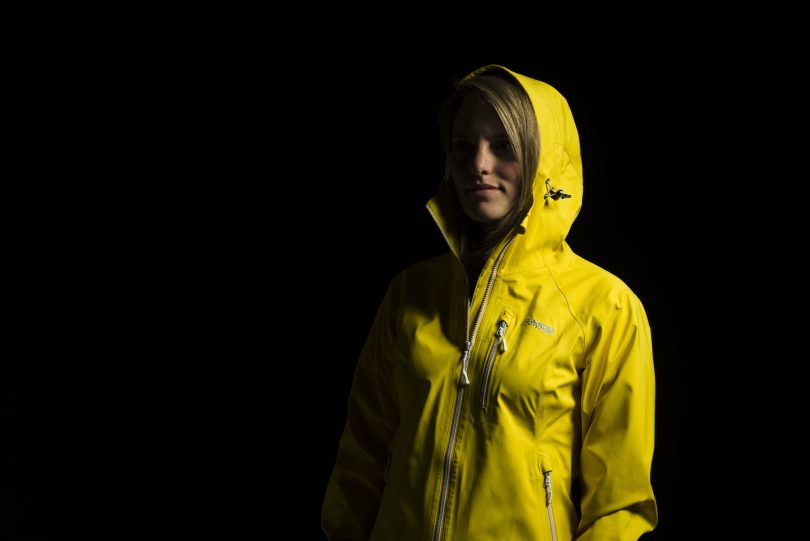 Additionally, the outer layer different with a durable water resistant, chemical (DWR), which prevents water from penetrating. This chemical causes the water to bead up and fall off once it comes in contact with the jacket.
Waterproof Breathable Membrane
This layer is sandwiched between the outer layer and the inner layer and has both waterproof and breathability features. To achieve these two, the fabric, making it is woven tightly such that water droplets cannot penetrate. At the same time, it has tiny holes which nothing can pass through other than water vapor.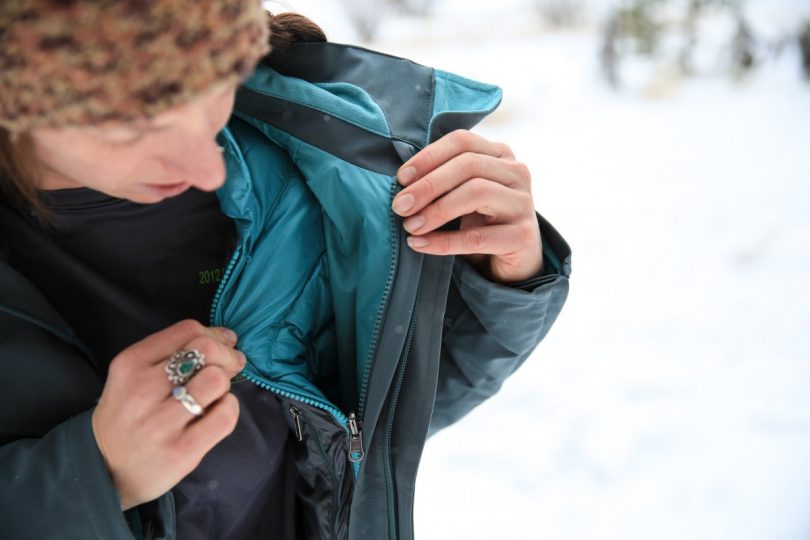 The Inner Layer
The main importance of this layer is increasing durability by protecting the jacket abrasions and body oils. Other functions of this membrane include wicking away the body moisture away from the body. It also helps in reducing the friction allowing the inner garments to move freely.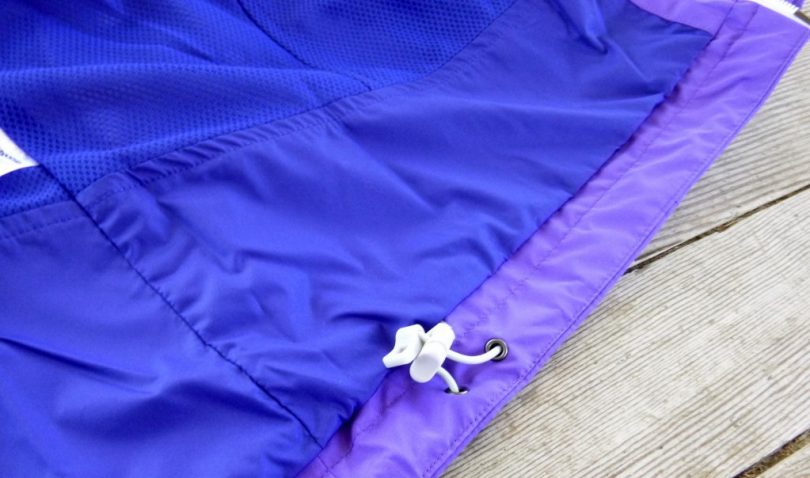 Wrist Enclosures
Wrist enclosures are important since you can adjust them depending on your wrist size. Most of them come fitted with Velcro. However, you need to check the quality since some do not stick well, while others are too bulky. When checking for this feature, ensure that it shrinks enough to fit on your wrist.
Pockets
Pockets come in handy when you want a place to hold some of your small sized items. Hardshell jackets come stuffed with pockets in various places such as side, interior, hand, breast. Still, others come zipped with waterproof zippers.
The most important thing when comparing pockets of various jackets are access convenience. The breast pocket, for instance, is suitable or crossover access while the inner unzipped pocket is suitable for storing bulky items such as gloves.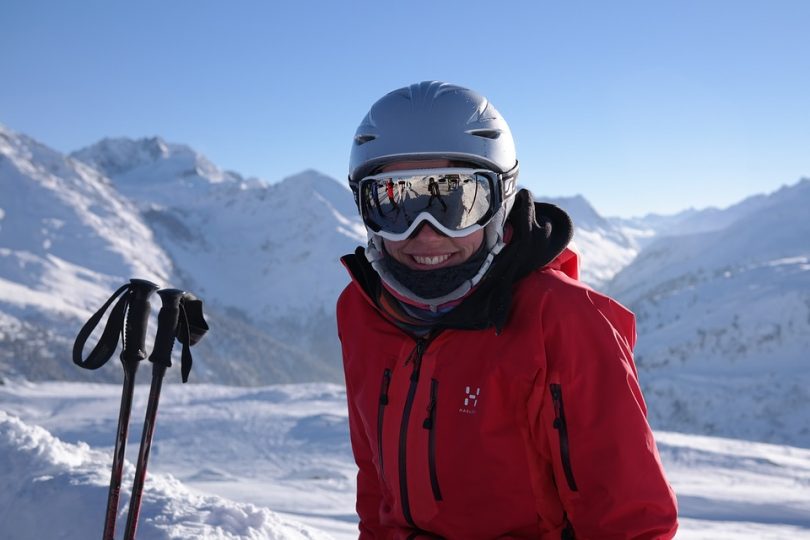 Draw Cords
Almost every jacket has a draw cord to tighten up the face opening. The difference comes with the placement of the pull tab. Jackets which have the tab placed outside are easier to use than the one placed inside as they require unzipping every time you want to adjust. The size of the buckle also matters a lot. It should be medium sized to ensure it is easily used while wearing gloves.
Collars
A collared jacket is important when it is cold or storming. A good collar should ride easily up to somewhere under your nose. It should not be too tight to the extent of minimizing the movement of your head in any way.
Pay more attention to this feature when choosing your hardshell jacket and ensure it is fitted with a micro-fleece lining to prevent chafing your face.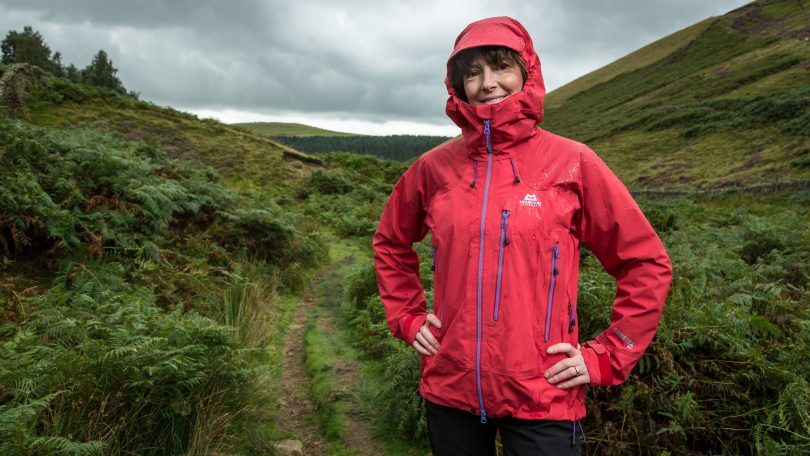 Zippers
All jackets come with a zipper with most of them being tight and waterproof. You can still make a comparison by checking whether they are two way or not. Two-way zippers are better than one way as you can easily access the top of your pants and also enhance venting.
Getting a good hardshell jacket can be a tricky task as you are focusing on desired features while at the same time you are looking at the price. This review should help you deduce which jacket meets your expectations regarding both price and features.
Reviews of the Best Models on the Market
Arc'teryx Beta AR
Product Dimensions: 16 x 11 x 3 inches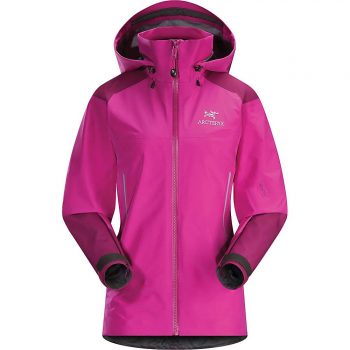 Weight: 1.4 pounds with a shipping weight of 2.6 pounds.
Features: helmet-compatible drop hood, fully taped seams, Gore-Tex Pro, underarm zippers, lifetime manufacturer warranty.
Best Use: Skiing and snowboarding.
Description: This durable, lightweight, and easily packable Arc'teryx Beta AR hardshell jacket, is made with Gore seams to help keep off the cold air while at the same time maintaining breathability.
Use of laminated zippers further enhances the weatherproof ability. The N80P-X Gore-Tex Pro ensures maximum durability of the jacket without affecting its weight.
The underarm vents are laminated to ensure smooth and hassles opening. They are also fitted with gussets which increase the jacket comfort. The jacket further features a collar and drop hood sports laminated brim to prevent vision blurring when it's raining. The Arc'teryx women's beta-AR jacket gives you confidence every time you are outdoors.
Ugly Frog 1662
Sizes: From S to XXL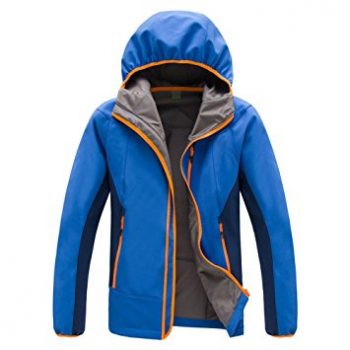 Features: Made of polyester, Fashionable color, smooth and soft polar fleece, highly durable, ability to maintain warmth even after being washed severally, scratch resistant, and windproof, fluffy and with good elasticity.
Best Use: Mountaineering, walking, skiing, drifting, and leisure activities.
Description: The Ugly Frog 1662 hardshell outer fabric is made of lotus leaf which improves the jackets waterproof ability. Additionally, it actually exhausts gas, sweat ,and heat, to keep you cool when wearing it.
The high-quality strong fabrics prevent scratching and anti-laddering, while the double stitch technology further enhances the jacket details and durability.
Considering it is available in different sizes, you need to be careful when choosing the right size. Make sure you know your exact size before ordering, this way you will minimize the chances of getting an unfitting jacket. The jacket also has the advantage that it is available in different colors, therefore giving you an opportunity to match your taste.
Related: If you want a jacket from the same manufacturer and with same functionalities, but want diversify in colors, you can try Arc'teryx Atom LT.
ZeroXposur Maxine 
Features: 100% polyester, repels both wind and water, suitable for machine wash, offers a lot of comfort and maximum protection against moisture penetration.
Best Use: Running on chilly mornings
Description: The inner fabric of the ZeroXposur Maxine jacket is somehow not slippery and therefore calls for the wearer to hold the sleeves of their shirt to avoid rolling over as they put it on.
The double zip enhances the design when at the same time improving the jacket's ability to keep you warm.
If you compare the features it offers and its price, then you would conclude that it is worth every penny. The jacket is available in different sizes; you only need to pick the one that fits you.
Related: If you feel like diversifying, you can try ZeroXposur Sandy jacket by the same manufacturer.
Marmot Precip
Weight: 11.4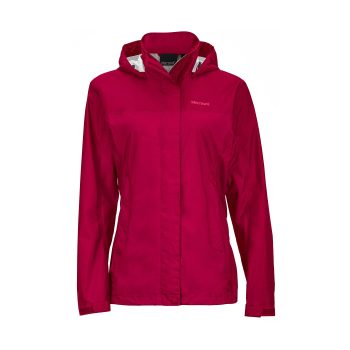 Features: 100% Ripstop nylon, fully seam taped, adjustable roll-up zip, breathable, and waterproof.
Best Use: Hiking
Description: The Marmot Precip jacket is a perfect choice for protecting yourself from perspiration while at the same time your perspiration from the breathable material. It is designed to protect you from moisture while going on a trail during the wet season.
It is fully seamed, which ensures that rain drops don't find their way into your inner clothing. Additionally, it is fitted with a microporous Nanopro membrane with microscopic pores with DRW, which help keep off water drops and let perspiration out.
It is also durable, compressible, and a lightweight, it has a DryTouch which finish which gets rid of the skin condensation which otherwise leads to a sticky feeling. It has a pit zip which allows you to release heat buildup during intense hiking expeditions. It also has a drawcord hem with hook-and-loop adjustments.
Related: This jacket would match perfectly with Marmot 46240 Precip pants.
Mountain Hardwear Torsun
Weight: 461grams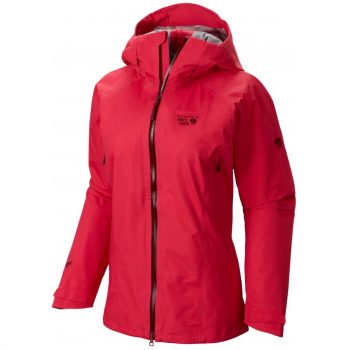 Features: It's made of Dry.Q Elite 3L fabric with 100 percent fabric, features two zipped hand pockets, asymmetrical hook, and loop adjustable cuffs, air permeable, wind and waterproof.
Best Use: Mountaineering
Description: The Mountain Hardwear Torsun jacket women's utilizes a Dry.Q Elite fabric, which is three layered to provide you with maximum protection from wind and rain. At the same time, the material are expels perspiration hence keeping you dry all the time.
The asymmetrical hook and loop are crucial in sealing out drafts and cold spots while at the same time keeping the back of your hands protected. This jacket is also highly articulate, a feature which enhances mobility during alpine climbing.
It also has a three-way adjustable helmet compatible hood which has a wire brim to hold it in shape. Additionally, the zipped hand pockets prove useful in securing your valuables.
Outdoor Research Clairvoyant
Dimensions: 21 x 18 x 2 inches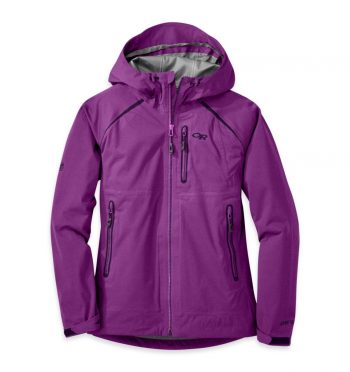 Weight: 1.5 pounds
Features: Gore-Tex active technology, two large meshed pockets with waterproof zips, small chest pockets, helmet compatible hood, Velcro sleeves, soft fabric with a matte appearance.
Best Use: Backpacking and cold water skiing
Description: The Gore active technology used for making the Outdoor Research Clairvoyant jacket , makes it totally breathable and waterproof.  The two large pocket are meshed to further enhance the ventilation of this jacket.
The smaller chest pockets are earphones compatible and are perfect for storing other items. Although the zippers are waterproof, it is necessary to take extra caution when storing anything in the pockets.
The Velcro sleeve have ample space to allow easy use while wearing gloves. Zippers are also large enough for easy handling while wearing gloves. is of high quality material with its durability giving you years of service.
Related: Outdoor Research Aspire jacket and Outdoor Research Revelation jacket can play similar functions as this one.
The North Face Resolve
Product Dimension: 13 x 9 x 3 inches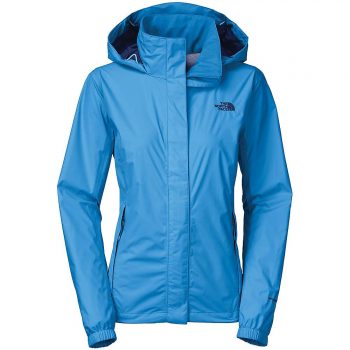 Weight: 2 pounds
Features: Waterproof seams, sealed and breathable, adjustable hood stow in the collar, mesh lined, two zipped side pockets, brushed chin guards, hem cinch cord, center zip closure with a Velcro closure.
Best Use: Climbing, casual wear, hiking and climbing.
Description: The North Face Resolve jacket is a suitable choice for both hiking and works weekends during the wet seasons. It uses DryVent a 2L fabric which is both breathable and waterproof hence keeping you comfortable even during heavy showers.
It also features a hood stowed in the collar giving you a refined look when walking in the street. The center zipper has a Velcro closure for protecting you from the wind and leaks when it's training. The interior mesh acts as buffers between your under layers and the outer fabric.
Related: You can also try out The North Face Venture jacket and if you hike a lot with your love, surprise him by presenting them with The North Face Resolve jacket.
Angel Cola KM3C02
Sizes: From XS to M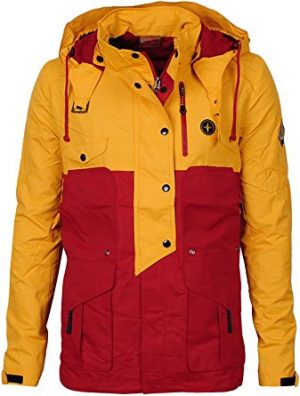 Features: 100 percent polyester, removable hood, drawcord adjustable hem, waterproof fabric, adjustable cuff tabs
Best Use: Cold weather hiking
Description: The Angel Cola KM3C02 rain jacket is highly waterproof and warm, making it a suitable choice when hiking in wet and cold areas. With two sides zipped pockets, you can securely stuff your valuables.
The hood is removable, adding convenience when it's not too cold to need a hood. Velcro sleeve makes it easy to adjust and also the Velcro is large enough for easy use when you are wearing gloves.
Related: If you love quilted jackets, then you need to check this Angel Cola ACJZPV005 long vest still by angel cola.
Arc'teryx A2B Commuter
Features: N40p Gore-Tex fabric, 3L technology for maximum breathability and waterproof, shaped hood, back hem, cuffs has integrated stowable reflective surfaces, fit and articulate.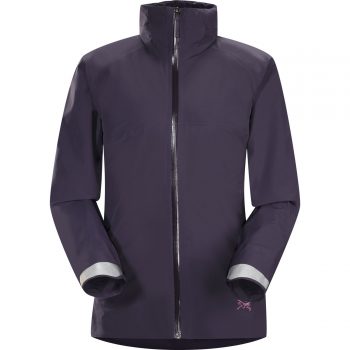 Best Use: Cycling
Description: The articulation of Arc'teryx A2B Commuter hard shell is designed for cycling in rainy urban areas. The elbows are articulated, while the underarms are gusseted to ensure maximum comfort while you are peddling.
The N40p Gore-Tex fabric helps toss off the water when at the same time it is highly breathable and waterproof. The StoowHood perfectly fits under your helmet when the showers are heavy and stay out of your way on mild days.
Additionally, the jacket has two side pockets for securing your phone and wallet. The cuffs and back hem are fitted with reflective bits which enhance visibility, but they entirely hide when you get into a building.
This jacket is easily folded and can fit in a messenger bag making it convenient since you know how unpredictable the weather can be.
Related: You can also try out Arc'teryx Atom AR which has a DWR finishing.
Wrapping it up
When it comes to hiking and involving in outdoor activities, there is no such thing as bad weather, just poor choice of gear. With reputable gear to protect you from harsh weather elements as those discussed above, you have no excuse for having bad gear. The most important and common thing about these jackets is that they will keep you dry, warm, and they weigh less on your luggage.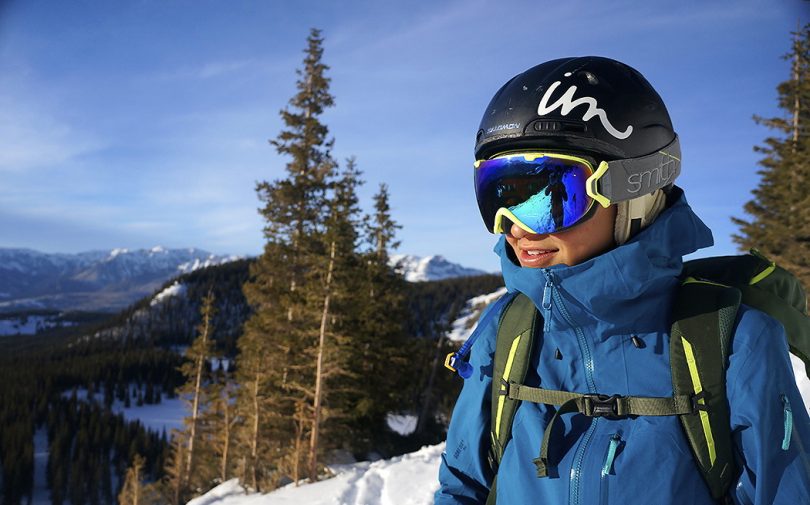 Now that you know which features make these jackets worthy of your consideration, we hope that you will make the right choice and buy the one that is perfect for your needs.
At the end, if you found our article useful, please feel free to share it on social media so that your friends can read it as well. Also, if you have any questions, you can ask them in the comments section below, where you can also share your experiences with hardshell jackets. Thanks for reading!