If you love being outdoors, but also like a little bit of alcohol from time to time, then you will want to enjoy some of the best canned beer while you are out hiking and enjoying the outdoors. While safety can be a concern at times, there is nothing wrong with kicking back and enjoying a brew or two while you get in a great hike with friends or family.
Is there really anything better than a beautiful view and some great tasting beer? What a fine way to enhance your experience in nature, than with a can of beer. Using cans is a great option as it is safer to travel within your pack. You will not have to worry about breaking bottles or having sharp items break the can. Canned beer is definitely the way to go when hiking.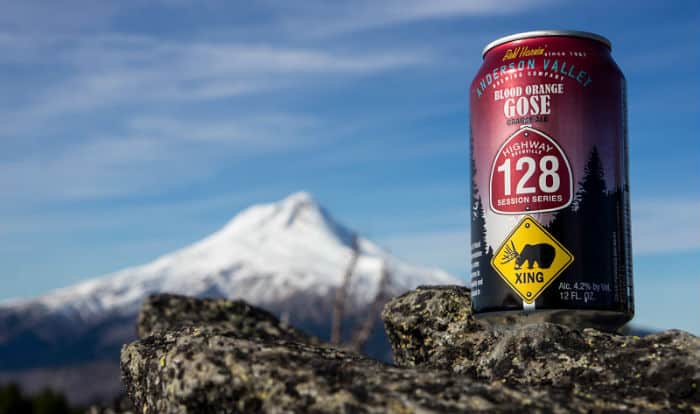 You might find yourself overwhelmed at the amount of beer brands that are on the market. Where do you start? First, you have to think about how much beer you will take because you might be limited on space with your other gear. Remember to only take what is necessary. Canned beer is more light weight, because the aluminum can weigh virtually nothing compared to beer bottles, that can also break.
In this article, we will discuss the features you should look out for as far as canned beer, and give you some options of the best canned beers on the market right now, so you can find your next 6 pack and head out on your next hike. Remember to stay safe while you are hiking and drinking. Never allow yourself to get dehydrated, and remember to bring water for yourself, too. For the best hydration drink you can consume, see our article on this important topic. Now let us discuss some of the best canned beers for your next hike!
Features to Consider
Below are some of the features you should think about before buying just any beer before a hike. Do not be afraid to venture out and try a new beer, ale or lager! With all of the new and beloved ones on the market, you should give them a try!
Flavor
Consider the many flavors available on the market that beer comes in. The possibilities are nearly endless. Many people enjoy apple flavored, citrus flavored or even pumpkin flavored. Take a look at your selection and choose one that sounds good to you!
Size
Beer cans come in various sizes, from 12 ounces to 25 ounces, and other sizes. Consider how much beer you will need, and how much space you have before throwing a load of beer in with your gear. You never want to take too much with you as that adds unneeded weight to your load.
Percentage of Alcohol
Always check the percentage of alcohol by volume in the beer you are inspecting. Some only have 4 percent alcohol, while others have 10 percent. Either way, consider the amount of alcohol per can so you know what you are getting for your purchase. The average range for alcohol, by volume for beer, is between 4 percent and 12 percent.
Type of Brew
There is a difference between beer, lager, and ale, which we will explain. Ales and lagers are nearly the same as far as fermentation, but they do so at different temperatures. Beer needs more fermentation time than the previous two. Basically the type of brew you are getting depends on the fermentation process.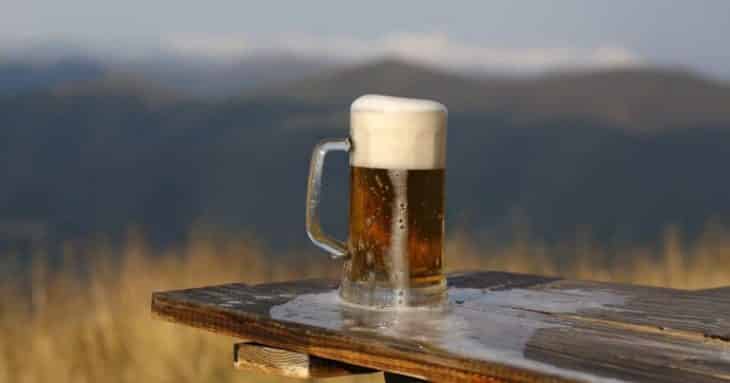 Reviewing the Best Canned Beers for Hikers
One thing that people wonder is how they can keep their beer cold while they are hiking. Check out some ideas below.
Freeze an ice pack or some water bottles. You will need the water to stay hydrated anyway. Put these in a small pack or small cooler that you will take with you. If you keep the frozen items near the beer, your beer will stay cold. You can also wrap your beer together and put the bottles or ice packs on top and on the bottom of the beers to keep them cold. You just need to consider weight and storage here.
When you are hiking and take a break near a river or stream, put the beer in the water and the flowing water will cool the beer, making it cold enough to drink. This does take time, but you do need to take breaks while hiking so you do not get overwhelmed with heat and moving a lot.
Take a small insulated cooler and bring along some dry ice. It is colder than regular ice from home, so it will definitely last longer while you are hiking. This is great because dry ice is also lighter than regular ice, so you do not have to worry about adding a ton of weight to carry.
Once you are taking a break in the shade, take a wet towel and wrap it around your beer. This also works great if it is a windy day. Evaporation from the towel will occur and that is how the beer gets cooled.
You can purchase a Cooler Tube before your hike. It is a long rectangular pouch that can fit several beers. The Cooler Tube includes a strap to go over your shoulder. It is also insulated, so your beers will stay cool! It easily stores 6 beers in cans, and it can be strapped to your backpack if you cannot wear it over your shoulder. Not only that, but the Cooler Tube is water proof, leak proof and is easy to clean! It zips shut and the strap is adjustable.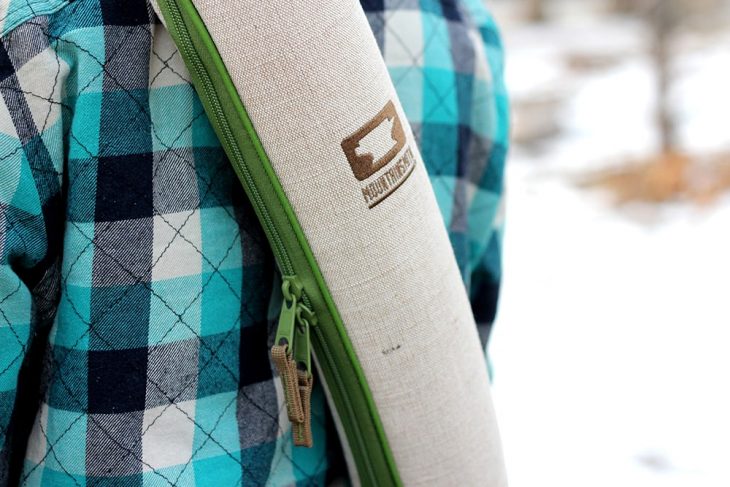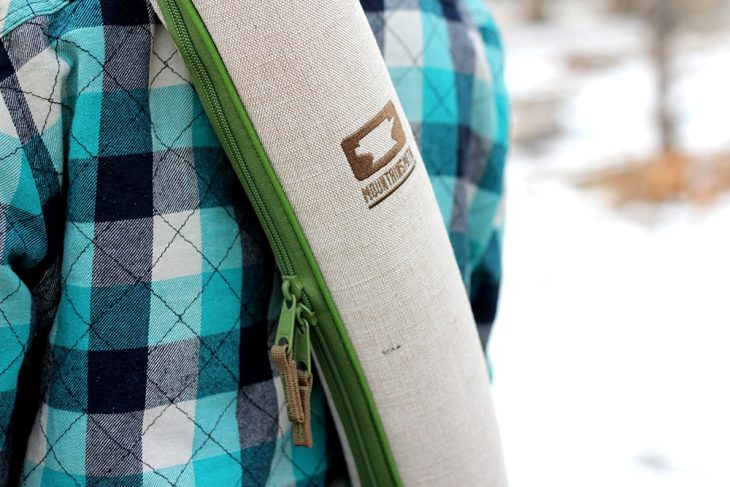 Best Ones for Hiking
Now we will go over some of the best canned beer for hikers to enjoy out in nature. Some of these will have different flavors and other things that make them stand out. Check out the 10 best canned beers that you can enjoy on your next hike!
Ten Fidy
Manufacturer: Oskar Blues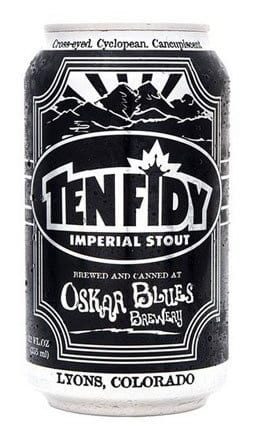 Location: Longmont, Colorado
Description: Oskar Blues was the first to can its beer and has locations in each state of the United States. This beer contains 10 percent alcohol by volume, this beer is bold, tasty, and thick. Made with chocolate and caramel flavors, you notice a sweet taste.
It also comes in a Barrel Ages version, which also packs quite the punch! The Barrel Aged version tastes of coffee and cocoa, and has hints of caramel and vanilla, which will make the taste even more delicious!
Perfect Day IPA 
Manufacturer: Asheville Brewing
Location: Asheville, North Carolina
Description: North Carolina is known for having some great places to hike. The Asheville Brewing company is right smack dab in the Great Smoky Mountain National Park, and they make the Perfect Day IPA that has 6.5 percent alcohol by volume.
This brew contains El Dorado hops and Citra, and smells fruity! You can also taste the white grapes in the mix, and a little bit of Rye malt to top it all off!
Sierra Nevada Pale Ale 
Manufacturer: Sierra Nevada
Location: Chico, California
Description: The Sierra Nevada brewing company was founded in 1979, and is known for its environmental efforts. Made with Cascade hops, you will be able to taste the spicy bite it has and smell the beautiful aroma it gives off.
Overall, your classic pale ale, it tastes light and has hints of citrus, which make it taste a little juicy as well.
Athena
Manufacturer: Creature Comforts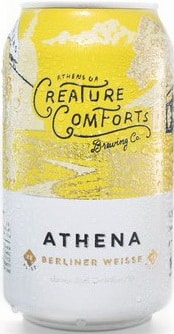 Location: Athens, Georgia
Description: This wheat beer is crisp and will quench your thirst for beer, and includes 4.5 percent alcohol by volume. You will find that it includes sauvignon blanc and grapefruit, which make it taste tart.
With the sour taste and the cream taste of the wheat, you will enjoy drinking this beer that also includes hints of lemon.
Brooklyn Lager
Manufacturer: Brooklyn Brewery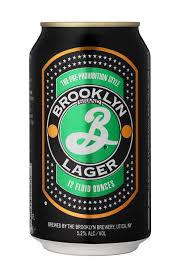 Location: Brooklyn, New York
Description: You will find that Brooklyn Lager has a light taste that will refresh you while you are hiking.
The aroma is of malt and hops, but also has a smell of yeast and caramel. The Brooklyn Lager company was founded in 1997 and loves to give to charities all over.
The company is operated with all wind generated electricity, too! They are a very forward thinking, environmentally friendly company that makes great tasting lagers!
Dayblazer Easygoing Ale
Manufacturer: New Belgium Brewing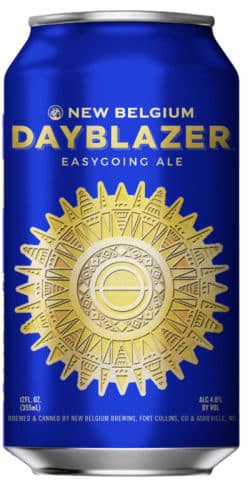 Location: Fort Collins, Colorado
Description: Starting in 1991, the New Belgium Brewing company has been a forward thinking business that is eco friendly and good to their employees. Made with 4.8 percent alcohol by volume, this brand comes in a 24 ounce can, if you prefer.
The Dayblazer Easygoing Ale came on the market in 2018, and is made to be pitted against bigger beer companies. Not much is known about it, other than it is craft brewed and will be sold at comparable prices to Budweiser and Coors.
2×4 DIPA
Manufacturer: Melvin Brewing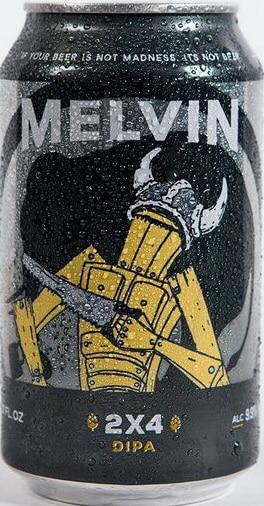 Location: Alpine, Wyoming
Description: Known for making great veer with a "wild west" touch, this brand of beer is 10 percent alcohol by volume and has won several medals for it taste and other credits. It won the Alpha King Championship two years in a row!
Made with a ton of hops, this is considered one of the best DIPAs in the world. You will taste the citrus flavor and clean taste of the hops and it also has a floral aroma to enjoy. Reviews say you will love this beer!
Gear Up IPA
Manufacturer: Hopworks Urban Brewery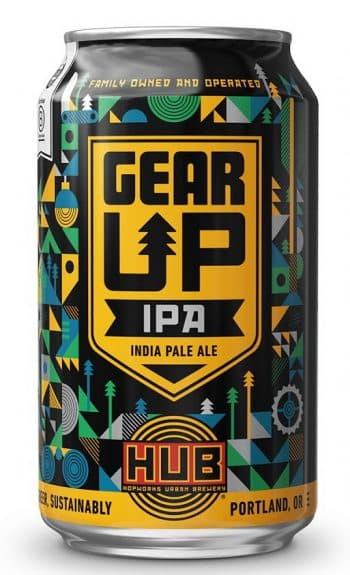 Location: Portland, Oregon
Description: Hopworks Urban Brewery is a company that loves the outdoors like you do! You can tell from the art that is on the beer can of Gear Up IPA, that includes mountains, outdoor gear, and other items that show you the best of nature.
This brand is 6.6 percent alcohol by volume, and gives you an aroma of peaches and green pines that are in the IPA. You will also taste the lemon included with the clean taste, flavored with allium hops. Included in this IPA are passion fruit, mango and pineapple that tastes great and can be found only in 6 pack cans of 12 ounces each currently.
Long Trail Ale
Manufacturer: Long Trail Brewery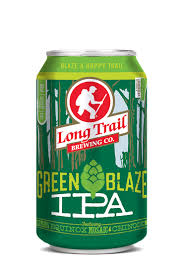 Location: Bridgewater Corners, Vermont
Description: Long Trail Ale came out in 1989 and is the biggest seller in the state of Vermont and has won several medals from the Great American Beer Festival.
This amber colored ale smells of flowers because of the hops and has a peachy taste, making it a little acidic. It contains 5 percent alcohol by volume and pairs great with most foods. The crisp taste makes this tasty beer perfect for hiking with its hints of herbs and earthy feel.
Trail Head Pale Ale
Manufacturer: Fat Head's Brewery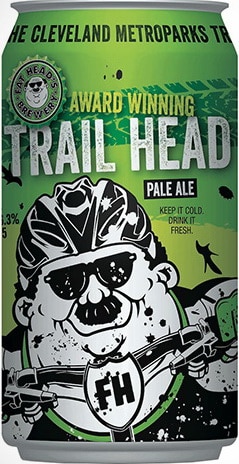 Location: Middleburg Heights, Ohio
Description: Fat Head's Brewery is known for some interesting beers and the Trail Head Pale Ale is no different. Made with four types of hops (Citra, Simcoe, Amarillo, and Mosaic) you will want this tasty beer when you are outdoors having a great hike with friends.
It is also made with 4 different types of malts (Pale, Munich, CaraPils, and Crystal) and has a slightly lower alcohol by volume content for an IPA, at 6.3 percent. You will first smell the aroma of passion fruit, mango and grapefruit before you sip it.
Then you will taste the caramel from the four malts and all of the hops. Reviewers say to not pass this pale ale up!
Check out our piece on the best beer growlers to keep your beer fresh while camping.
What Do Other Hikers Think of These Beers?
As always, what people think about beer, ale, and lagers is always a personal preference. However, the majority of people gave the above beers ales and lagers high scores due to flavor, price, and how they enjoyed it.
Many people enjoy regular beer, though some ales can have a crisper taste. Again, it is all about personal preference. If you like beers with a lot of hops, you can find it. If you like lagers with a citrus or overall fruity taste, you can find it. How about a crisp pale ale? You got it.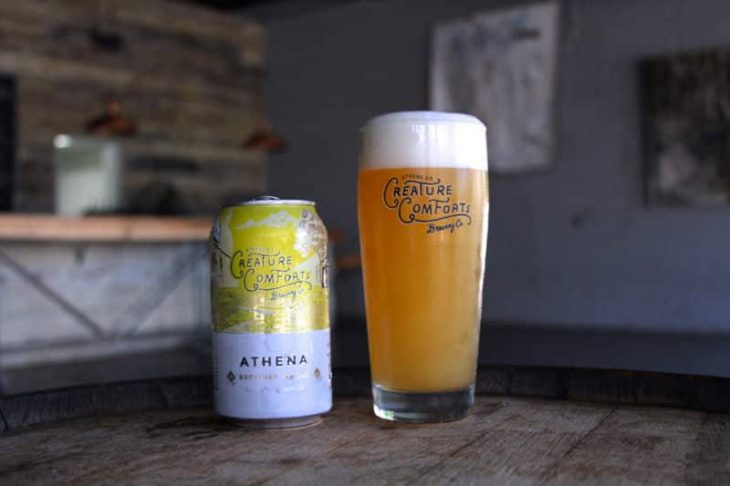 Some people claim that certain lesser known beers are harder to find and sometimes cost more than your average 6 pack of a well known beer brand. You will have to take that into account when you are searching for a great canned beer for your next hike.
Many drinkers love the refreshing taste of beers with citrus or fruity flavors. While many also love the chocolate and caramel taste, some do not like that when it comes to their alcohol. Moreover people enjoy drinking outdoors, so its always refreshing to take a break from hiking and knock back a cold one! See our list on the best trail mix that goes well with your drinks.
Pros and Cons
As with all alcohols, you are going to either love it or hate it. As with anything else, there are going to be good and bad things about alcohol, like beers and ales, but it all boils down to taste and alcohol content.
Pros
A lot of these beers come in bigger versions, so you can pack what you need and not have your backpack feel bulky.
These beers are comparable in price, but vary by location.
Many beers, lagers and ales come in various flavors, or include a litany of flavors that make for a great drinking experience!
Many beers have a higher alcohol volume per can, so you do not have to take as many beers with you, and instead can feel great after just a couple of beers.
Cons
Some people think specialty beers, or lesser known beers, can be more expensive.
Some people do not enjoy all of the fruity flavors that beer, ales and lagers can have.
Many people do not like lagers because they are darker beers an they are made different than regular beer.
Some beer brands are so uncommon that you have to look far and wide to find certain brands.
Concluding Thoughts on This Topic
What is exciting about these beers is that you might find a new brand and flavor that you love that you have never tried before! The great thing is that some of these contain higher alcohol contents and therefore you do not have to take several beers along with you to get a buzz going on.
While you have to find a beer, ale, or lager that suits you, once you do, you will only find that it enhances your hike with your friends and family! Always be safe while drinking and hiking. You can get injured, so never hike while drinking alone. Keep water on you in order to stay hydrated, and keep your cell phone on you in case of emergency. Otherwise, enjoy your new favorite beer safely!
Before going to your next camping trip, do read our important piece on basic hiking safety to prevent wildlife injuries.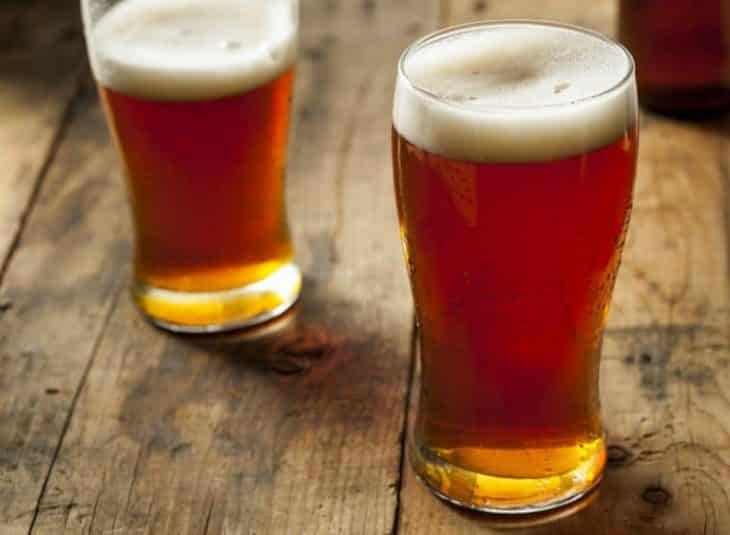 What kind of beer do you enjoy on your hikes? Did we miss any good ones? Tell us more about what you drink on your hikes in the comments! We would love to hear your story and know what you think! Thanks for reading!