Sleeping bags for tent or car camping are essential requisites when one is planning to explore the great outdoors. A distinct advantage that is connected to the use of these bags is their ability to ensure you always have a peaceful night's sleep so you can wake up feeling energized and ready come the following day. No one would like to remain awake the entire night, tossing and turning due to the cold that penetrates their sleeping gear, as such experiences would render them ineffective the next day.
The right sleeping bag, such as one like the Nemo Women's Rhapsody 30, should be one that packs with ease, is durable, comfortable, and versatile enough to use in multi day trips. When it comes to backpacking, durability is of great importance if you intend to use your gear for camping in different seasons.
Nemo Equipment now provides one of the best women sleeping bags for cold weather conditions, the world has ever seen – the Nemo Rhapsody Sleeping Bag! Side sleepers can now rejoice in this gear. If sleeping bags drive you crazy, then you will love this spoon-shaped bag which offers extra wiggle room for the knees and elbows. Shorter in length compared to the men's Nocturne, its hourglass contours of this model are designed for the female anatomy.
Product Specifications: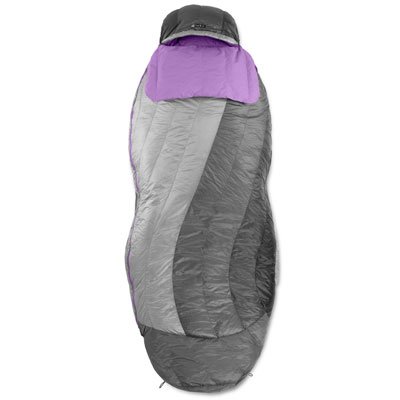 Soft and bright lining gives you a cozy interior for a restful nights sleep
Unique baffling curves to the shape of your sleeping body
For colder nights, tuck in the Blanket Fold for added warmth and comfort
Waterproof/Breathable footbox protects your bag from condensation on tent walls
Included accessories: Compression Stuff Sack, Cotton Storage Bag
Pillow pocket allows extra clothes to be stuffed into the sleeve
The ultra soft nylon taffeta liner fabric, the quilted construction that features DownTek, and a cozy blanket fold at the neck section deliver a touch of comfort and luxury to your nights in the woods. The Nemo Rhapsody makes it possible for you to sit Indian-style inside your tent, so you don't have to leave the warmth offered by the bag.
Review
Packaging
Your sleeping bag will come packed down to save space while shipping, at dimensions of 19 x 11 x 9 inches. The box will weigh about 3 pounds. Inside of the box, you will find the Rhapsody 30 sleeping bag, along with a compression stuff sack and a cotton storage sack.
Design and Durability
The main feature of the Rhapsody is the spoon shape that creates wide elbows, slims down at the hip section, and widens back out at the knee. The contour model of this sleeping bag allows for sufficient knee space and considers both the side and stomach sleepers.
While in this bag, you will be able to shift positions and move about without any restrictions, ensuring you have a comfortable night's sleep. As opposed to mummy bags, the design of the Rhapsody ensures your sleep is not interrupted each time you toss or turn during sleep.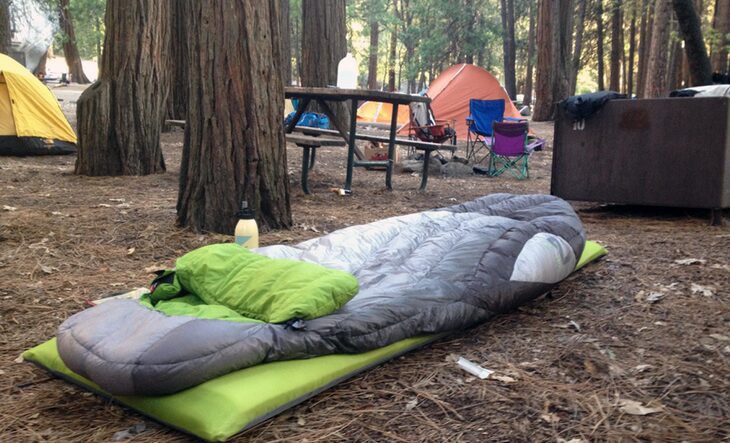 Despite the numerous advantage the bag presents, the spare "dead space" in the product makes it hard to retain warmth with body heat, therefore, it's imperative to be keen on the comfort rating of the bag over the actual temperature rating. You will notice this loss in warmth in hammock camping, and for that reason, the Rhapsody would be much suited for car or tent camping where you depend on a mat or a pad beneath to keep you insulated.
Since the Rhapsody comes in both regular and long fit, you will be pleased to have a bag that offers a lot of space from head to toe. The bag's pillow pocket is also an important feature worth noting as this can be filled with clothes, and gets rid of the necessity to carry a dedicated pillow.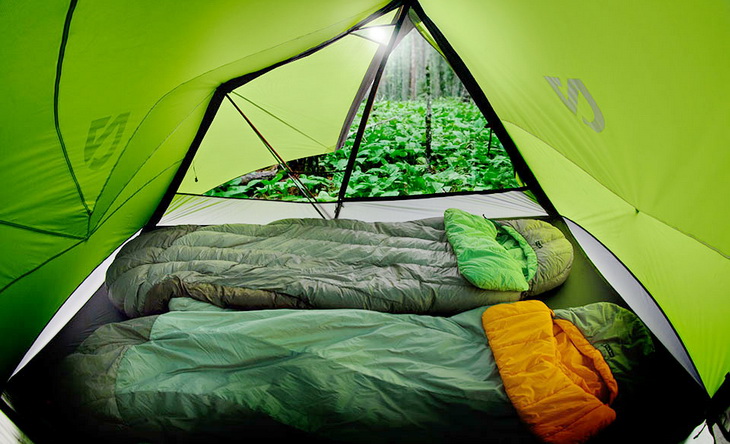 Its blanket fold, is designed to wrap around the neck and protect you from the outside flow of air and is also a feature worth noting for the Rhapsody bag. A draw cord is also included to cinch down the hood so you can enhance the coziness of your sleeping bag.
Comfort
The Nemo Rhapsody sleeping bag is extremely comfortable, mainly due to their Spoon Shape style. Instead of narrowing as it approaches the bottom, like in the case of the mummy design, the knee box section opens up to make room for more space. This implies that during cold weather conditions, there are plenty of pockets inside the sleeping bag to warm up using your body heat.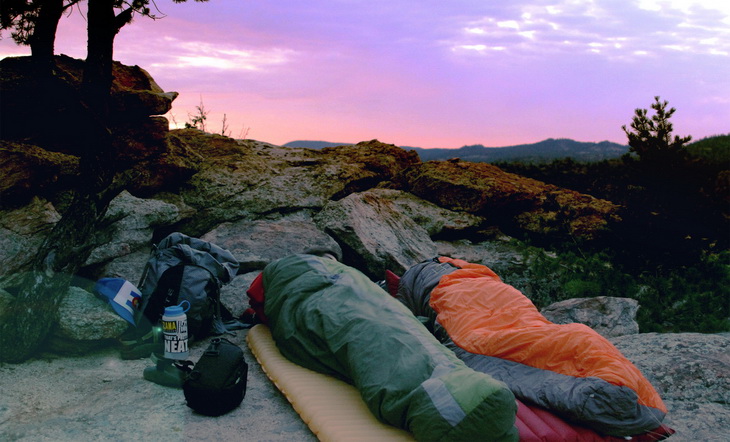 Moreover, with the vertical baffle model, the opportunities of the down in the bag being displaced with time is much less. With time, this bag looks like it would hold up better compared to other products. The extra space inside the bag is sufficient to allow you to roll around when sleeping.
Space and Weight
Offering space, where it's most needed, the Nemo Rhapsody Sleeping Bag by Nemo Equipment is broad at the elbows, tapers down on the hips, and widens again for maximum knee space. In comparison to the mummy-style bags that taper around the hip section and get narrower downwards, you will find that the Rhapsody offers more comfort due to the flexibility of movement.
If you are a person who loves sleeping on your back, the mummy models will not bother you; however, if you like sleeping on your side, you will require a bag that allows you to move comfortably without any restrictions. The Rhapsody makes it possible for you to shift and move your knees as you sleep rather than finding yourself awake because you are twisted in a disastrous position.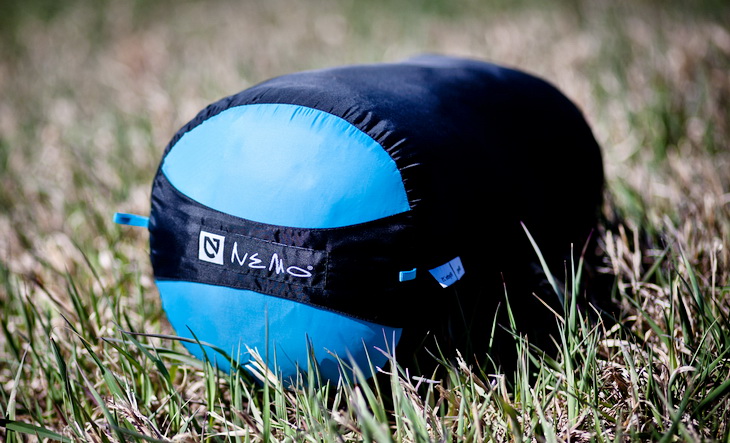 While the bag works perfectly if you are of average height, it can be a little tight if you have broad shoulders. In addition to that, the construction of Nemo Rhapsody keeps the down in position, preventing it from shifting about when you are snoozing. The extra space at the bottom of Nemo Rhapsody results in extra weight.
While a regular bag is two pounds, six ounces, and the long one is two Pounds, eleven ounces, this gear probably isn't the right bag if you are an ultralight, backpacking extremist. As an enthusiastic backpacker, this is something you can frequently take on your backpacking expeditions. One of the benefits of the mummy bags is their lightweight feature, which makes them possible to strap on the back along with other backpacking equipment.
Waterproofness
While down bags are usually doomed when they come into contact with wetness, the Nemo Rhapsody 15 features a waterproof coating on the back side. The coating functions in conjunction with DWR (Durable Water Repellent) finish, help to protect the product from tent condensation. This bag used with the Aqua-Quest "Single Pole" Breathable and Waterproof Ultralight Bivvy Bivouac could be a combination made in heaven.
Value for the Money and Guarantee
The value for the money on this bag is great compared to others! It does its job at a low cost that will not break the bank, allowing you more funds for that long backpacking trip you want to go on.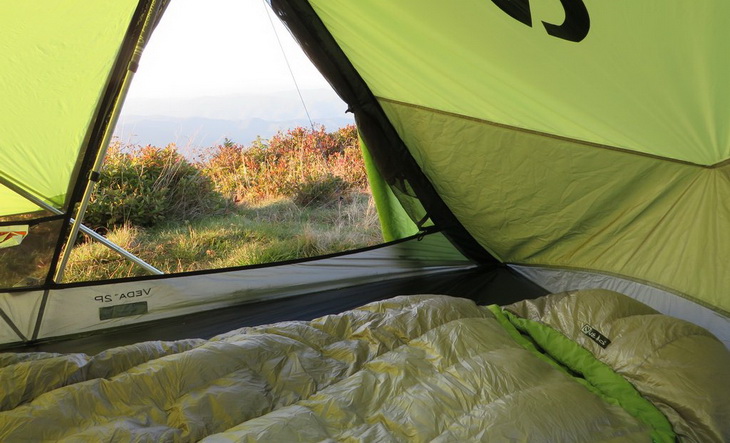 You will also like the guarantee as well, as Nemo offers a 100% Satisfaction Guarantee, meaning if you are not fully happy with your brand new sleeping bag, you can return it and begin searching for a bag that better suits your needs before you go on your highly anticipated adventure!
Similar Products/Competitors
Below we are going to go over some similar products that could be compared to the Rhapsody sleeping bag. These three reviews will give you insight of other items on the market, and show you how they stack up against the Rhapsody.
Kelty SB20 
The Kelty SB20 comes in two colors; Citron and Sunny Lime. With the DriDown, your sleeping bag will stay dry and warm, plus it is waterproof and given the DWR treatment at the hood and foot areas.
It has a thermal comfort hood and a 60 inch dual sliding zipper that locks in place and will not snag. Included in the package is a stuff sack as well as a storage sack.
This bag can keep you warm down to 20 degrees F, and has a shell made of ripstop nylon. Made with down insulation, the insulation is water resistant and made with 800 fill power DriDown. This bag will fit a person up to 72 inches long, and has a shoulder girth of 62 inches. Your new bag will stuff down to 7 x 13 inches, which is perfect to throw with your other gear and hit the trail.
Nemo Tango 
The Nemo Tango is a rectangular sleeping bag that has a shell made of 20 denier nylon ripstop and treated with DWR. This bag will keep you warm down to temperatures of 30 degrees F, and the lining is made of 30 denier nylon ripstop.
The insulation is 700 fill power down filing and is waterproofed with DownTek. Made with extra space to move around in mind, you can also put a sleeping pad into it that is 20 to 25 inches wide, if you want the extra comfort.
The great thing about this bag is that it will stay warm and dry even in wet weather. The foot box will breathe easily and you will not sweat. The tubing on the sides is filled with down, which keeps warmth in and blocks drafts of coldness from coming through. A great sleeping bad for those who like to sleep on their sides, this bag will keep you warm, comfortable, and let you move about during the night with ease.
Sierra Designs DriDown 
The Sierra Designs DriDown comes in a dark purple color and is insulated with800 fill power goose down filling. The shell is made of 20 denier nylon ripstop and can withstand temperatures down to 25 degrees F.
It does include a sleeve for a sleeping pad, which you may not need, as this sleeping bag is very lofty and comfortable. There are no zippers, so you can open it at the width and get out.
Designed for women, and fitted for them, this sleeping bag includes insulated arm and hand pockets and if you feel warm, you can take the comforter out and get more ventilation. The down filling stays dryer long and lofty, plus dries faster than regular down filling. The DriDown insulation keeps the moisture down and the down fabric full.
This 3 season bag comes with a stuff sack and storage bag for your use. Users love this bag because it stays dry, has no zippers that snag, and keeps them warm all night long. The goose down filling compresses well and is the reason you stay so warm. This mummy shaped bag has a polyester taffeta lining and fits up to 72 inches long.
The shoulder girth is smaller than some at 61 inches, but you have 60 inches of foot girth, which is not bad. The sleeping bag will compress down to 8 x 15 inches, which is 12.4 liters full. Users also loved the fact that they can move around as they sleep and not get tangled or uncomfortable during the night. Those who have used this bag highly recommend it for backpacking, camping, and hiking purposes.
Overview
There are various features designed by Nemo, which you may enjoy. The Blanket Fold at the neck region is suitable for trapping in warm air from the body's heat and protecting against the outside cold. This particular feature is also useful against windy conditions. There is also a hidden zipper pocket that you can use to store additional objects such as your extra ear plugs just in case your camping colleagues like to saw logs during their sleep.
When it comes to sleeping bags, temperature rating is usually significant as a wrong option will leave you sweating buckets or shivering in the cold. A 750-fill duck down is always considered warm even in freezing conditions. Created with DownTekTM nanotechnology, the fifteen-degree rating is somewhat ambitious, particularly with respect to the extra room down on the bottom. This feature compromises its thermal efficiency. Therefore, giving it some additional degree ratings is probably an accurate way of going about it.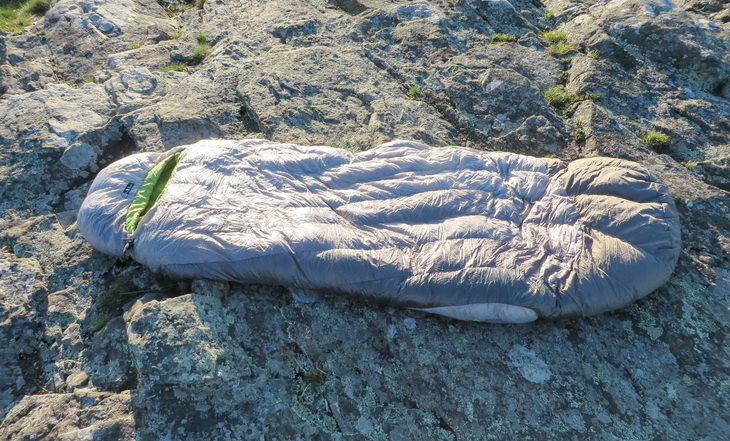 The Nemo Rhapsody 15 features a tuckable Blanket Fold hood. This flap of fabric is insulated and can be wrapped around the neck to block drafts and ensure you remain extra toasty. The Blanket Fold is celebrated as one of the best features that come with the Rhapsody. When cinched via drawcord, the hood is not as comfortable, but this aspect improves when left open. Therefore, the fabric flap is very useful when you want to open the hood and do not want to wake up with a neck stiffened by the cold.
Other features of the Rhapsody include a pocket for storing your clothes or a pillow. The pillow pocket will, in fact, amaze you with what it can do as most sleeping bags do not this feature. Additionally, there is a zippered pocket where you can store your phone, so it's possible to hear the alarm in the morning. There are also a roll-top compression sack and a storage bag.
PROS:
Light in weight
Includes blanket fold for warmth
Waterproof
Inexpensive
Comfortable all night
CONS:
Only works down to 30 degrees F
Comes in 2 blue colors
Not weather proof
The Nemo Rhapsody Sleeping Bag is a women's gear. But men, the manufacturer make a brother to the Rhapsody – the Nocturne, so you are not left behind. The company's innovative approach to outdoor sleep system makes the bag worth every cent, especially if you're tired of being tangled up in the traditional designs.
Nemo Rhapsody
Packaging

Design and Durability

Comfort

Space and Weight

Waterproofness

Value for the Money and Guarantee
Summary
When it comes to selecting a sleeping bag, you need to ensure that all the important factors are considered. The market is filled with different options from various brands, making it daunting to select a sleeping bag that can meet all your outdoor needs.
Consider the temperature rating of the bags, their features, and prices to make sure that you get value for your money. One of the most suitable options you should probably have in mind is the Rhapsody.

If you are a cold sleeper or planning to go camping during the winter, you should consider Rhapsody's ambitious rating and know the temperatures of the place you are heading into. This sleeping bag is ideal for tent and car camping, and its packability and lightweight play a fundamental role in ensuring it remains an excellent choice for the back country.
So there you have it! Did you find this review informative? Let us know by posting your comments in the section below.