If you have planned a camping or hiking trip with your friends or relatives, make sure that you take the most important things packed in a special kit. Keep in mind that you have to focus on the most important and most necessary things.
One of them is your sleeping pad. You have to stay refreshed and in a good condition while you are in the wilderness. Whenever you are low on sleep, you will feel fatigued and malaise, and this is why you need a comfortable sleeping pad.
There are many options that could be helpful, but the most convenient option for feeling rested and refreshed is the Therm-a-Rest NeoAir XLite Sleeping Pad. A sleeping pad is one of the most important items in the survival kit, and you have to take a special look when it comes to feeling rested.
Having a personal pad for sleeping on your outdoor activities or another travel adventure, is the best way to stay ensured that you would always wake up fresh and in a good mood. The first thing that you should look for in a sleeping pad, is its comfortableness.
Product Specifications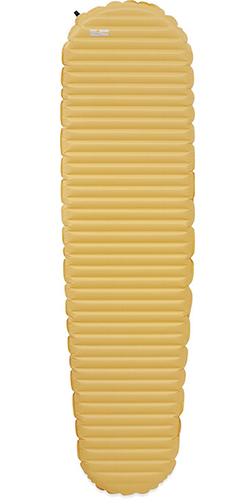 The Therm-A-Rest NeoAir XLite Sleeping Pad is made of nylon material.
New, soft-touch fabrics and baffled internal structure provide unrivaled stability and support.
Advanced fabrics and a tapered design make this the lightest 3-season backpacking air mattresses available.
Patent-pending, reflective ThermaCapture technology traps radiant heat.
The Therm-A-Rest NeoAir XLite Sleeping Pad has triangular Core Matrix construction which minimizes convective heat loss.
Low-bulk materials make the XLite mattress the most compact NeoAir mattress ever.
Remember that the sleeping pad is not a luxury item, but it is a necessary product that has to be a part of your outdoor package. Pack this product in your equipment because it is only one pound weight, and you can provide yourself a good time of sleeping without carrying another additional tool.
This sleeping pad provides more comfort and warmth in a specific season, and it helps you stay rested and fresh for your upcoming activities. All inflatable sleeping pads are great and they have more lift, so you are sleeping further from the ground. Every sleeping pad which is inflatable has a distance from two to ten cm above the ground.
One of the most important things that you have to pay attention is the material the sleeping pad is made of. The material provides the thermal properties and they are especially important.
Feel free to make the best decision for yourself and to think about whether the Therm-a-Rest NeoAir XLite sleeping pad is a perfect choice over the other products on the market. We hope that this review will help you to decide and to purchase the most relevant product for your outdoor needs.
Review
Packaging
This product only weighs about a pound, so it will ship in a box that weighs 1.15 pounds. The product itself is 12 x 9 x 6 inches, so the package will be just a little bigger than that, and it is packed securely, with strong boxing that prevents against puncturing.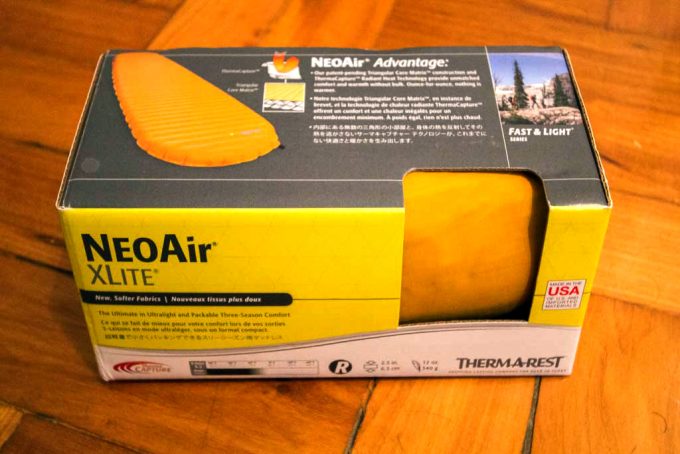 You will have pieces of plastic around some of the items inside, but that is to prevent scratching and puncturing. Inside will have the stuff sack and repair kit as well.
Design and Durability
This sleeping pad is an excellent product because it is made of materials with special advanced technique. The soft-touch materials are very good because they give the mattress stability and also great support. It is good to know that you are safe while sleeping and you don't slip off your sleeping pad.
To make sure that you are warm while you sleep during your hiking trips, the Therm-a-Rest NeoAir XLite Sleeping delivers more warmth than other products. The Therma capture advanced technology allows heat to be the number one priority when purchasing such a product.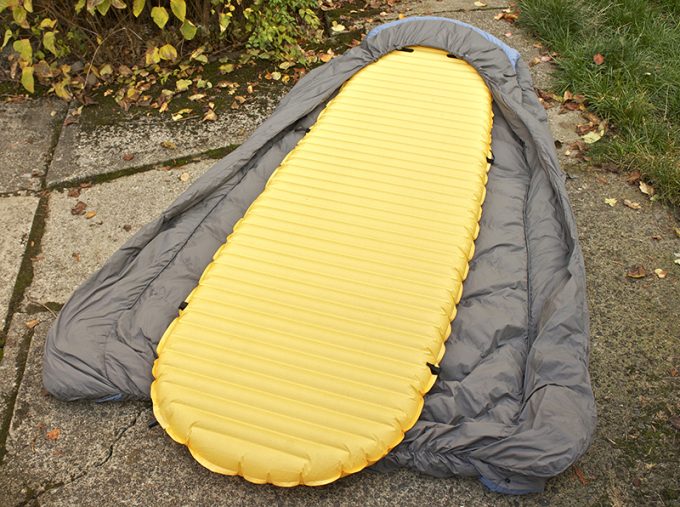 This type of sleeping pad is very good because it fits all of your body, while other products only fit your torso, without your legs being covered. This provides great comfort and also you get a fresh feeling when you wake up the next morning. Therm-a-Rest sleeping pad provides a better skin contact and has a positive mark when it comes to durability.
Ease of Use and Assembly
Using this sleeping pad is simple and painless. Lie the sleeping pad on a flat surface, where there are no rocks or sticks that could possibly puncture it. Then begin the process of blowing it up.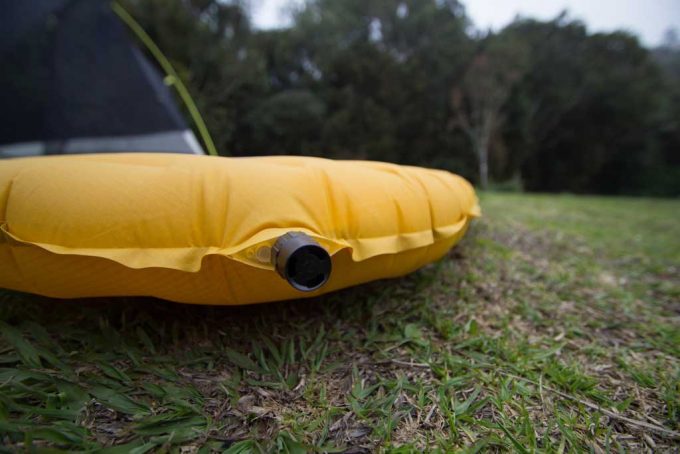 It is simple to pack down too, as you just need to open the flap and start rolling it up. It packs up small, so it fits right into your backpack, just be sure to get all of the air out.
Sizing
You can purchase this mattress pad in 3 sizes, all in Marigold, for your specific comfort and length level. The one we are reviewing, however, is the Large size. See the table below for sizing and other information so you can choose the one that fits your specifics best.
| | | | |
| --- | --- | --- | --- |
| Specifications | Size Small | Size Regular | Size Large |
| Weight Of Pad | 8 ounces | 12 ounces | 1 pound |
| Width Of Pad | 20 inches | 20 inches | 25 inches |
| Length Of Pad | 47 inches | 72 inches | 77 inches |
| Thickness | 2.5 inches | 2.5 inches | 2.5 inches |
| Packed Dimensions | 9 x 3.3 inches | 9 x 4 inches | 11 x 4.5 inches |
| Top & Bottom Fabric | 30 D Rip Nylon | 30 D Rip Nylon | 30 D Rip Nylon |
| Core Material Fabric | Nylon | Nylon | Nylon |
| Color | Marigold | Marigold | Marigold |
Therma Capture Technology
In this sleeping pad, there are many layers that are meant to keep you warm, due to the Therma Capture Technology. There are targets within the layers that capture heat, using a Triangular Core Matrix construction that adds up to 50 percent more warmth so you get a good night's sleep.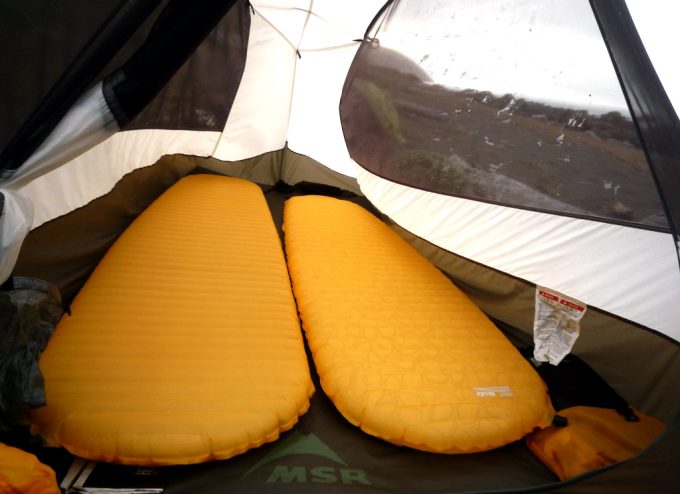 The Triangular Core Matrix uses triangular baffles on top of one another to keep the heat in and keep you warm all night.
Manufacturer's Recommendations
If you come across a leak that does not need a patch, you can use a glue that is urethane based to solder the problem. Use a small amount to seal the space and let it dry for 24 hours. You can also use tube patch kits to repair your sleeping pad.
If you have a large hole or have ripped the sleeping pad, you can use the included fabric patch. You simply cut the patch so it covers the tear or hole. You can also use the aforementioned urethane based glue on the back of the patch for extra strength sealing. You will also need to let this dry for 24 hours.
If you are too concerned to make the repair yourself, you can mail it to the company for repair. If you happen to get water inside of the sleeping pad, you need to use the valve to get the water out. You can then keep the mattress upside down and let it dry in a warm spot. This can take up to 3 days, so do not be alarmed.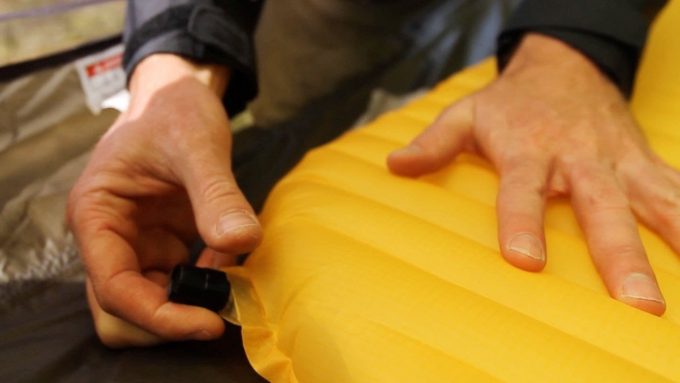 When you need to wash your sleeping pad, you need to know that you cannot put it in the washer. You need to use a water hose or clean it in your bathtub. Keep the valve closed so water does not get in. You can use an all purpose cleaner to get it clean.
It is recommended for harder to clean spots, say if you got tree sap on it, that you use a rag soaked in alcohol to remove it. Some people have had to replace the valve on their sleeping pad over time. This can be done by using a Valve Replacement Kit the company makes.
Value for the Money
While there sure are many sleeping pads on the market that are not as expensive as this one, you have to think about comfort and durability. Many users state that this is a great product for the value, however, those who are more money conscious say that they can find just as good comfort elsewhere, even though this sleeping pad has many advantages.
Similar Products/Competitors
There are many sleeping pads on the market that have its advantages and disadvantages, just like this one. Below are a few reviews of other sleeping pads for you to compare to the one we are reviewing.
Nemo Vector Sleeping Pads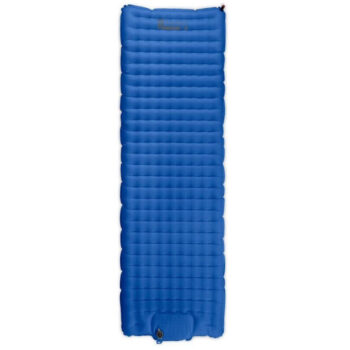 The Nemo Vector Sleeping Pads have an integrated foot pump so you do not spend a lot of time getting air into it. The lateral baffles allow for a comfortable pad and the included Thermal Mirror, gives off radiant heat so you keep warm through the night.
Made from a strong polyester rip stop, and being only about a pound, depending on the version you get, this sleeping pad will absolutely do the trick when you need comfort between you and the hard ground. You can choose from two colors; Atmosphere and Dark atmosphere, both shades of blue.
There are two sizes, however, to fit the correct body type that you have. Both work great at a minimum temperature of 30 to 40 degrees Fahrenheit, all made with the same strong fabric, and all with 3 inches of thickness, plus, they are all insulated with an aluminized film.
The smallest version you can get is the 20 R, which weighs about a pound and is 20 x 72 inches, and packs down to 8 x 4.5 inches. The next size is the 25 L, which weighs about 1.5 pounds and has dimensions of 25 x 76 inches, and packs down to 9.5 x 4.5 inches.
Users love the foot pump, for the quick airing of the sleeping pad, and the fact that is can be packed in their backpack due to its small packing size. Overall, users find this sleeping pad comfortable, but it lacks side rails, so you can fall off of it.
Klymit Static V Lightweight Sleeping Pad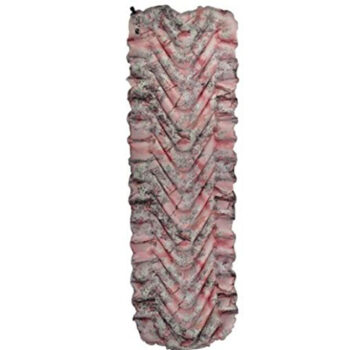 The Klymit Static V Lightweight Sleeping Pad is priced just right for the value you get from this product. The incredible light weight does not add to your gear at all, weighing only 18.6 ounces. This sleeping pad airs up quickly with the push valve, plus it has a V Chamber design that keeps the air from moving, and from losing heat.
You are also more comfortable and have more support for your body. When inflated, this sleeping pad is 72 x 23 x 2.5 inches, and it packs down to 3 x 8 inches. Inside your package will be a stuff sack and a patch kit, for those times when you may puncture your sleeping pad.
The manufacturer states it takes 15 to 20 breaths to inflate this, and it will deflate easily by opening the valve and rolling the pad up. Users do like the comfort this sleeping pad provides, along with the thickness level and the ease of inflation and transportation.
Some people that you can feel the air exchange when you move, but overall, people have enjoyed this sleeping pad in all weather and climates.
Therm-A-Rest NeoAir All Season Mattress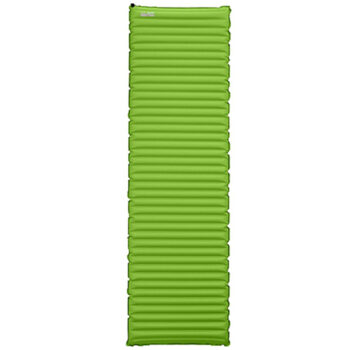 The Therm-a-Rest NeoAir All Season Mattress is meant to be used all year around, in all types of weather conditions. There are several layers of Therma Capture technology that keeps heat inside and you will stay warm as you sleep. This mattress is very light, easily packed, and has insulation.
The mattress has 2.5 inches of thickness and can be inflated with ease with the mini pump that is included. Because it is great for all weather, you need not worry about the insulation getting wet. The dimensions are 77 x 25 inches.
While this mattress is not cheap, it does offer a lot that others do not, especially the warmth, which is sorely needed in higher altitudes and colder climates, where you plan on camping through the night. The great thing about this mattress that users enjoyed was the warmth, and that it inflates fast.
It has tough materials that make it puncture resistant. They did not enjoy how narrow the mattress is, and suggest buying up a size. Do not try inflating this with your mouth, as mold can begin growing due to moisture. Overall, users agreed this was a comfortable mattress that does its job.
Overview
The Therm-a-rest sleeping pad is good for three season trips, and it provides great comfort as it is expected in situations like these. The price always guarantees the quality of the product. Make sure that you choose the product that seems the most available one for you.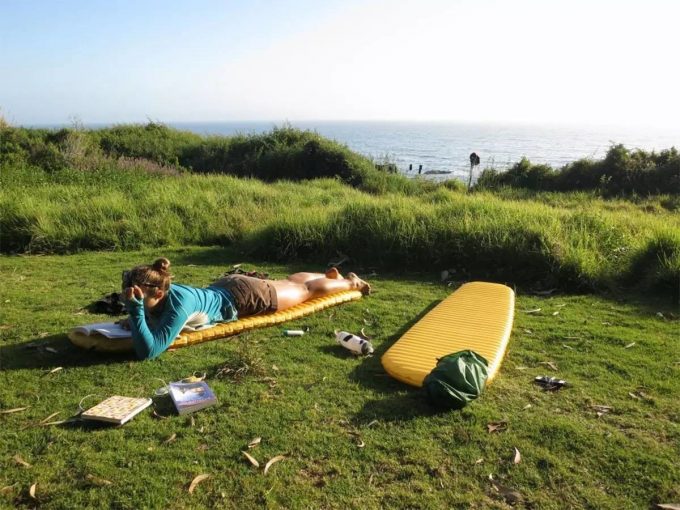 Its durability depends on the materials that the sleeping pad is made from. So it can be different for various products, even though from the same company. Choose wisely and take a special look at the special features of this product and think well if this product matches your needs.
To help you get a better insight on what the main reviewed sleeping pad offers, we have gathered a list of pros and cons for your review.
PROS:
Lightweight
Extremely comfortable
Very compact and small because of the low-bulk type of material
Inflate on an easy way after a long and exhausted day
Has high-quality and advanced construction
Easy to pack up
Minimize the loss of heat with the special construction of the core matrix
Unrivaled stability that provides a great support
Contains repair kit and a sack for the additional stuff
Durable
CONS:
Too narrow
Very thin mattress
Makes noise
A little slippery
With its advantages that are numerous, this product is a perfect match to your outdoor activities. Lightweight, very comfortable and provides warmth, this product is a dream to every hiker, alpinist or camper. This product is a must have tool in your backpacking equipment.
Don't forget to take your repair kit for the unwanted and inconvenient condition. It is good to be protected and stay safe. Put all the necessary things in the stuff sack and enjoy your trip while making unforgettable moments.
People who tried this product claim that this particular sleeping pad is easy to maintain and use and it provides good sleeping time. Most of the customers are satisfied with a few specific features like great comfort, very light weight and providing the warmth condition.
Therm-A-Rest NeoAir XLite Sleeping Pad
Weight & Size

Packaging

Design & Durability

Warmth

Comfort

Value for the Money
Summary
This sleeping pad is great for 3 seasons, and will keep you warm with the Therma Capture Technology as well as the Triangular Core Matrix construction. Inches off of the ground, you will feel like you are sleeping on a cloud, as you do not have to feel the harsh, cold ground.
With its light weight you can tote it literally anywhere, and you can easily and quickly pack it up when you are done. While the cost might seem like a lot, you will have no regrets when purchasing this sleeping pad, as it is strong and will last you years to come.

Individuals that have bought this sleeping pad for their outdoor adventures loved using this product because it kept them warm and was easy to tote around wherever they went. They slept through the night and were happy to see the sleeping pad lost no air through the night. Plus, cleaning it is simple and requires little effort.
Do you take along a sleeping pad with you when camping or sleeping outdoors? What kind of sleeping pad do you have? How does this particular sleeping pad compare to yours? We love hearing from our readers, so please leave your thoughts and stories below to share!