Sleeping is one of the most important things a human body requires in order to function and look properly, our body needs a decent amount of rest, but just like with a lot of things quantity does not have to be the only important thing, it is also the quality of sleep that keeps us well functioning.
It has probably happened many times that you or your friends, maybe even a family member complain about a lack of sleep when outside and hiking on a long distance, it is because it can be extremely hard and complicated setting up a proper sleeping space. Setting up a proper sleeping space requires good positioning and most importantly dryness.
Product Specifications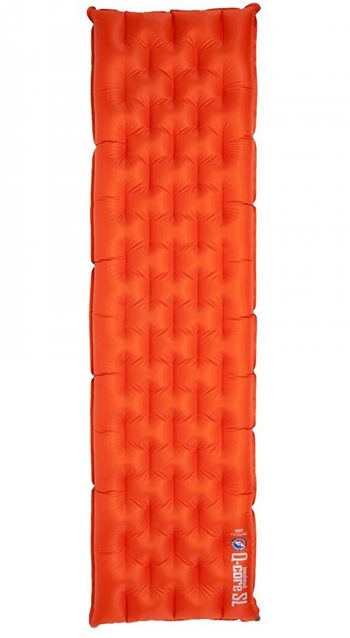 A superlight version of the Q-core
I-Beam construction eliminates welded seams to reduce cold spots and ensures quick inflation/ deflation, consistent air flow and stability
Larger outsider air chambers keep you cradled in the middle of the pad
Stuff sack and repair kit included
Each pad individually inflated and tested
Featuring X-Static all natural, synthetic insulation with thermodynamic, antimicrobial and anti-odor properties
WithBig Agnes Q-Core the problems you have encountered before can be called the past. This sleeping pad is a real super light and super compact air pad which will make your sleeping in the wilderness, even more fun and relaxing than it was ever before. This awesome sleeping pad comes in various shapes and sizes, with an amazing insulation system.
Review
If not used to sleeping outside in the wilderness, sleeping can become extremely annoying and uncomfortable experience – for those who are willing to give their sleeping habits a nice treatment, buying a good sleeping pad can be a true lifesaver. Read on to check out some main features Big Agnes Q-Core SL Insulated Sleeping Pad.
Packaging
The first thing you will see about the Big Agnes Q-Core SL sleeping pad is that it packs down little and is really lightweight. The 20″ x 78″ model weighs just 625 grams, and packed, it quantifies only 12″x4″.  This sleeping bag packs down to somewhat more than one and a half liters. It is quite similar to many air construction sleeping pads and is substantially littler when packed compared to most than most self-inflating or foam cushions.
You'll absolutely have the capacity to pack this sleeping bag into the base of your backpack or simply place it in a compression. The Q-Core SL sleeping pad has a packed size of 3.5 x 9 inches.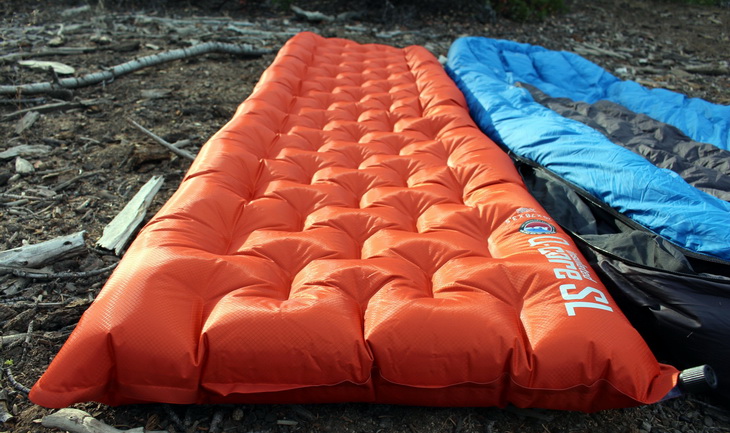 The Q-Core SL sleeping pads are so easily packed that they fit into a nylon mesh sack (4.5″ in diameter and 10″ in length). Every Q-Core SL pad comes with a nylon mesh stuff which keeps your pad secure and safe from the bad weather conditions, bugs and other things you might encounter in your adventures.
A field repair kit is included and is tucked away in a small pocket located right at the end of the stuff sack. For long-term storage, it is advised that you store the pad with the valve completely open and in an uncompressed state to allow any moisture inside the pad to disappear and help to keep the integrity of the materials used and construction of the pad.
Design and Durability
The Big Agnes Q-Core SL is designed with some basic features such as a full-length zipper together with a draft tube, neck and hood neckline to prevent cold, hang circles, nylon stuff sack and recycled mesh storage sack. On the design side, this sleeping bag utilizes 'Alternating I-beam Construction' which is a popular term for lengthwise baffles instead of the normal width-wise baffles. This gives a greater dispersal of warmth from your center where you produce the majority of warmth and disperses it down to your furthest points where you have a tendency to get cool first.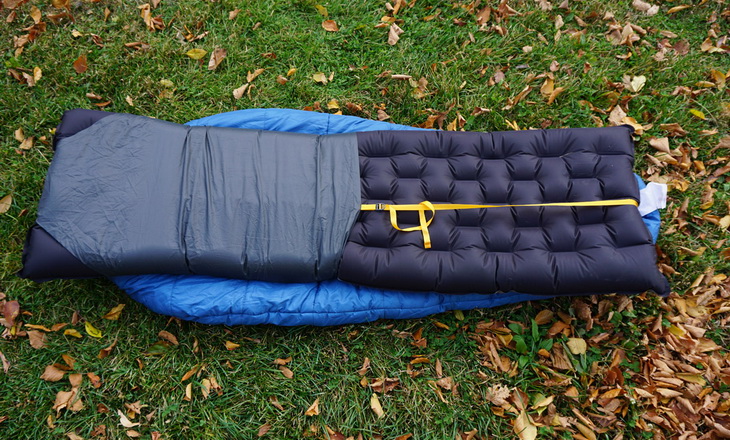 The baffles' top has 'flow gates' worked inside them, which limit the capacity of the down to move and cluster together, hence expanding its insulation features. 'Alternating I-beam likewise gives a more shape fitting feel with less weight because the baffles follow your body contour. This just bodes well than most sleeping bags with a conventional baffle outline. The Q-Core SL pad utilizes a very special quilted design. This sleeping bag is durable, strong and dependable.
Sizes and Weights
Designed to fit inside the integrated sleeping pad sleeve which can be easily found in many of the Big Agnes' sleeping bags products, this mummy shaped Q Core SL pads are 20″ in width and are available in both 72″ or 78″ lengths. The lack of squared-off corners makes it extremely lightweight and easy to pack. The width rectangular pads are each 20″ wide and are available in 66″, 72″ and 78″ lengths. The wide-width model is 25″ wide and 78″ long makes it a little bit heavier due to its size (bigger than the rest of the models).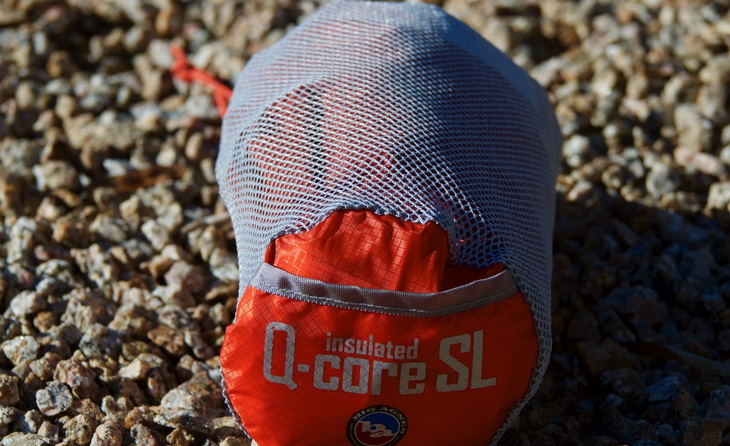 The standard rectangular pads are 20″ x 72″ and these weigh 20.7 ounces in the stuff sack, and 19.6 ounces without the stuff sack. Every Q-Core SL sleeping pad is designed from a durable nylon rip-stop material from the bottom to the top. The Q-Core SL sleeping pad is textured minimize slippage and the noise, quilted with an I-Beam pattern for a stable and smooth, extremely comfortable sleeping pad. Considered to be way more effective than other inflatable sleeping pads which only have vertical baffles.
The Temperature Ratings
The Q-Core pads are designed to be coated internally with a heat-reflective polyurethane, adding a very good durability and an X-Static synthetic insulation to increase its anti-odor properties, anti-microbial and thermodynamic properties. The Q-Core SL pad falls under the R-value of 4.5 giving a temperature rating down to 15°, which is perfectly amazing for a three-season sleep solution.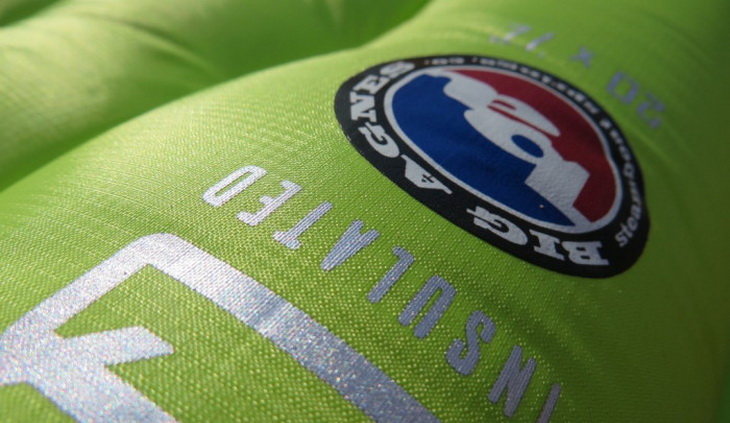 The insulation in an air pad does not work like an ordinary insulating layer that creates loft because an air pad already has a loft. The insulative fibers do nothing but, reducing the air that is currently inside the pad produced naturally by convection, causing the pad to lose thermal efficiency. For the colder temperatures, you are advised to include a closed cell foam pad so as to get an extra insulation.
The Comfortability Ratings
The center of the Big Agnes Sleeping Pad is much thicker than the rest of it, even for the people who like to sleep on the side, the thickness of the center provides a lot of comfortability. At 3″ thick, the pad adjusts to the body exceptionally well, providing the maximum amount of support where it is needed and helps to easily relieve some of the most common pressure points (those located at the hips and shoulders) while keeping its insulative properties.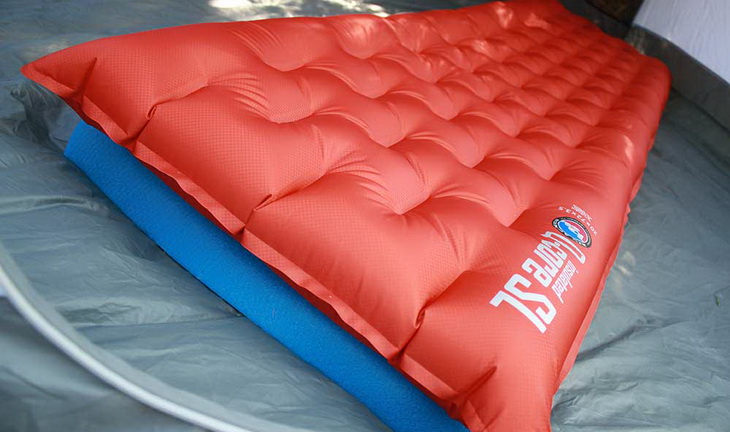 The outer edges of the pad have a larger 3.5″ thick air space that is made and designed to cradle you, keeping you in the center of the pad. This helps a lot when it comes to keeping the pad beneath you.
Value for Money and Guarantee
Buying Q-Core SL is really a good value for money. At approximately $120, the Big Agnes Q-Core Sleeping Pad might look a little bit pricey and not as an important part of the hiking and backpacking equipment, but in real, it is worth all of the money and will provide you with a good sleeping experience outside, anywhere. The Q-Core SL sleeping bag is somewhat pricier and certainly worth the cost. It is durable, strong and dependable.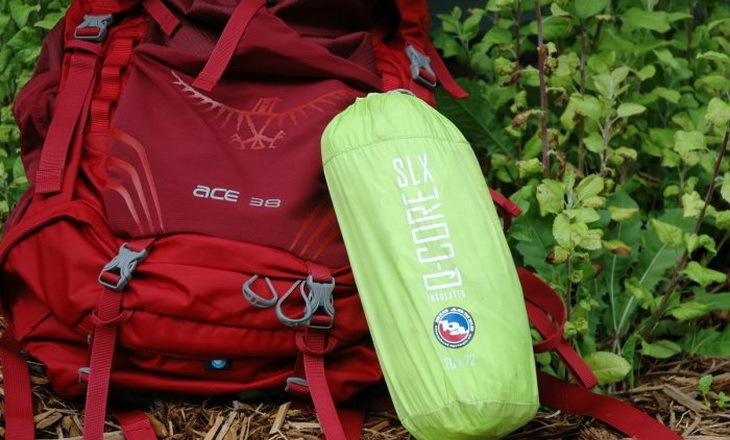 Concerning the product guarantee, it was not mentioned that guarantee is being offered. However, it is certain that the producers and sellers somehow have a provision for defect goods. So, in case your sleeping bag has issues, you can send it to them and contact their customer service. Amazon also provides warranty for faulty goods.
Similar Products/Competitors
Therm-a-Rest NeoAir 
The Therm-a-Rest NeoAir pad gives you a chance to sleep outdoors in any season. The increased thickness and high R-value bring greater warmth and comfort to back country trips.
With twofold the insulating features of the NeoAir Trekker, this sleeping bag consolidate a patent-pending Triangular Core Matrix form of technology for low weight and high warmth.
The innovative baffling produces more than 100 inward cells alongside a reflective blockage that attracts warm air and disperses heat back to your body for warmth. This sleeping pad gives fantastic insulation from the chilly ground due to an R-value of 4.9 and 2.5inch thickness
The inflator sack is really useful, simple to utilize, and deals with the parasite and any freezing condensation that might be inside the sleeping pad after being utilized for a considerable length of time in – 20°F. The NeoAir accompanied a little gray sack that likewise could be utilized as the storage pack. The valve is solidly built. At the point when the sleeping pad is moved up, it pokes out a bit. It could be inclined to some beating in the rucksack.
The external shell of this sleeping pad is made of green Columbia 75D polyester on the top and dark gray Griffon 70D nylon on the base. The top of the sleeping bag is produced with a honeycomb ripstop design that adds some texture to the pad.
Big Agnes Q-Core 
The Big Agnes Q-Core sleeping pad mixes synthetic insulation and supportive construction for a great, comfy sleeping surface on the chilly, hard ground.
This sleeping pad is the creative "Super Light" 3-season variation of the prominent insulated Q-Core cushion, adequately balancing high-performance and lightweight, making it the most comfortable and lightest air pad among all other sleeping pad from Big Agnes.
It is made ready in both mummy and rectangular shapes, and a wide range of lengths and widths to address your issue.
Q-Core SL and Q-Core pads are extraordinarily intended to fit inside the coordinated sleeping pad sleeve found in a significant number of sleeping bags from Big Agnes. The mummy-shaped sleeping pads are 20″ in width and are accessible in either 72″ or 78″ lengths. These sleeping pads are intended to help decrease pack size and weight even without the squared-off corners.
The Q-Core sleeping bag is produced using a tough ripstop nylon. This makes it packs down little, and is light and sufficiently sturdy for your backpacking trip. This sleeping bag is designed with an X-Static synthetic insulation, which gives superior comfort and warmth. X-Static possesses antimicrobial features that help keep scents under control and improve thermal control.
There are coordinating vertical and flat tubes in the construction of the sleeping pad. This seam-welded sleeping pad gives consistent air flow for comfort, support, stability and smooth feel.
For snappy inflation or deflation, the Insulated Q-Core sleeping bag features a hermetically sealed, unbreakable metal valve with plastic covered mouthpiece. This sleeping bag comes along with a repair kit and a stuff sack.
Nemo Tensor 
The Nemo Tensor is another relatively light sleeping pad that provides awesome performance. The external material of the pad is a 20-denier ripstop polyester, while it within has a frame which effectively takes out any side-to-side imbalances.
On the internal base of the sleeping pad, there is likewise a reflective film, which mirrors a radiant warmth, thus diminishing the convective loss of heat.
The Tensor's packed size is really great; this small gear detail is not consuming much space in a backpack. Out of the stuff bag, it appears to be fairly noisy because of the aluminized film utilized for insulation.
The great news is that this aluminized film is at the base layer of the sleeping bag, making it less noisy being used compared to when setting it up. Being used, it isn't the calmest inflatable sleeping pad we have ever used, yet it's as yet a couple volume scores down from the NeoAir sleeping pads.
There are two words that are not often utilized in sleeping pad reviews: these are stability and elasticity. The Nemo Tensor sleeping pad has less elasticity, which thus gives it great stability and strength. How this mean in this present reality is that the sleeping pad does not need to be over-inflated in order to make it stable.
However, it has the slightest "pool toy" sense of any inflatable sleeping pad on the market, and it can be inflated sufficiently soft to amplify every one of the three height inches without getting squishy. Praise to Nemo for being on the front line of the future advancement of inflatable sleeping pads.
Overview
The Q-Core SL is without any doubt a rugged insulated air pad and an extremely important part of any good 3-season outdoor sleep system. In warmer climates, all four seasons are certainly possible, which makes this sleeping pad a really good choice and a smart buy. Using this pad in any outdoor situation would certainly improve the physical and mental state of anyone who decides to do so, and in a real survival situation, it will surely be a perfect choice.
This sleeping pad will not only provide you the comfort and warmth better than most sleeping pads out there, this sleeping pad will simply not allow you to be restless at all! Many hikers and people who spend a lot of time doing outdoor activities which require sleeping outside tend to find themselves very tired and with a lack of proper rest. It will surely make their lives easier after a long hiking day, they can easily set up this sleeping pad and jump into their sleep, comfortably.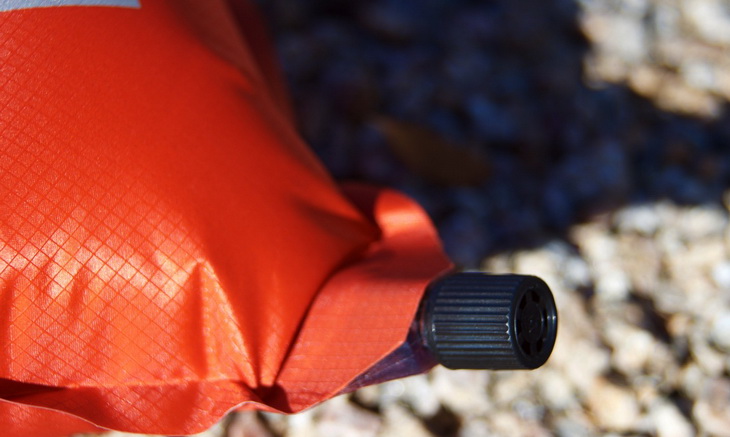 It is on you to decide whether you believe sleeping is extremely important part of your life, keeping your body and mind well-functioning or not, picking and taking care of things such as this is extremely important and you should never ignore the fact that your body deserves a good and comfortable good night sleep. This awesomely designed sleeping pad might be a start of an amazing adventure after you experience spending the night sleeping on it and waking up with a feeling like you slept in your own bed.
Get your family and friends together and take a look at your new hiking equipment piece which will probably make everyone happy and well rested when on an adventure! Sleeping on a thick, lofty sleeping pad can have a huge influence on how you function, your level of the rest and recovery you achieve.
Pros:
X-Static synthetic form of insulation with the normal performance of silver filament to promote thermodynamic, anti-odor properties and anti-microbial
Estimated R-Value of 4.5
Durable inflation valve
Internal polyurethane coating
Rated at 15F
Alternating I-Beam construction creates a smoother, more comfortable feel.
Cons:
Quality comes with a price
Not durable enough
Currently, the best sleeping pad you can find from the Big Agnes – the lightest and most comfortable sleeping pad (air pad). The Q-Core SL is the three season variation sleeping pad, coming in many different shapes and sizes, including a mummy and rectangular shape – this sleeping pad will surely please all your good sleeping needs.
Big Agnes Q-Core SL
Packaging

Design and Durability

Sizes and Weights

The Temperature Ratings

The Comfortability Ratings

Value for Money and Guarantee
Summary
Big Agnes is really good at putting people to sleep, however, it was just with the recent introduction of the Q-Core SL sleeping pad that backpackers could get at that solace in a lightweight package.
Maybe the single biggest feature in this sleeping pad's solace is its alternating I-Beam design. The main idea here, is to have bolstered both horizontally and vertically across the sleeping pad to imitate the sentiment a bed.
Practically, we do say this sleeping pad works quite well – the construction and design kill weight points and bolsters your body evenly, while lying down. The Q-Core sleeping pad has great insulation features enough to be a comfortable 3-season sleeping pad, however, you will want to include a closed-cell froth pad when temperatures plunge.
The sleeping pad has an extremely lightweight synthetic insulation comprising of silver strings which bounce back your heat to you.

After a long hiking day, there is no better thing than laying on a comfortable bed or a sleeping pad, these keep our body fresh and ready for the next day. After a good sleep, you will notice improvements in your actions and reactions, and these are surely very important to you as a person who likes the outdoors activities, hiking, backpacking, biking and much more. Have you used this sleeping pad before? If yes, we do love to hear from you! You can leave a comment below.