Sleeping is the best thing for making us capable of doing things right, and it also makes us feel great throughout the day. When sleepless night occurs, we all have intense mood and all the things make us feeling nervous and distracted. So, we have to invest in our sleeping mattress not only in our sleeping room in the home, but also when we are in our favorite outdoor location, in order to avoid the inconvenient situations and provide a better quality of the upcoming day.
We are here to help you choose the most convenient sleeping mat on the market. More precisely, we will present to you one of our finest choices, and we would be grateful if you share your opinion with us and tell us if you like our suggested product.
With that being said, we can start our review. A Sleeping mat is one of the tools that you have to put on your outdoor equipment list. But, since there are many types of sleeping mats that you can find it on the market, how to know which one to choose?
The best ones are those called inflatable sleeping mats. The fact that they are using the air as an insulator from the ground, is an excellent point that makes them one of the best offered. This mark provides greater comfort, and that is what you should be looking for. The Sea to Summit Ultra Light Mat is our choice, and we will create a list with its features.
Product Specifications
New Air Sprung Cells provide unrivalled comfort and support. 
Multi-Function Valve integrates inflation and deflation plus pressure adjustment into one low-profile design.
Extruded TPU Lamination with Antimicrobial treatment prevents delamination and internal bacterial growth.
Equivalent R-Value is 0.7
High quality Nylon stuff sack and a 3M repair kit included.
It is a good product for any outdoor activity, more precisely, for light weather conditions like those trips in late spring and hot summer nights. You can also use it for your scouting activities. It offers a great comfort too, and you can buy it for an affordable price.
As you continue to read the chapters below, you will decide if this Sea to Summit Ultra-Light Mat matches your needs and if it is a perfect choice when compared to the alternative products.
Review
Packaging
This Sea to summit sleeping mat is part of the ultra light series that packs in minimum volume and minimal weight. The air sprung cells are contributing to this feature, while maintaining the support of the mat. Comparing to air mats with baffles or tubes, this sleeping mat is lighter, therefore more suitable for your backpacking gear.
However, what's impressive is that the pressure support it is providing is also better than the tube mats. It is the only type of mat in which every individual cell could absorb individually the pressure without distributing it to the closest cell. Having this in mind, we definitely recommend this sleeping mat for your next backpacking trip.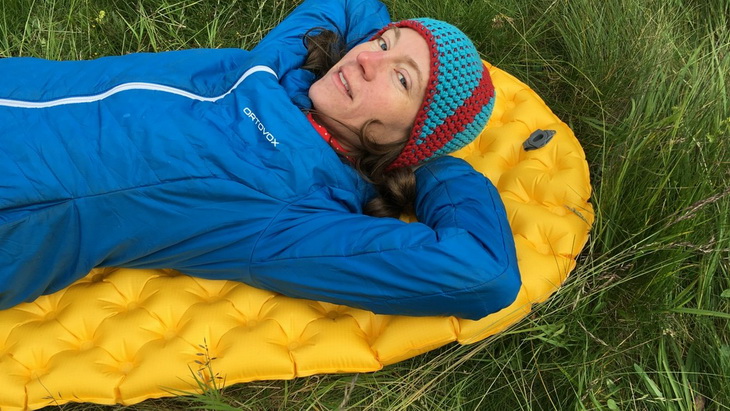 This sleeping mat is also pretty thin which is why we don't recommend it for rocky terrains. However, it is perfect for flat surfaces. Nevertheless, most air sleeping mats are not recommended for rocky terrains and the ones that are don't last a long time. Because of its thickness, we recommend this sleeping mat for stomach and back sleepers. However, for the side sleepers, it might feel a bit uncomfortable depending on the ground and your own preferences.
Design and durability
The inner design of the Sea to Summit sleeping mat is responsible for its remarkable features that are incomparable to other products on the market. Having this in mind, the most important feature this Sea to Summit sleeping mat possesses is the Air sprung cells. The air sprung cells are allowing the user a better support and they are making sure you don't end up touching the ground with your body. They do so, by copying the individual coil system in sprung mattresses.
This means that the pressure that your body is making when sleeping on the mat is distributed evenly throughout the entire mat. Even more, the pressure which is applied to one air sprung cell don't affect other cells. For this reason, the weight is distributed evenly and you are left with a high quality mat and a good night's sleep.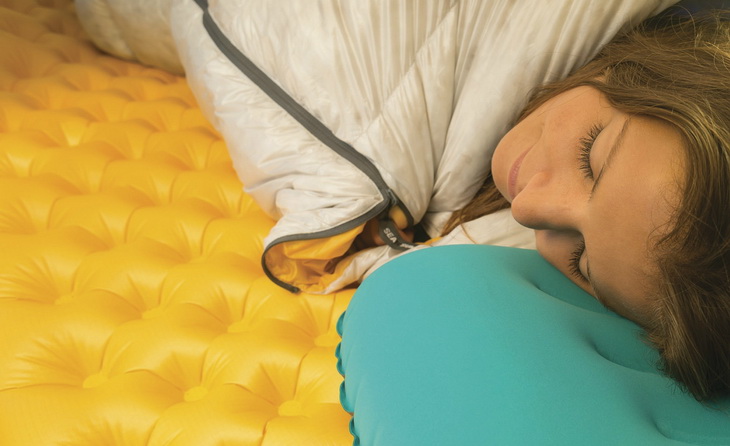 The manufacturing technology Sea to Summit is using in the manufacturing process of this sleeping mat is aeronautical grade, which means that it is a highly durable product that you are going to use for years to come. Mouth inflation is usually being avoided by the sleeping mats manufacturers since there is a risk from internal mold growth. When you are inflating the mat, you are letting inside a moist and bacteria rich air which over time could lead to mold growth that could infect you if used continuously.
However, the Sea to Summit are using a specific design that is preventing this process. They are using liquid anti-microbial treatment in the form of TPU bonds, that is sticking to the shell of the fabric and is creating a protective layer that is acting as a barrier between the bacteria and the shell of the fabric. This is allowing you to use the mat for a long time, without the risk of growing mold inside and having to get rid of it after a while.
Insulation
The Sea to Summit sleeping mat is made from high quality nylon material, more specifically 40 denier ripstop fabric which is contributing to the lightness of it. However, this material is also very durable and it is somewhat resistant to damage. Even though these features might come very useful in warm weather conditions, the insulation is not one of them. Its thin material, is usually making the users doubt whether it is going to get punctured or not.
However, as long as you use it on the leaves or dirt, you have nothing to worry about. It will serve you for many wilderness trips to come. The thinness of the material also means that you would be nice and warm, but only if the ground underneath is warm. When the temperatures drop, you will need a different type of material with heavier insulation properties.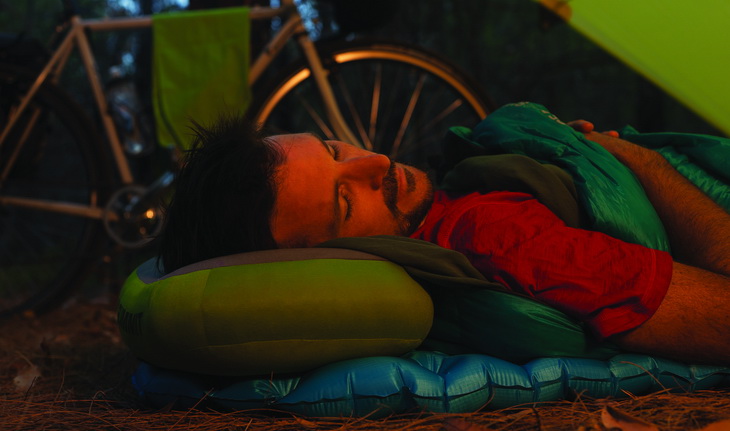 Nevertheless, even though the material is thin, compressing it and packing it to the small sack might be a bit more difficult. It requires that all the air is pushed out of the mat and no one likes this activity. However, the comfort during the night is making up to the lack of insulation, at least in spring time.
Warmth
Even though the temperature rating is not mentioned in the manufacturer's specifications, this is spring and summer sleeping mat. Even though its comfortableness is indisputable, this is not an insulated pad for cold weather conditions. If you are looking for such item, look through our other pad reviews. Its R value is 0,7 which makes it less of an insulator between you and the cold ground and more of a supportive pad that will keep you comfortable throughout the night.
Comfort
The comfort of the Sea to summit sleeping mat is greatly connected to the intensity of inflation that you choose to do. The inflation and deflation process is usually the main issue with the air mats, which greatly affects the comfort level. However, the Sea to Summit inflation system is easy to use and quite effective and, most importantly, it stays the same for the entire night. This ensures that you start with a certain comfort of your choice and wake up with the same one in the morning.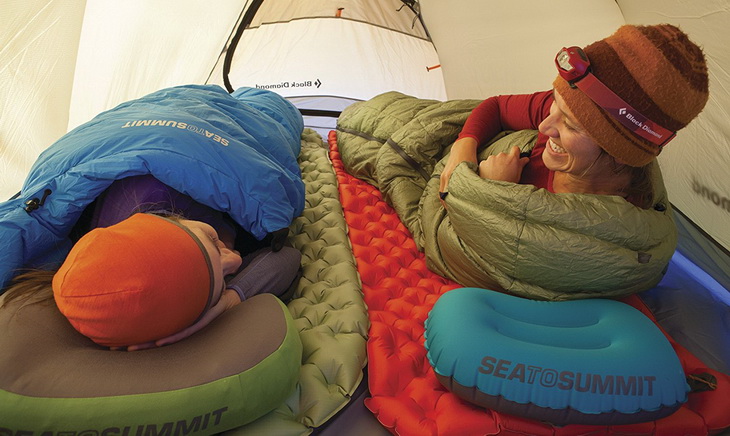 For this reason, they are pending their patent approval, which would make them the only company using such inflation system. The mat contains low profile valves and this is the main reason why the inflation and deflation are occurring faster than with any competitive model. There is also a possibility of tuning your comfort level, which means that you could sleep on a harder surface by inflating it more or a softer one with only 30 seconds of inflation.
In order to do so, this mat is equipped with the Sea to Summit pump which is completely electronic free, even though it is as effective as an electronic pump. The inflation process wouldn't require you more than 1 minute even if you intend on inflating it hard. It would only require 8 to 12 full breaths, so there is no risk of fainting while inflating it as it is the case in some competitive products. The deflation process, however, is even faster and it takes only few seconds.
Water resistance
This sleeping mat also comes with a high quality sack, which is made from nylon material. This makes the sack completely waterproof and breathable. It is important for the packaging sack to be breathable because if it gets wet for any reason, it will partly dry itself while you are transporting it.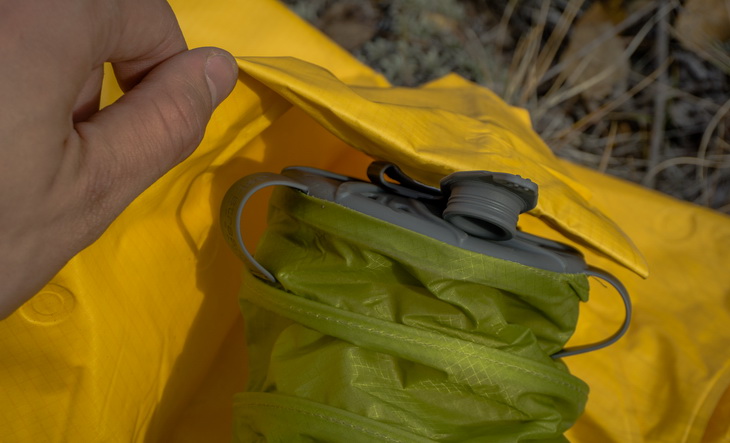 However, this doesn't mean that you shouldn't dry it out before compressing it; drying it out on the sun is always necessary. A 3M kit for repairing the mat is also included in the package. The kit contains 6 patches, and one spare silicone valve insert which works one way.
Noise
The main issue with air pads, is their noise, when you are moving in the middle of the night. Unfortunately, Sea to Summit hasn't solved this issue and it is a bit noisy if you are a restless sleeper. However, there are mats that are more noisy, so it is not too bad. If you are a tight sleeper though, this sleeping mat would be ideal for you.
Unique features
Ultralight: This sleeping mat's main advantage compared to similar models on the market is its weight which is considerably lighter. It owes this feature to the thinness of the mat itself and its durable material. The material is durable enough so that it won't get damaged easily, yet it is light enough so that you have a considerable lower amount of weight on your back during your trip to the nature.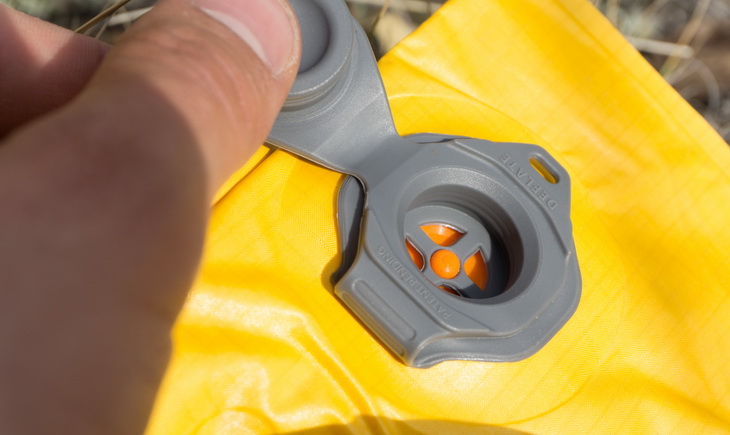 Inflation and deflation: Sea to Summit have recognized their leading feature and failed a patent request for their inflation and deflation technology. With the help of multi function valves, the inflation and deflation process is very fast and effortless. As mentioned before, the process itself, doesn't take more than a minute and only 8 to 12 mouth inflations depending on your preferences for the sleeping mat's hardness.
Air sprung cells: The air sprung cells is a feature that is bringing this sleeping mat to the top between its competitor's models. The cells have an involvement in the packed volume of the sleeping mat as well as its minimum weight properties. They also let it operate as a pocket sprung mattress which means that the support they are providing is incomparable with any other model on the market.
Value for Money & Guarantee
The Sea to Summit provides a great value for the price offered, at least if you use it as recommended. If you try using a sleeping mat such as this one on colder weather, or on rocky terrain you will of course be dissatisfied. However, when used right, you will definitely be amazed by the features and comfort it has to offer.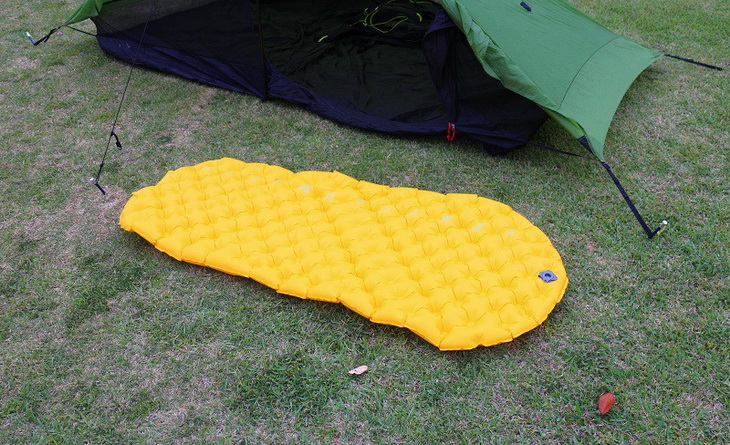 It provides the user a wonderful experience, starting from your trip, all the way to the top of the mountain. It will not let you down and it will prove to you that there is a possibility that a product is both lightweight and with an excellent quality.
Similar Models/Competitors
Sea to Summit Comfort 
The Sea to summit Comfort insulated mat has similar features with our reviewed Sea to Summit product except it has insulation properties and it is suitable for cold weather conditions.
The comfort it provides is thanks to the multi function valve system as well as the air sprung cells that are also present in our reviewed version. They are both made from high quality material that and have been treated with antimicrobial treatment.
However, this sleeping mat is upgraded with platinum, which is widely known for its insulation and warming properties. It is also a  lightweight element so it doesn't change the weight of the package significantly.
Comparing to the thermal properties of the reviewed Sea to Summit sleeping mat, which was 7.0, the Comfort Plus offers a 5.0 R-value which is warm enough for fall and warmer winter periods.
Klymit V Lite 
The Klymit V Lite pad has the highest thermal abilities from all the competing models and it is optimized for cold weather conditions.
Although it is lightweight, it doesn't compare to the Sea to Summit sleeping mat which is the lightest among competitors in this price range.
Unlike the Sea to Summit sleeping mat, this one is very quiet when you are moving, which makes it highly suitable for restless sleepers and if you are sleeping with someone else around.
What's impressive is that it is able to pack very tightly to the size of a bottle and the comfort it provides is nearly the same with the Sea to Summit, since they are using the same valve technology.
The setup is also pretty easy, although the valve is a bit difficult to open. Once you get this done, you need only 8 to 10 breaths and you have settled yourself for a comfortable night's sleep.
Therm-a-Rest ProLite 
The Therm-a-Rest ProLite sleeping mat delivers a high quality self inflating sleeping mat that is suitable for cold weather conditions. The R Value of this sleeping mat is 2.4 which makes it the warmest mattress in this weight category.
It uses diagonal channels that are making it thermo efficient and they are retaining the heat a lot better than the straight cut foam system.
Comparing to the Sea to Summit sleeping mat, they have completely different features. Therm-a-rest focuses on its thermal features and Sea to Summit on its lightness and body support. The only things they have in common are their comfort and lightweight features.
Overview
If you have ever spent a restless night on an uncomfortable sleeping pad, you are ready to go through every buying guide available online. Hopefully this buying guide gave you an answer to all of your questions and doubts regarding sleeping pads intended for hikers, backpacker, and campers. You have certainly learned about which mat to take on a long expedition and which mats are more suitable for a one night sleep.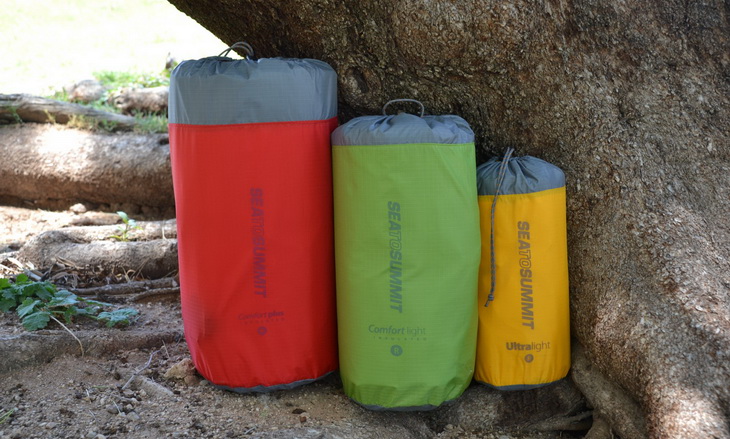 Presented above are all the features and the downsides of this product. We have included our own review as well as the opinions of the other users. It is up to you to choose the lightest, cheapest or the best version of a mat, according to your own opinion and your needs.
Pros:
Extremely lightweight
Easily inflatable
Easily deflatable
Antimicrobial technology
Comfortable
Cons:
Bad customer service (stated by the users)
Thin at first glance
A bit noisy
The trick in finding the best option for you is always measuring the pros and cons and whether the pros are compatible with your needs. One product could have all the desirable features, but if those are not suitable for your trip, every feature it has is redundant. Therefore, above all, you should consider your trip's conditions and decide accordingly.
Sea to Summit Ultralight
Packaging

Design and durability

Insulation

Warmth

Comfort

Water resistance

Noise

Unique features

Value for Money & Guarantee
Summary
No matter for which type of purpose you purchase this product, it provides a great comfort whether you are near your house or in another country.
And, thanks to the system of antimicrobial protection, you are safe everywhere, and you don't have to spray it with a special antibacterial liquid because it contains a proper technique that provides this very important feature.
Because of its lightweight feature, the sleeping mat is a perfect fit for light traveling, and it won't require much space in your sack. This mat is a great product and it represents a necessary thing in your equipment, especially if you have to sleep a few nights.

If you find this buying guide useful, feel free to share it with your friends who are in need of a camping mat. However, if you have any questions or doubts concerning the suggested product or some of the features described, ask us a question through the comment section below. We would be glad to assist in buying decision and making your backpacking trip a bit more comfortable.