If you plan on capturing some nice photos or videos while you are backpacking, then surely a tripod is a necessity for you, right? The best hiking tripod allows your camera to stay level and stable while you are taking photos. These are useful to take a variety of photos, like landscape shots and panning.
You can use tripods to take photos in low lights and you can time when the photos will take place, and choose your shutter speeds and more. There is a lot to look for in a tripod, so do not get exhausted! We are here to show you the best backpacking tripods! A really good tripod does not cost a whole lot, and you can still find one made with quality materials.
This is why you should look for a durable, balanced tripod that is easy to use. Setting up and using the controls should be rather simple as well. Ensure that it is high enough to take a peek into the view finder. If you are using a tripod a lot outdoors or in your travels, find one that is light in weight and can fold down to a small size.
If you have any issues, you can consult the manual for the tripod and the camera that can help you troubleshoot. Be sure to look into the many features of a tripod before making a purchase. You will want to ensure that it works well with your camera. Now, let us show you the world of tripods for outdoor use!
Our Top Picks
Features to Consider Before Buying
Below are some features that you should look out for when purchasing a tripod for your next hiking or backpacking adventure! Consider these before you purchase your tripod, so you can get the most use out of it.
Stability
Stability is probably the most important feature in a tripod. It needs to be light and strong, so your camera can be used.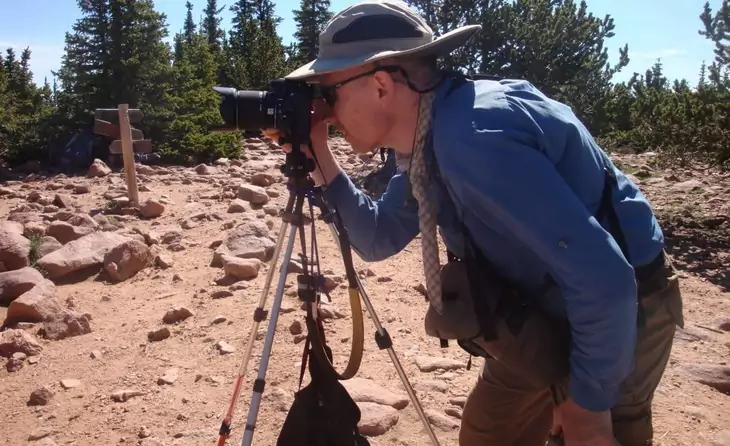 Using extra lenses can make tripods fall over. Be sure to get a tripod that will hold your photography gear without it getting damaged.
Construction
Tripods made of plastic are not ideal because they are not that strong, even so if you are using extra lenses. You want a tripod made of strong material that is still light enough to carry it around for a while.
Quick Release
Some tripods have a screw attachment so that your camera can be fitted on top of the screw. Some tripods with a quick release avoids that screw and allows you to attach your camera, or detach it, in the blink of an eye.
Position and Height
Tripods need to hold their positions when the camera is changed around from horizontal to vertical, or vertical to horizontal. The height of the tripod needs to be proportionate to so that you can peek through your camera and make sure the photo is centered how you like it, and the modes you selected are in working order.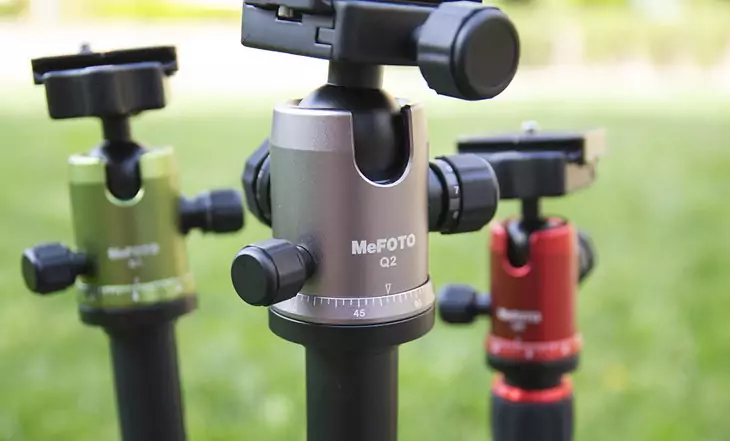 You do not want to have to bend over to adjust your camera. Tripods come with three heights, which are Minimum Height, Maximum Height, and Folded Height.
Tripod Heads, Clamps, Bubble Level
Tripod heads are important and come in a variety. There are three way pan, tilt heads, geared heads, fluid heads, and more that you can consider having on your tripod. Clamps or flip locks are used to move the legs of the tripod, especially on ground that is not even, and help the legs to stay in place so your photos can be taken at the height you wish.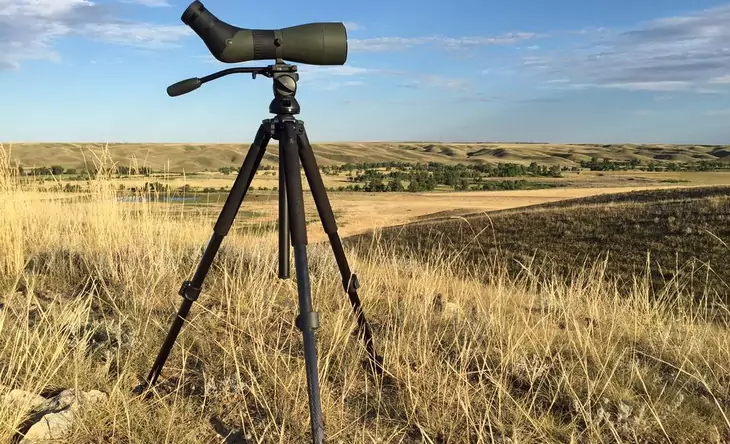 This is a level that is part of the tripod that helps you shoot photos or videos at a level height, whether horizontal or vertical.
Top Product Reviews
Now we have come to the fun part! You get to read over several reviews to see which tripod is the best for your next backpacking adventure! Be sure to look at the specifics of each tripod so you can be informed when it comes to purchasing!
Pedco P-UP1-BK-STD 
Price: Approx. $12
Dimensions: 2 x 6 x 8 in
Item weight: 0.09 lb
Material type: Fiberglass with nylon and aluminum
Color: Black
Specific features: Compact, lightweight, U ball socket and mount
Best use: Hiking, backpacking
Description: The Pedco P-UP1-BK-STD  can literally be taken anywhere with its ultra-light weight, and easy to compact style. There is a Velcro strap that can help you attach it to items like fences or trees.
It can be used alongside small cameras, web cams and more! Made with molded and reinforced fiberglass and aluminum threading, you are sure to get a strong product. The various features make this tripod great such as Fold out legs that will not slip, 90 degree tilt adjustment, 360-degree pan adjustment, 20 degree angle adjustment, Ball and socket mounting assembly, and holds 3 pounds of weight.
This tripod can take a beating and can be used for many years. The construction materials make it highly durable and the various ways in which you can use your camera with it, ensure that you will not run out of ideas and great photos to take!
Users gave this tripod a high rating because of its portability and durability. The downside is that it is not made for bigger cameras. Overall, users do not mind toting this small tripod around because it is a huge asset in taking great photos!
PROS:
Affordable
Fold out legs, with non-slip feet
Great for cameras with bigger lenses
CONS:
Clamp for joint is hard to use
Not as stable as others
Legs are weak
Related: The Vastar VTM2-ALX-1 Adapter Holder will attach to your new tripod and will hold your phone so you can get a crisp, nice shot at any distance. This item costs around $5 and is made from plastic. It will support Android, Apple, Blackberry and other phones for the best selfie out there!
Sirui T-005KX 
Price: Approx. $120
Dimensions: 52 inches with a max height of 54.5 in
Item weight: 2.2 lb
Material type: Aluminum
Color: Black
Specific features: Folds down to under a foot, lightweight
Best use: Hiking
Description: The Sirui T-005KX  is a near 5 star tripod, according to consumers who have used it. It is so small and lightweight that you might forget you are carrying it at all!
Consumers say that it is priced right for such quality and they love the removable center column to take photos from different angles! The ball head is perfect, the legs are sturdy, and it sets up in no time!
When folded, it is about a foot long, and comes with a twist lock for the legs to stay together. It is also perfect for taking panoramic photos and photos at various angles that you cannot get with other tripods.
It is not meant for heavier cameras, so do not expect it to perform as it would for a regular or small camera if you are using a heavy camera or extra lenses. Some users did not like the locking handle that is for the quick release. Overall, consumers have raved over this tripod, and even its carbon material version. Users have said they love to take it on their hikes and various travels.
PROS:
Center column removes for those low angle shots
Folds down nicely
Under 2 lb
CONS:
Does not feel stable at load capacity of 8 lb
Not a fast set up process
Related: The Sirui TY-C10 Plate For All Cameras works on your new tripod so you can quickly release your camera from the tripod. It weighs only 1.2 oz and fits all ball heads made from Sirui. Plus, it is fully RRS Level Clamp compatible.
Manfrotto MT055CKPRO3 
Price: Approx. $350
Dimensions: 24 x 5 x 5 in
Item weight: 4.4 lb
Material type: Carbon fiber
Color: Black
Specific features: Made of carbon fiber, rotating bubble level, holds 19.8 lbs
Best use: Hiking, backpacking
Description: The Manfrotto MT055CXPRO3  comes with many functions to keep you busy with! The quick power lock is extra stable, and makes the tripod stiffer, and allow it to hold more weight, up to 20 pounds!
There is a mechanism that makes setting up the tripod quick and easy. You can also use a variety of attachments with this tripod including a reflector or LED light. The options are endless!
This tripod has a flip lock leg closure to keep the legs of the tripod together and stiff. It is made of carbon fiber and has a maximum height of 170 cm and a minimum height of 9 cm, allowing you to get various styles of photos. Users love this tripod because it is extra sturdy, and is fully adjustable, plus the center column can be rotated!
Users state they get excited when they use it because it has so many options and functions that you can take so many unique photos! While a little pricey, it is definitely worth it if you are looking for something you can use outdoors that will take a beating and last for years to come!
PROS:
Made of carbon fiber
Upper disk has rotating bubble level
One finger operation
CONS:
Pricey
Clasps can pop off
Related: Don't worry about scuffing or dinging your new tripod with the Manfrotto MBAG80PN Tripod Bag. This bag perfectly fits this tripod and will leave you worry free about any damage. It costs under $100 and is easy to carry and water repellent!
Vanguard Veo 204AB 
Price: Approx. $100
Dimensions: 4.8 x 4.8 x 16 in
Item weight: 3 lb
Material type: Aluminum
Color: Black
Specific features: Column rotation, multi action ball head, low angles, folds down to 15.6 in
Best use: Backpacking
Description: The Vanguard VEO 204AB  has 3 leg angle options, is easy to grip and is leg locks that adjust the tension. It folds down to 15.6 inches and has a max height of 53.1 inches. It weighs about 3 pounds and includes a ball head with a bubble level, and an Arca Swiss quick release.
Users like that this is a very compact tripod that they can pack and take anywhere. The tripod also has a high load capacity, too, with the ability to hold heavier cameras. This tripod has a 20 mm leg diameter and can hold 8.8 pounds total. There are 4 leg sections that are sturdy, plus this model is lighter than some of the other Vanguard VEO models. It also comes with an adapter for taking photos at a low angle.
If you want a durable, versatile tripod, this is definitely one to look into! Users love it because it held up in the wind, was sturdy, and was great for use for many hours at once, and had no trouble with users taking long exposures.
PROS:
Nice grip
Great for low angles
High loading performance of 8.8 lb
CONS:
Not for heavy cameras
Not for tall people, as some have to bend over to use this
Related: You have a new tripod, but what about a digital camera? The Ricoh Theta S Digital Camera has a 360 degree spherical panorama option and can broadcast footage live! This will work nicely on top of your new tripod!
Mefoto A1350Q1K 
Price: Approx. $200
Dimensions: 3 x 3 x 15.4 in
Item weight: 3.6 lb
Material type: Aluminum
Color: Titanium, green, blue, purple
Specific features: 360 degree panning, recessed center column hook, heavy duty ball head, 5 leg sections
Best use: Backpacking, hiking
Description: The Mefoto A1350Q1K  can convert up to 64 inches tall and can compact down to 15.4 inches. The legs can be inverted or folded back to get the perfect angle due to its flexibility. The legs will twist to lock and have a built in anti-rotation system, but still sets up and folds down fast and easily.
This tripod is resistant to weather and water, plus it can hold 17.6 pounds of weight. Also, because of the separate head and pan lock, you can attach your camera at any angle. Users like that it has unique features, such as 5 legs, and a twist lock system, but there are other great things about this tripod, including the panning range of 360 degrees. Consumers say that this product is made with quality materials and it shows.
But it is still easy to take with you and comfortable to carry. Plus the ball head is removable, so there is another function! Users love that it is easy to use, has a smooth design, and it is highly durable.
PROS:
Comes in aluminum or carbon fiber
360 degree panning
Heavy duty ball head
CONS:
Costly
Shakes easily
Only 2 settings for locking legs
Related: The Ivation COMINU027779 Plates are helpful when changing cameras on your new tripod. This allows you to do the action quickly without fussing over cameras and the tripod. These have nice traction and have a protection for the base of the camera. At $15, this 2 pack will work wonders!
Joby GorillaPod Hybrid Flexible Tripod
Price: Approx. $50
Dimensions: 9.2 x 6.6 x 3.5 in
Item weight: 11.2 oz
Material type: Medical grade ABS plastic
Color: Gray
Specific features: Great for action videos, POV cams, off camera flashes, has a slim line quick release clip, bubble level, sturdy
Best use: Hiking, backpacking
Description: The Joby GorillaPod Hybrid Flexible Tripod is known for its ball head positioning and stability. You can attach your camera or even a smart phone to this tripod and take all types of unique photos.
You can adjust, all you want with the easy to tune ball head. Users love this because it weighs under a pound, but it's still very sturdy and allows you to take crisp photos from unique positions.
Some of the down sides of this product are the very short legs, and the fact that the ball head does not remove from the tripod. Other than that, many users find that this tripod fits their needs and was easy to use and pack down.
It is very light, makes great videos, and the legs stay locked in position, as they should. You can also purchase many attachments for this particular tripod, and it takes great action videos, as well!
PROS:
Has ball head bundle
Flexible
Affordable
CONS:
Does not fit all cameras
Joints can pop off
Related: The Rode VideoMicro Compact Microphone can attach to your tripod so you can get great quality audio as you record your videos. It is compact and light, does not need batteries, and has a shock mount included, as well as a windshield.
Sirui T-025X 
Price: Approx. $220
Dimensions: Max height 54.5 in, minimum height 10.2 in
Item weight: 1.9 lb
Material type: Carbon fiber
Color: Black
Specific features: Light weight, twist locks, compact, foam leg protection
Best use: Hiking, backpacking, camping
Description: The Sirui T-025X  is light in weight, easy to travel with and is made of carbon fiber. This tripod can hold weights up to 13.2 pounds and can hold DSLR cameras and most types of lenses. The setting up process is simply done by opening the twist locks and angling the ball head as you like.
The center column does remove and lets you get photos at even more angles, and is an overall great for panoramic photos with the tilt staying in place. This tripod also comes with 5 leg sections and they can fold up to 180 degrees, plus there is a lock mechanism that is easy to put in place. Users love that the tripod is light and is very durable.
The tripod is great for taking slow shutter photos and various other types. You do not have to be afraid to take this tripod into nature and capture some jaw dropping photos and video!
PROS:
Optional bonus plate
Light but strong
Auto leg lock mechanism
CONS:
Costly
Screws can come loose
Related: Before you load your camera onto your tripod, remember to have enough space to save your photos and videos with the Lexar Professional USB Reader. You can get this in various sizes to store all of your memories. This is made with high speed performance, and will allow files to transfer quickly.
Dolica LX600B502DS 
Price: Approx. $200
Dimensions: 4 x 5 x 25 in
Item weight: 4.5 lb
Material type: Aluminum
Color: Black
Specific features: Detachable mono pod, panoramic angles both vertical and horizontal
Best use: Hiking, backpacking
Description: The Dolica LX600B502DS  is resistant against chipping, rubbing, peeling and scratching, which means it is durable and can take a few bumps when you are hiking or backpacking. Made from aluminum, it is meant to last you a long time. Even though it is heavier than some tripods, it is still light and easy to transport anywhere.
Users like that ball head allows you to rotate the camera into various modes for the perfect photo. Users say this tripod allows for a lot of freedom and creativity! It looks classy and comes with a decent price tag. There are not many tripods that let you turn the legs 90 degrees.
Plus, it is easy to lock down and set up. You can tell that it is made with high quality materials and it is durable enough that it will not collapse and ruin your camera and tripod. Everything is sturdy, durable, and works as best as it can with this tripod. You will have no issues getting the perfect photo!
PROS:
Monopod detaches
Panoramic angles
Comes in 60 or 65 inch options
CONS:
Rubber feet come loose
Not stable at maximum capacity of 20 lbs
Related: Do you want to use your tablet to take videos or pictures from your tripod? The Accessory Basics KLPM8 Tablet Holder will hold your tablet so you can take photos and videos with ease. It also fits large phones, but is overall a universal tablet holder. Easy to install, you can find this for under $15!
Pedco Ultrapod II 
Price: Approx. $20
Dimensions: Packs down to 11.8 inches, extends to 54.5 inches
Item weight: 1.9 lb for carbon fiber or 2.2 lb for aluminum
Material type: Carbon fiber or aluminum
Color: Black
Specific features: Light in weight, compact, removable D ring, unique mount assembly
Best use: Backpacking, hiking, mountaineering
Description: The Pedco UltraPod II  can fold down to 11.8 inches, which is like the size of a laptop. It can fit in your pack with ease and is comfortable to carry.
It is known to carry heavy loads, and has no problem holding your extra lenses, and it extends up to 54.5 inches so you can get the right height for your photo. You can tilt your screen for the perfect shot, and take great panoramic photos and various angled photos.
Nicely priced, you will not be disappointed with this tripod as it is highly durable and strong and it is easy to transport. With it being so compact and has great balance, you really cannot ask for more with the price and features.
The design is versatile and flexible, and you will want to take this on each and every hike or vacation for incredible clear pictures and video. This version has 3 legs and a removable center column for better angling. Users like it because it is easy to get level on rugged land. You can even get it as low as an inch or so above ground for some outstanding photos from the low ground.
PROS:
Affordable
Fold out legs are non-slip
For use at any angle
CONS:
Can feel unstable with heavier cameras
Legs seem weak
Related: If you are using your tripod in rainy weather or during times where dust is kicked up, you may want to protect the camera with a cover. The Peak Design Shell Cover keeps wetness and dust away, as well as abrasions. It comes in 3 sizes and is form fitting over your camera.
Concluding Thoughts
Now that you know a little more about backpacking tripods, you can feel comfortable taking one on your next hiking or backpacking journey. Surely you will get a lot of great shots and video of the world around you. Getting clear, perfect shots is all thanks to using tripods when taking photos.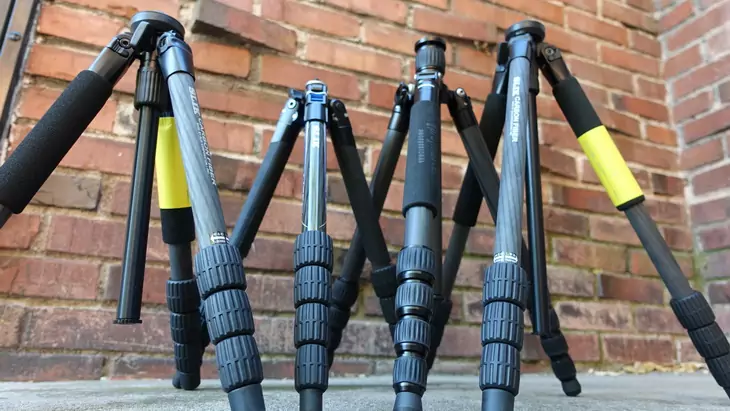 Knowing the features and other information about tripods will allow you to find the one that will meet your needs. All you need to do now is get a tripod and start taking beautiful photos! What kind of tripod do you use when backpacking? What is so special about it? Where do you go to take breathtaking photos?
We love to hear your thoughts and comments, so give us a few words in the comments section below and let us know what is on your mind! Also, if you have some questions, or feel like we missed to mention something important, feel free to let us know.