Hiking during the hot days in the wilderness requires a chilly and fresh beer for beer lovers. Many people are accustomed to taking bottles and cans together with the coolers to retain the freshness of their beers. The fact is that that's a bulky gear to strain your muscles, whereas you can opt for compact solutions such as the best outdoor beer growler.
The trend of beer growlers grows exponentially the world over with many beer manufacturers seeing the need to produce masses of these growlers. But these beer growlers have been in existence for many years ago.
Due to this grown popularity of beer growlers, there are many brands on the market. They are not only used for the retention of the temperature for beers, but for any cold and hot beverage you can think of. For instance, the cold beverages can generally be kept for 24 hours, whereas the hot coffee can be kept fresh for 12 hours. It all depends on the type of the growler you have because some can retain the temperature for a shorter period and others competitively for 72 hours as their maximum retention period.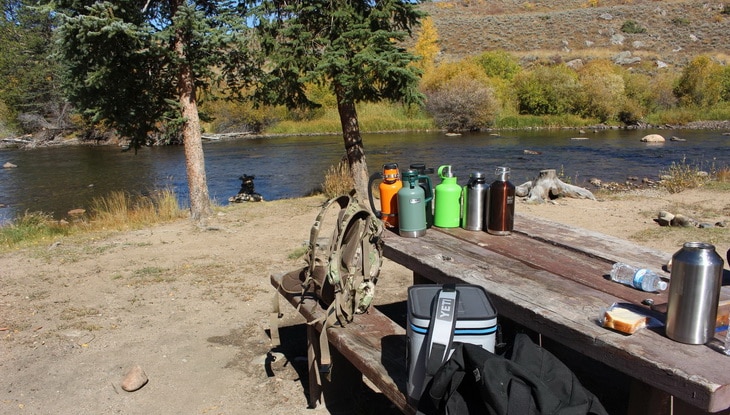 Notwithstanding these differences, the common ground is to retain the freshness of your drinks. We have compiled a list of some of the renowned brands on the market for their top notch quality and performance. Read through to get a glimpse about this outdoor tool. Let's first discuss the benefits.
Benefits of the beer growler
If you have travelled with a cooler for your beers you can relate that how inconveniently heavy it is when you have to travel from one summit to another, or climb steep terrains. Unfortunately you cannot rely on cans and bottles because they are not temperature-stable. When exposed to the hot days, the cans will quickly change the contents in line with the temperature. So it's apparent that the beer growler emerges as the best solution among other methods of temperature retention.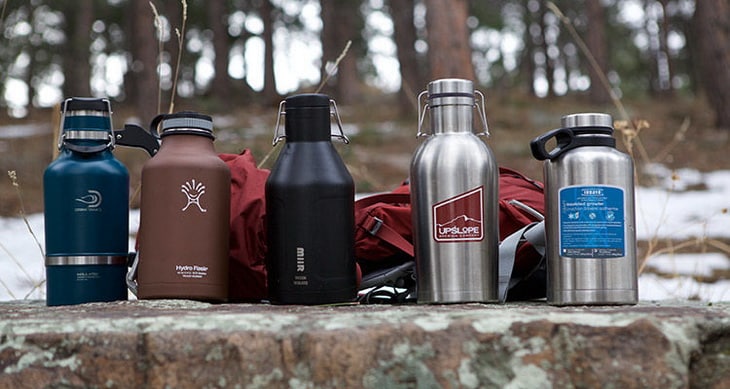 Think about 64 ounces of a container to pour your beer in it, whether from the tap or by pouring your cider in it. One obvious advantage of the beer growler is its compact design. You can easily carry this double-wall insulation bottle to any location. It will retain the freshness of the contents in spite of the temperature fluctuations.
If a cappuccino is poured hot in a growler bottle, it will remain hot for the next 12 hours. A cold beer will remain cold for the next 24 hours. That's long enough to enjoy the refreshments while you reflect and map on the next adventure. Unfortunately, you have to devise another plan to refill the growler if you planned a multi-day outdoor adventure.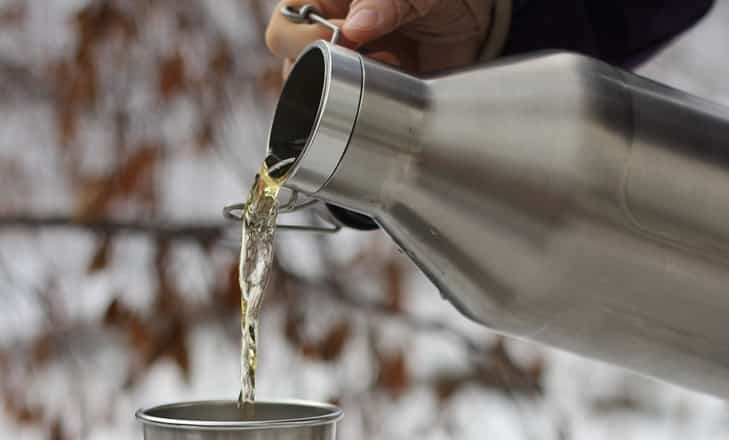 Now that we are given plenty of options of these beer growlers, how can one buy one? Careful analysis and evaluation is needed in this regard. Not all perform exceptionally well. There are features that you should pay attention on to help you select that one beer growler for your destination, and we've discussed a few yet important below.
What to look for when purchasing the best beer thermos?
Most of these beer growlers share common features. They are predominantly made of the food grade stainless steel as one of the most hygienic materials on the market. There are no pores or cracks that could jeopardize the purity of your contents. So it's hard to distinguish that which one is the best because they all comply to the food grade 304 18/8 stainless steel.
The capacity is different from one beer growler to the other. Some common sizes available include the 18, 32, 40, and 64 ounces. You have to pick according to the nature of your outdoor adventure. For instance, you should pick the larger size if camping for more than 2 days, although a beer is not indispensable, but recommended for refreshment purposes. They can be different in sizes, but are common with features.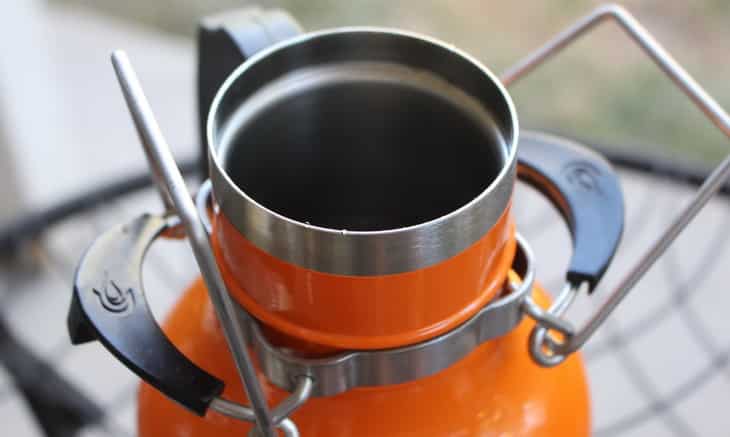 The other factor to consider is the preservation period. Some beer growlers can preserve the beer up to 72 hours, whereas others can preserve up to 36 hours. The majority goes with the maximum of 24 hours. And the cans can preserve up to 3 hours. Check such differences as well.
Reviews of the best models on the market
MiiR 500285-P
WEIGHT: 2 pounds 
DIMENSIONS: 12 x 6 x 5 inches
SPECIFIC FEATURES: Double wall vacuum insulated, 18/8 medical grade stainless steel, Preserves the cold drinks for 24 hours and hot coffee for 12 hours, BPA free.
BEST USE: preserve beer
DESCRIPTION: The 64 ounces MiiR 500285-P can preserve your beer for as long as 24 hours. That is sufficiently long to enjoy the fresh beer irrespective of how hot the temperatures are. If you love hiking or backpacking or running in summer you would understand how important it is to have some refreshments.
This beer growler has a double wall vacuum insulated to repel any sweat and keep your beverage in the desired state. It also complies with the 18/8 medical grade of stainless steel to ensure your safety.
If you're considerate of the BPA (bisphenol) – linked health hazards don't worry, because this beer growler is free of BPA chemical. The 18/8 also ensures your safety. This essentially implies that you will not store your beer for certain hours and then taste a funny smell. The freshness and the smell will be retained for 24 hours.
So if you're preparing for your next adventure, you may as well consider this portable and compact beer growler for its great retention features. Many customers are also impressed about the performance of this beer growler, although they wish it took more than 24 hours to retain the cold beverages.
RELATED: It is important to keep the bottle clean after use. That said, we recommend the OXO Grips to help you accomplish that.
Ivation B01M5 
SPECIFIC FEATURES: Carrying pouch included, Durable and compact design, Double wall insulation, Cold beverages preserved for 24 hours and hot stuff for 12 hours, Leakproof twist-off sports cap, No-sweat design.
BEST USE: preservation of beer or hot drinks
DESCRIPTION: Looking for the effective beer growler for your beer? The Ivation B01M5, available in black, silver or red offers you the best solution. Its size is 64 ounces. It can therefore hold sufficient beer for a maximum period of 24 hours without losing its freshness and/or taste.
You can safely pack it in your backpack without worrying about the leakage because it is leak proof. The growlers durable and compact design makes it ideal for any caliber of outdoor activities, whether hiking or backpacking.
The growler's double wall insulation plays an imperative role in the preservation of your beverages' temperature. It restricts the effects of climatic conditions in affecting your drinks. This insulating bottle comes with the PBA 18/8 grade for stainless steels. This ensures your safety and compliance with industry regulations. Moreover, the plastic-lid of this growler is BPA free.
For the sake of health hazards, you need to frequently care about this bottle. For instance, you have to clean and rinse it thoroughly before pouring your beer in it. Fill it with your cold beer and tighten its lid thereafter. Then you will be ready on the set to hit the roads.
TERRA LAB B01NG
WEIGHT: 1.8 pounds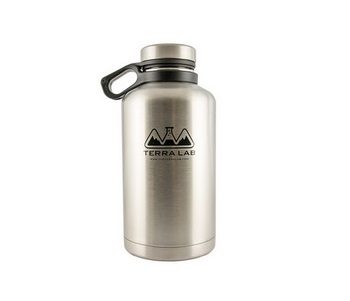 DIMENSIONS: 4 x 4 x 10 inches
SPECIFIC FEATURES: 64 oz. capacity, BPA free, Double wall vacuum sealed for your cold beer, Leakproof insulated cap, Made of quality 304, 18/8 stainless steel.
BEST USE: preservation of beverages
DESCRIPTION: TERRA LAB B01NG stands above the crowd of other beer growlers with its longer preservation period of 36 hours. On average, numerous growlers can only preserve for 24 hours for cold beverages and 12 hours for hot coffee.
On top of that, this growler embraces great features such as the double wall vacuum sealed stainless steel to provide ample insulation. So, hot or cold temperatures are not a match to this insulation.
It's easy to operate this bottle with this two fingered pour and carry handle. Meanwhile the leakproof lid makes sure that your beer doesn't wet out your other clothes in your backpack. The lid is also insulated to deter any possible temperature loss when pouring the beer. The growler also complies with the 18/8 grade for stainless steels. This grade is safe and reliable.
With this portable and compact beer growler, you can even ride a bicycle while holding it with your two fingers. It's a great alternative solution for your coolers in preserving the beer.
DrinkTanks B00SL
WEIGHT: 2.5 pounds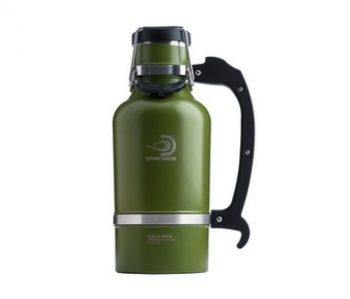 DIMENSIONS: 6.5 x 4.5 x 12 inches
SPECIFIC FEATURES: Double wall vacuum insulated body, No condensation, Leakproof with the sturdy double-bail system, Preserves the beer by injecting Carbon dioxide, 18/8 food grade for stainless steel, BPA free.
BEST USE: preservation of cold beer
DESCRIPTION: With the injectable carbon dioxide to keep your beer cold for a long time, the DrinkTanks B00SL emerges as one of the best beer insulator for any outdoor enthusiasts. It also comes with the food grade of 18/8 for stainless steel to ensure that you stay safe. Your beer will be preserved for a maximum of 24 hours in a BPA free container.
There's no fear of leaving this growler in the backpack due to leakage problems because it as a leakproof system to prevent that. Not to inject the carbon dioxide into this growler to preserve the beer you will have to purchase the Keg Cap separately.
Whether you are at the beach, in the wilderness or at the top of the summit, this beer growler will not disappoint you given the fluctuations of outdoor temperatures. It will keep your drink chilly the way the brewer had recommended.
The double wall vacuum insulation plays a significant role in preserving beverages as long as 24 hours. Your adventures will be quite refreshing with this compact beer growler weighing 2.5 pounds.
RELATED: To keep the beer fresh even longer, you are advised to inject the carbon dioxide using the DrinkTanks Keg Cap Accessory Kit as the best companion for this beer growler. Carbonation is usually the byproduct of the fermentation process. Having carbon dioxide added certainly preserves the beer.
Smoky Mountain B011M
WEIGHT: 10.6 ounces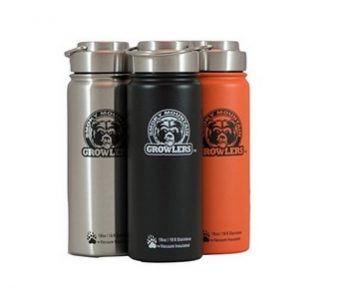 SPECIFIC FEATURES: Capacity of 18 ounces, Preserves cold beverages up to 24 hours and hot up to 12 hours, Large wide mouth opening, Non porous and BPA free, 18/8 kitchen grade stainless steel, Eco-friendly and 100% recyclable, Lifetime warranty.
BEST USE: retain freshness of the beer
DESCRIPTION: Smoky Mountain B011M seek to make a mark in beer growlers by providing competitive insulating stainless steels to withstand extreme temperatures. Despite being a small bottle among others, it still offers the great features and a sterling performance of preserving your beer for a period of 24 hours and a hot coffee for 12 hours. The bottle is BPA free and conforms to the kitchen grade termed 18/8 stainless steel.
You have the option to purchase either the powder coated black & orange bottle or the polished stainless steel. The growler is equipped with a large, wide-mouth opening which affords you the flexibility to clean, fill-in or to drink your beer.
Smoky Mountain Growlers is a renowned brand known for its quality of products characterized by durability and freshness. As thus, the company offers a lifetime warranty on its beer growler. Make use of this opportunity whenever you bottle gets damaged due to some factory defects.
Note that you can find this beer growler in many options of capacity, such as the 64 ounces, 40 ounces, 32 ounces in addition to this 18 ounces. The choice of capacity basically depends on the amount of beer to fill. For a weekend of your epic adventure, we recommend the largest 64 oz.
These bottles can essentially preserve the beverages up to a maximum of 72 hours. The ice can remain up to 5 days while the hot coffee can remain hot for 24 hours. This is the performance that is seldom in other beer growlers.
RELATED: For larger beer growlers, you can buy the Smoky Mountain 64 oz and the Smoky Mountain 32 oz to prepare for more days of hiking.
LEVRA B01M8
WEIGHT: 2 pounds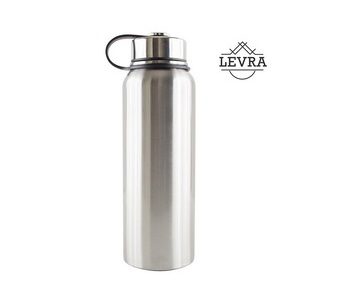 DIMENSIONS: 10.5 x 5 x 5 inches
SPECIFIC FEATURES: Has capacity of 64 oz., Preserves drinks cold up to 24 hours and hot for up to 12 hours, Remain carbonated when sealed for up to 36 hours, BPA free, leak and sweat proof, 100% money back guarantee.
BEST USE: beverage preservation
DESCRIPTION: LEVRA B01M8 32oz is sweat and leak proof. This makes it ideal to store the beer in your backpack without leaking drops of the beer to your apparels. Carbonation is important for any alcoholic drink. For this reason, this beer growler is designed to let the beer remain carbonated for up to 36 hours. Your cold beer will remain fresh for up to 24 hours while the coffee remains hot for up to 12 hours because of the outstanding double wall insulation.
The BPA free ensures that your health stays intact without any possible contraction of illnesses due to BPA chemical. If the product does not satisfy you in the way it retains the contents' temperatures, the company provides 100% money back guarantee. That is a good indication that the company endeavors making quality products to meet your outdoor prerequisites.
YUKON GROWLERS
WEIGHT: 2 pounds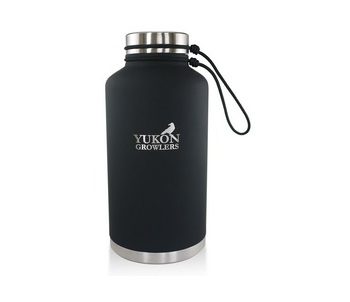 DIMENSIONS: 10.5 x 5 x 5 inches
SPECIFIC FEATURES: Retain your beer cold up to 24 hours, Double wall vacuum insulated, High quality 304 stainless steel, Eco-friendly and BPA free, leakproof.
BEST USE: beer preservation
DESCRIPTION: With this Yukon Growlers beer growler, you are assured a great pleasure of refreshments in the wilderness when the temperatures have gone up. It will help retain the temperature of your cold beer for 24 hours before consumption. Otherwise, you can also include the ice to increase this period. If you decide to keep coffee for the cold nights, it can last up to 12 hours. All of these are made possible by the double wall vacuum insulation.
The high quality 304 stainless steel is used to engineer this beer growler to perfection and long-lasting durability. For any possible leakages while traveling with your beer growler, the product has offset them with the leakproof feature. The lid is reinforced with a silicone gasket which plays the role of preventing an leakages of your beer.
If the bottle gets damaged, it can be recycled. It is 100% eco-friendly and BPA free.
Over 5 bottles of beer can be carried by this 64 ounce bottle. What matters is its carbonation and coldness for a period of 24 hours.
Hydro Flask HFWM
WEIGHT: 1.8 pounds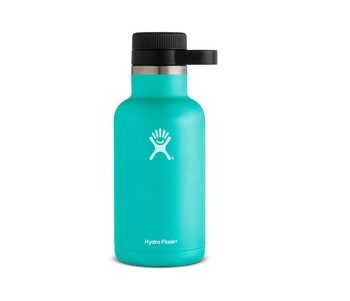 DIMENSIONS: 5 x 5 x 11 inches
SPECIFIC FEATURES: Premium grade 18/8 stainless steel, lifetime warranty, double wall vacuum insulation, preserves drinks cold up to 24 hours, power-coated matte finish, sweat proof and BPA free.
BEST USE: preserve beer when hiking
DESCRIPTION: The Hydro Flask HFWM insulated stainless steel helps you never blame the hot day for ruining the refreshing taste of your beer. It keeps your cold drink in the same temperature for 24 hours while you are busy exploring the world. It doesn't perform well in preserving the hot drinks as compared to its counterparts. Only a maximum of 6 hours to preserve your hot coffee.
Unlike most of aluminum bottles, this beer growler has no liner and has no BPA. It also does not jeopardize your clothes with sweat because it is sweat proof. In case of any defect, there is a lifetime warranty on this beer growler. This means you can confidently enjoy your epic outdoor adventures that knowing that the manufacturer accounts for any defects. Having this beer growler takes your refreshment hobby to another level.
RELATED: The Hydro Flask Wide Mouth emerges as the great accessory to use with this beer growler for ease of drinking your beer.
Thermos 2700T
WEIGHT: 4.2 ounces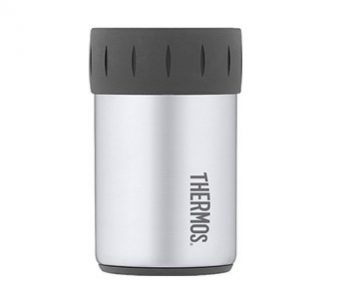 DIMENSIONS: 3 x 3 x 7.3 inces
SPECIFIC FEATURES: Durable stainless steel, thermos vacuum insulation technology preserves more than an ordinary one can can do, Sweat proof, Has a capacity of 12 oz.
BEST USE: preserve 12 oz. beer
DESCRIPTION: The Thermos vacuum insulation technology enables this specialized Thermos 2700T to preserve your beer for up to 3 hours whether hot or cold. It performs 10 times more than the ordinary cans. Both the interior and the exterior are made with a durable stainless steel.
The bottle comes with a rubber grip for ease of hold. Its sweat proof ensures that no water rings on the bottle or the lid. We would be unreasonable should we say you can go to your wilderness with this 12 ounce can, unless you have refill means. It is basically suited for beach camping. It is small for serious refreshments.
We have reached the end of our great and affordable beer growlers. Did we mention how to clean these beer growlers? Oh, not yet. It is also imperative to know how to care for these products to retain their freshness. So, before pouring in your beloved beer, wash it in warm water and pour mild detergent. But avoid using the household bleach on this stainless steel.
Final thoughts
Gone are the bulky coolers and ordinary bottles and cans in storing your beer. The coolers can also do well in preserving the beer, but they are not as effective and compact as beer growlers. The beer growlers are competitive in the preservation of cold and hot beverages. Most of them preserve up to 24 hours for cold beverages, whereas others preserve up to 36 hours. From our reviews, it was only a few products.
We have discussed all the possible features of these products in a bid to help you choose the best. The choice is purely personal. It appears that the capacity of these beer growlers plays a role in the decision-making. It obviously depends on the trip to take as well as the number of days to spend in the outdoors.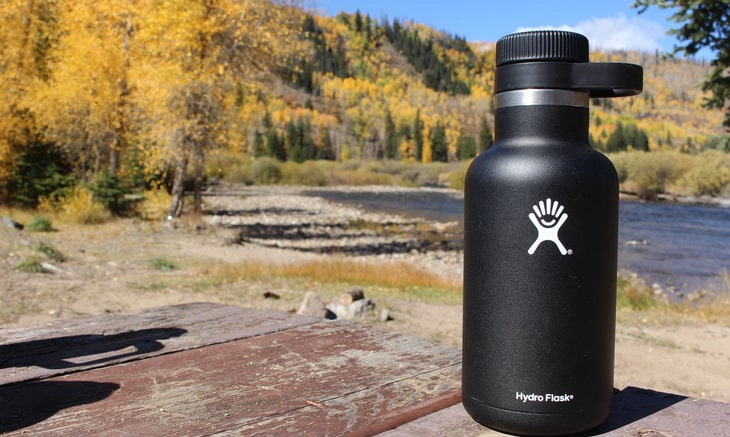 Have you ever used any of these products or any other beer growler? Please share some tips with our readers below.