With a screen or a couple, in everyone's pockets, suitcase or purse and the fact that we remain connected even in motion, it is clear that we live in the gadget age.
Even going to  the backcountry is not the reason to disconnect, unless we have no coverage, in which case we can still play movies, games, and music, and have the interior illuminated at night. Solar tents are the perfect solution and some of the best solar tents can power or charge several devices at a time.
Unlike boring tents which offer nothing beyond just shelter, solar ones are smart devices which will provide many hours of fun for its occupants, especially when it is needed to stay inside, such as at night or during thunderstorms.
A solar tent is the one with which you will never grow bored while on a hiking trip.
There are many things that a solar panel attached to a tent wall can do for you:
Charge your smartphone, navigation, tablet, radio, portable game console, iPod, bike lights or headlights or any other devices
Charge universal size batteries for any of the devices mentioned above in case these use such batteries.
Charge all kinds of rechargeable lamps and lanterns.
Straightforwardly power any of these devices during daylight, even if there is no direct sunlight beaming to it.
Solar Harnessing Tents: Overview
Solar power tents are a relatively novel thing, and the first useful concepts are not older than 10 years. So far, the development of solar tents went in several different directions.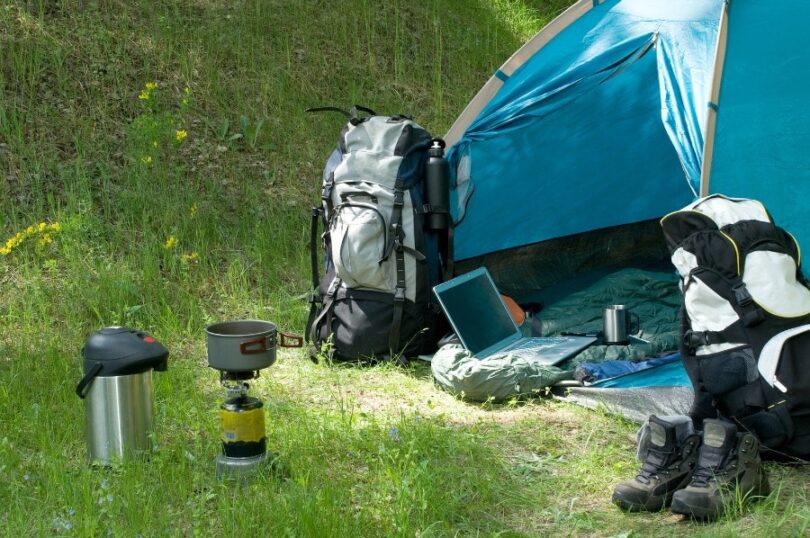 While some tents look like just any other tent with a small, inconspicuous solar collector hanging from the wall, other, more advanced, heavy and pricey tents may have a rigid solar fly, which is fully covered with energy harnessing cells and can really provide enough energy for several devices at a single time and beyond that it is still a fly which keeps the tent protected when it rains or it is hot.
The market of solar tents is still narrow, most of those found on the Internet are basically testbeds and concepts. However, some models have already reached production and a certain number of models exists on the market. Some other manufacturers will make solar tents on-demand.
Advantages Of Solar Power
While in the wild and in need of illumination, communication, information, and entertainment, one will have several options:
Additional battery: Power storage or power banks provide plenty of quickly accessible energy for several devices at a time. However, these batteries are not suitable for trips longer than 24 hours. If these get empty quickly, then they will become useless luggage. Modern lithium-ion energy offers a rather good weight-storage ratio, but you need to keep it safe from wet environments and other extreme conditions.
Portable solar power bank/charger is a bit more convenient solution, but most of these are small and have got weak power harnessing abilities. Small photovoltaic capacity means you will charge your devices longer and even beyond that device, the battery life will be significantly shorter. It may be useful for some smaller devices and is actually useful only during summer.
Hydropower generator packs provide free unlimited power and even greater amounts of power than most solar options. But, even if you know there is a creek next to the place you want to rest, it will take a skilled person to put the whole thing in operation and keep it running. Same goes for wind turbines – which can be even heavier than hydropower and solar power packs.
Campsites with power outlets. If you go mainly to equipped campsites, where you pay for access to a tent place with power supply, you will be fine. But, often you will be overcharged for what you get and what you actually need unless you plan on cooking or playing some really loud music.
Compared to all these, solar power tents are lightweight, easy to deal with and can provide power in most days. Solar power photovoltaic cells can juice up your devices even in cloudy days, though during those days solar cells harness less power.
Solar Power Source Features
Solar Panel is a pad with photovoltaic collectors which collect the energy from the sunlight. The greater the cells, the more energy can be harnessed, even under clouds. Tent solar panels can have a size of a larger phone or a tablet, sometimes these can cover the entire roof. Some tents support multiple solar panels to be attached.
Power Bank  is the power storage of the system. A solar power bank is usually a lithium ion battery with the capacity between 2000 and 10,000mAh or even more. Most camping solar tents have a power bank supporting for around 5,000 mAh of power storage.
You could always charge the power bank at home before a trip, even if there will be plenty of sunlight. Some tents may feature no power banks, though you can always buy one additionally.
Supply wire connects the panel with the power bank or charger unit. The tent needs to support for its tight grip and inconspicuous look.
Outlets can come as chargers, docking stations or LED lanterns. Many tents come with all of these included in the package.
Outdoor gear manufacturers still remain hesitant to release their solar tents or solar kits to be attached to tents they produce. So far, there have been a number of notable experiments and releases, as seen below.
The Best Solar Power Tents Available on The Market
Katabatic Solar Power Tent  by Eddie Bauer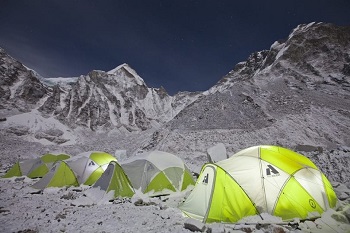 Weight: Around 8 lbs.
Material: Walls: 40D ripstop nylon, 20D polyester mesh. Rainfly: 40D ripstop coated nylon. Poles: Aluminum.
Specific Features: Three persons: 36 sq ft floor area, 92 in height, medium-sized solar panel, additional battery pack.
Best Use: Camping, hiking, cycling
Description: Eddie Bauer, a renowned maker of outdoor gear teamed up with Goal Zero in the development of a high-end tent made from precious materials with high-quality power supply equipment installed. Its stretch hexagon floor area can accommodate plenty of cargo, though there are vestibules available for this shelter as well.
Carefully chosen materials will definitely pay off this tent's not-so-low price. But any enthusiastic and dedicated hiker and backcountry enthusiast will fall in love with its extremely strong construction and featherlight weight even with all that power supply equipment.
The energy pack has a power rating of 18 Watt – not something impressive, but still enough to keep some mobile devices alive and provide for a lamp at night. When there's no sun, there is Sherpa 50 mighty battery pack with 5200 mAh capacity.
This can be charged by a power source or using the tent's solar panel. The battery offers a flexibility to store the energy and use it whenever your gadgets start moaning for more juice. When full, this battery pack can fully charge two average smartphones or similar devices and after that, it'll have enough power for the lantern.
There are no major drawbacks to this tent. This is a small-panel tent which emphasizes mobility and ease of install/teardown.
However, the door should be somewhat larger and there should be some mesh windows too, but that does not affect much the fact this is actually an awesome backpacking solar tent.
Orange Solar Power Tent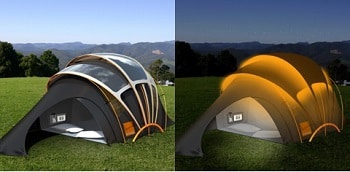 Weight: N/A but quite heavy
Material: Rigid photovoltaic cells, synthetic canopy.
Specific Features: Four persons, photovoltaic 3-segment rigid fly, plenty of LED lights inside and outside, WiFi router, several phone chargers.
Best Use: Festivals, picnics, camping hiking, cycling… provided that you go there with a pickup truck.
Description: Straight from the future, the Orange Solar Power Tent has landed to change your perspective on camping and outdoor gear. If you ever get a chance to procure this tech prodigy you will never ever get back to any other tent, including even solar ones, as long as you do not go where you can't be hauling this tent with yourself.
This tent was publicly available to be rented at the 2013 Glastonbury music festival in the UK. The domes were oriented east-west to allow for the best exposure to the sun. It is very important since British sun is scarce, but many Brits still go camping in large numbers.
That is the core reason behind those huge solar panels spanning three banks of the fly. Thanks to this, inside is a power bar where you can dock and charge four phones or similar devices at a time – one docking slot per occupant.
The photovoltaic cells will collect most of the energy from the sunlight beamed at the tent, leaving the tent interior shaded and chill. The quality of shade and thermal insulation in the heat is much better than in tents made only of the canopy and artificial textiles.
There is not much information regarding this tent, as it is still in development and is not known when it will be released for public.
From what we know, it is bulky and relatively heavy. Owing to large rigid solar panels it hardly can fit into any backpack so even if you procure this geek dream, you will need a pickup truck to move it around without many problems. But once you find a good place and deploy it, you will really feel like home.
Cinch Solar Pop-Up Tent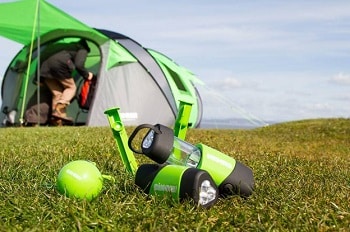 Weight: N/A but quite heavy
Material: High-quality man-made material, black SunGard fly, fiberglass poles.
Specific Features: Two, three or four persons – depending on the version. Canopy extensions, LED lanterns and LED tent pegs. Two doors with storage bays,
Best Use: Hiking, backpacking, camping.
Description: The Cinch Solar Pop-up highlights convenience for use. It can be unfolded or torn down in seconds. When folded it is in the form of a disc-shaped rucksack. Two doors on the opposite sides as well as two windows increase comfort and airflow.
Above the tent is the sun-protecting canopy which leaves the tent's interior in the shade. This solves the problem found in many tents: the fact it is sun protection neglected so walls and even rain flies accumulate the heat which drastically increases the inside temperature.
A big plus of this tent is extending canopy which, when stretch gives two large vestibule areas above each entrance. These combined, extend the total floor area of this tent by an amazing 75%.
The solar power pack comes as an add-on to the Cinch. Its photovoltaic panel is foldable and made to be placed on the tent's wall. But the best part is its huge 13,000 mAh capacity, enough to charge six iPhones fully. There are two outlets on it so you can charge two devices at a time.
The most important are that it provides fair enough juice for two LED torches and LED pegs which are placed outside.
Orange Recharge Pod Solar Tent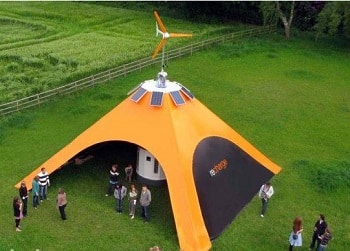 Weight: Too big and heavy, you will need a heavy truck.
Material: Steel frames, plastic walls.
Specific Features: Eight large solar panels, wind turbine, 100-device charging dock, giant battery, giant door, centrally positioned recharging unit. 1000W max power generation capacity.
Best Use: Commercial uses, such as running a campsite or hosting open-air events.
Description Another Orange mobile network's release made for a Glastonbury festival at an earlier date than the aforementioned Orange Solar Power Tent for four.
This is not meant to be a tent for sleeping and resting. Instead, it is a soft-top renewable source power plant which can gather people in need for more gadget juice. It can also serve as a cafe or restaurant which may be partially or fully energy-independent.
Normally, people will want to remain there during the time their devices are being charged. Also, all eight solar panels are facing different directions, so the max capacity of 1KW will probably never be reached.
However, if there is enough wind, it would be able to generate power even at night with its wind turbine standing seven meters (23 feet) above the ground.
Eureka Solar Intent Tent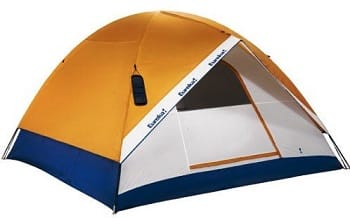 Weight: 16 lbs 8 oz.
Material: 75D 185T polyester walls, 75D 185T StormShield polyester fly, 75D 210T polyester taffeta flooring.
Specific Features: Dome tent, sleeps 4-6 persons, solar-powered interior LED light, highly resistant fly catering even for the window when open. Solar charger with two AA batteries.
Best Use: Backpacking, mountaineering, camping.
Description: At 11×11 foot floor area, standing 6'6 tall at the center, the Solar Intent has inherited much from the Eureka's military tent development experience. With highly mechanical resistant materials on the walls, floor and fly and the StormShield technology, this is an absolutely rigged tent.
Also, it is one of the largest with 121 sq feet floor area (11 x 11 feet), making it one of the roomiest backpacking tents in the market. Eureka guarantees there will be no tear and wear.
Speaking of the energy equipment, the solar panel which is meant to be positioned at the top can receive eight hours of sunlight for an equal amount of LED illumination of the interior using a special lantern developed for military purposes.
Bang Bang Solar Tent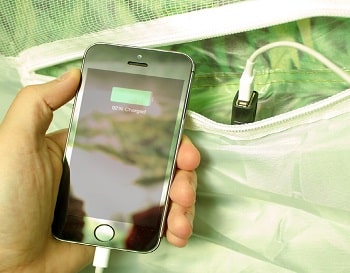 Weight: 11 lbs
Material: Breathable polyester walls, highly resistant ripstop and water-resistant polyester fly.
Specific Features: Tunnel tent sleeps up to 4, unique, inspiring printed patterns, easy mount, 5W solar panel,
Best Use: Backpacking, mountaineering, camping.
Description: The 62 sq ft Bang Bang appeals to young people and families who want to detach from home comfort without disconnecting from the world. It has large extensions and is able to sleep four persons very comfortably.
The light can get through its large doors, which is kept dry under the fly, though much sunlight goes through the walls as well. Six unique patterns will let you look distinctive at every campsite.
The tent comes equipped with a 5000mAh power bank, enough to charge an iPhone twice and let the LED lantern to illuminate the interior for several hours. You will, however, need to buy that lantern separately, this is one of the major drawbacks of this tent.
Getting A Solar Powered Tent
Some of these solar tents are not available and perhaps will never be, these are just prototypes and experimental items not intended ever to be mass produced. However, there are models already marketed and ready to be yours.
Prices of solar tents may be several times higher than for non-solar tents, but a good way to save is to buy a non-solar tent from a manufacturer which can come with a specially designed solar power pack as an option.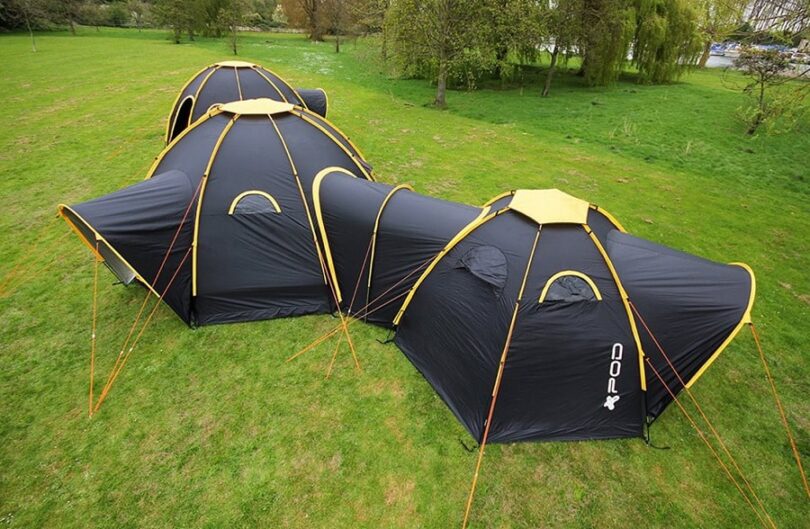 Alternatively, you can make a do-it-yourself solar tent out of any tent you have, by attaching a solar power pack. However, this entails risks of having sensitive electronics damaged by exposure to rain, extreme heat, dust or mechanical damage, and you will not be covered by warranty.
However, even this will be more comfortable and environment-friendly way of camping than using common tents and carrying some large batteries or using your car battery as a source of gadget juice.
Currently, there are many other tents in testing and development, so there are many new items expected to be released for the 2017 summer season.
Stay tuned and inform us about any new release you spot in this promising market. Also, if you have some questions, feel free to leave them in the comments section below.