The Big Agnes is a brand well known for their sleeping bags and their Big Agnes Pitchpine SL 45 Degree Sleeping Bag is extremely popular among hikers due to its lightweight mummy style. The bag comes with an 800 fill goose down insulation and a lifetime warranty. This is a lightweight hood-less bag that weighs only 20 ounces.
It's perfect for warm weather and lightweight backpacking. The sleeping bag is insulated with compressible 800 fill power DownTek treated down, which means it's more resistant to water and moisture and is faster in drying. The half pad sleeve where you can put your pad will keep you from rolling from the pad when sleeping.
The sleeve is rather big and holds all 20 inches wide mummy shaped or rectangular pads. With this bag, you'll have the possibility to use pads of different lengths. The side pockets will make it easier for you to pull your pads and adjust the inflation level.
In order to save weight, the designers of the sleeping bag made it not insulated from your waist up and Big Agnes was the first company that removed the insulation from this exact area to get less weight. They removed the insulation only on some sleeping bags so if you're interested in this brand, but with insulated bottoms included we recommend looking at the different sleeping bag.
Product Specifications: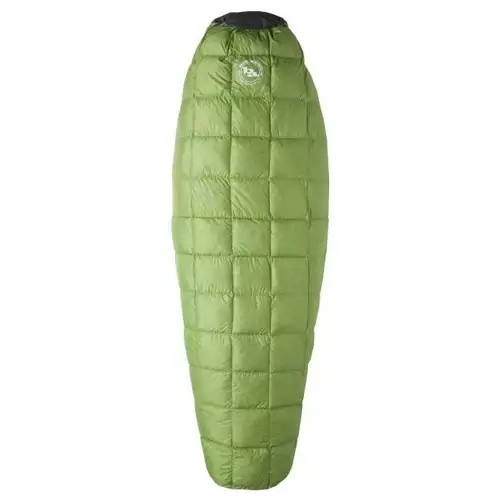 Down 90% / Feather 10%

45°F

Mummy shape decreases weight and packed size
Recycled mesh storage sack & nylon stuff sack included
Fits up to 6'6″ / 198cm // fill weight 12oz / 340g // bag weight 1lb 4oz / 567g // stuff sack size 6″x15″ / 15x38cm // compressed size 5.5″x6″ / 14x15cm
48″ YKK #5 zipper. Mate together left and right zip bag with the same size zipper
With this Pitchpine sleeping bag, as long as you have a good sleeping pad your back and body in general will be protected from the ground that can get cold at nights. The sleeping bag, though, has the lower bottom insulated, which means your feet and legs will still be protected and warm. Besides that, the company offers to choose a sleeping bag with a ¾ or ½ lengths sleeping pad.
Now let us get on with reviewing the Big Agnes Pitchpine SL 45! We hope you find this review helpful and informative! Read on for more!
Review
Packaging
Your brand new Big Agnes sleeping bag will come packed down in a box just bigger than 10 x 10 x 17 inches, and it will weigh just over 1.5 pounds. Once you open the package, you will find your compacted new sleeping bag, as well as a nylon stuff sack and a mesh storage sack. Many recommend airing out your sleeping bag before using it, as it needs air to get more loft.
Filling
Another great feature that comes with this bag is an 800 fill DownTek water repellent down insulation. DownTek is a new insulation on the market, water repellent down, that this brand is using on a variety of their bags by using nanotechnology and a proprietary, and this bag is no exception.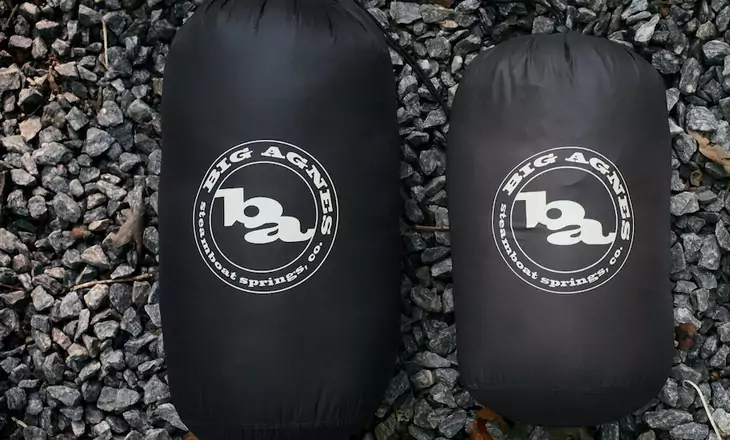 Application process down tag transforms down into a water-repellent antimicrobial and antibacterial down insulation material, so even in the wettest conditions DownTek is going to maintain loft and breathability as well as the insulation value because of its water repelled.
Durability and Design
The Pitchpine bag is available in a mummy shape and in a standard green color. It's available in 2 sizes – tall and regular which makes it easy to fit most people's size. Its lightweight design weighs only 1.4lbs for the "tall" size and only 1.2 pounds for the "regular" size.
The regular size of the bag is 10 x 10 x 17 inches or 5'10" in lengths and with a girth of 67.5' at the shoulders, while the "tall" size is 6'6″ in lengths which makes them both rather spacious. If you're 5'11, the regular sized sleeping bag will work fine for you, if you're taller opt for the bigger size.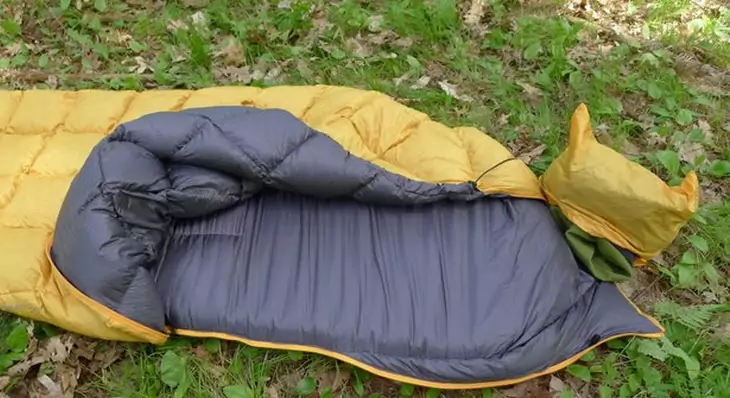 Very durable, this sleeping bag is made without insulation, which means you need a sleeping pad. Made with goose down and feathers, comfort is at a premium. These bags will save weight, but you don't have to sacrifice this bag for the one with a draft zipper, draft collar and the hood on the circle 20 degrees, and the Palmer 10 degree bag. Sure, you'll be the envy of every hiker that has this brand with a UL regular ways, but they'll carry up to 1 pound (4 ounces) weight more than you.
This bag provides a quilted installation, a construction which is ready to be extended to 45 degrees so you'll easily add a super high-quality pad that will no longer make you jealous of the backpacker who carries the fully insulated sleeping bag. All the divide UL bags are available in regular and long sizes and are highly compressible for stuffing into backpacks.
Insulation
Although this bag has no insulation or padding on the base, it's exactly what makes it more manageable and lightweight. Considering the fact that the bag has no padding means you will need to buy a separate sleeping pad. The padding sleeve of the bag accepts sleeping pads of any type that is 20-inch in width, but the company Big Agnes suggests buying a padded sleeve that is best filled with the AirCore 2.5 sleeping pad that is also inflatable.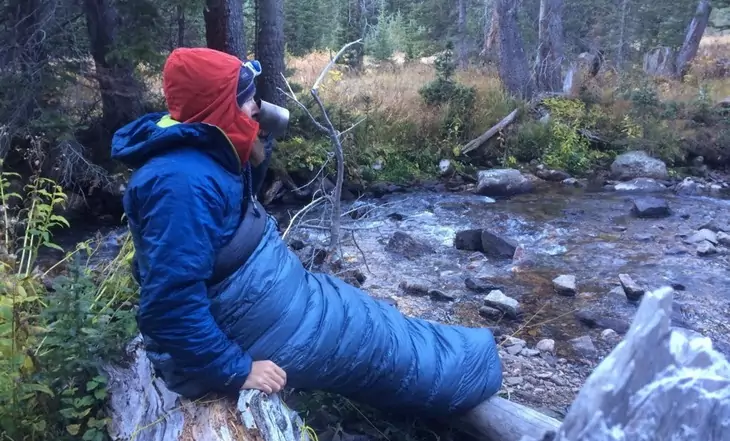 The pad itself is attached to the sleeping bag from the hips to the head and it remains loose so you can roll around with more ease making it comfortable during the night without having your pad escape. In order to prevent it from twisting around, the pad easily anchors to the bag. These ultralight mummy shaped bags are not only super warm and comfortable, but they are also part of the Big Agnes sleep system design.
Additional Features
Other features of the bag include a great pillow pocket where you can insert your camping pillow and interior liner loops where you can add other bedding in case of colder nights plus a zipper system on the left side.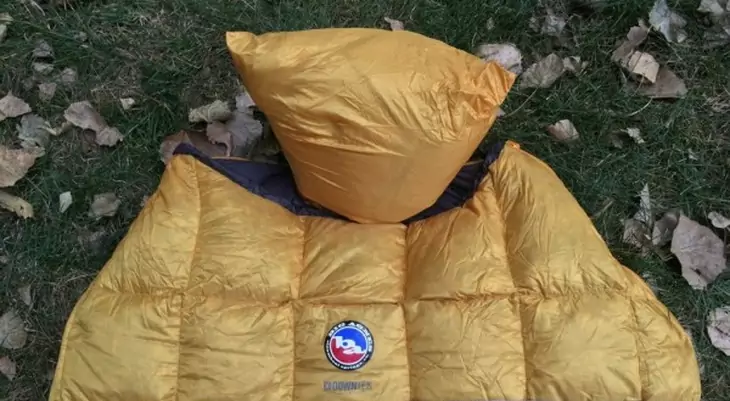 The YKK #5 zipper makes mating with the right-sided bags more easy to create a shared sleeping space.
Manufacturer Recommendations
The materials used for the goose down (the fill) and the low thread count (the liners) provide a comfortable insulation. The same materials keep the bag lightweight enough for the hiker to minimize the room in their backpacks, fold it easily and compress it well in their sack.
Value for the Money and Guarantee
The price of the bag is between $250 and $330 which is a reasonable price for the quality of the bag. The only thing that most hikers don't like it is that the sleeping pad is not included and needs to be purchased separately. The price of the recommended (by the brand) inflatable sleeping pad is an additional $60-80 and depends on of the website.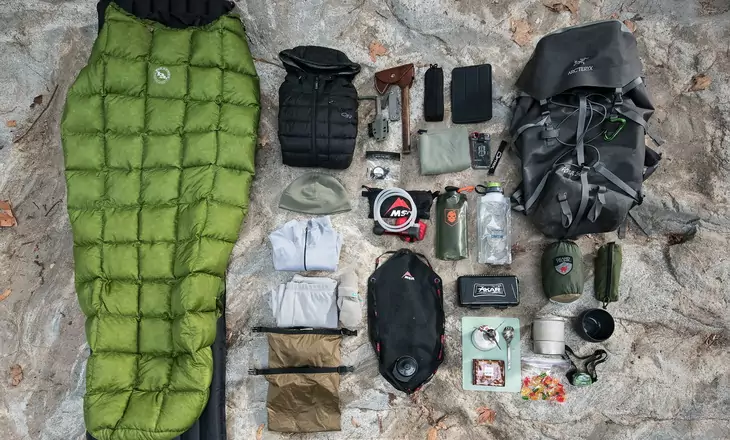 The company offers a lifetime warranty which is great for the hikers looking to buy only one bag that they'll carry on their hiking trips. Although many hikers used it for no more than 3 seasons.
Similar Models / Competitors
We have gathered three product reviews that are comparable to the Big Agnes Pitchpine 45 bag. Take a look at the features and all of the technical parts of these sleeping bags and see if they can match up to the one in which we are reviewing.
Big Agnes Gunn Creek 
The Big Agnes Gunn Creek has an improved design where the pad sleeve and the bag liner are roomier. You can basically drape this bag around yourself, and the free range hood lets you move your head around without feeling overwhelming.
Also, this bag includes an area where the draft is blocked, such as the No Draft Zipper, Wedge, and Collar. The foot box is vaulted and spacious, so you can move your feet around. This is a rectangular shaped sleeping bag that is 70 inches long and can be mated with another matching sleeping bag for a night under the stars for 2.
The sleeping bag also has loops for drying and comes with a stuff sack as well as a storage sack. The synthetic insulation is very warm, and users enjoy the fact that it is made with 97% recycled insulation. The regular size of this bag fits up to 5 ft, 10 in tall and includes a built-in pillow pocket that holds your pillow or a small blanket.
Highly durable, the shell fabric is made with nylon ripstop with a Durable Water Repellent treatment. The lining of the bag is Nylon Taffeta, made with A Shingo Construction and insulated by Hotstream, which used all-recycled polyester for the insulation. Moderately priced, this bag also has quilted construction and fits a 20 inch wide sleeping pad.
Big Agnes Fish Hawk 
The Big Agnes Fish Hawk looks like a blue striped surfboard when it is laid out. With the shape of the contour, you have more room in the shoulder area, letting you sleep on your side.
This bag includes hydrophobic DownTek insulation, which is a mix of down with synthetic fibers. The bag resists water and will still keep you warm and dry inside. Plus, it is treated with Durable Water Repellent. It is rated for 30 degrees F and has an ergonomic hood, includes a draft collar and draft tube, plus a 70-inch YKK zipper.
The pad sleeve is integrated, and the bag has a shell made with nylon ripstop. The lining inside is down proof polyester and it comes with a storage sack and mesh sack, plus a LIfetime Manufacturer Warranty.
Great for camping and backpacking, this bag stuffs down to 8 x 6 inches for the regular version and has a foot circumference of 53 inches with a hip circumference of 65 inches. This surely leaves you a lot of room to move about as you sleep.
Kelty Cosmic 
The Kelty Cosmic is ideal for backpacking in warmer weather, as it is fit for 2 seasons. Able to withstand temperatures down to 40 degrees F, this bag has 600 fill DriDown insulation, that keeps the bag and the user dry while still staying comfortable. It is also treated with Durable Water Repellent.
The dual slider locking zipper is 60 inches and will not snag. The hood is comfortable and includes draw cords so you can hold in the warmth as you sleep. There are no cold spots because of the quilted construction of the bag, trapped the warm air inside.
A foot box at the bottom is spacious and the draft collar seals out cold air and keeps your neck and shoulders from freezing. The shell is made of 50 D Polyester Ripstop with the lining made of 50 D Polyester Taffeta. The regular version of this mummy bag fits up to 78 inches long.
You can pack it down in the stuff sack to a size of 7 x 12 inches, which is small enough to pack up and go without a problem after you had a great night's sleep.
Overview
Although the Pitchpine bag comes in 2 sizes and is great for people who are tall (they have a "tall" size to fit any hikers) this bag, like all Big Agnes bags, has a sleeve attached to slip and has no insulation underneath the bag which means that this model needs a 20' pad that you can buy separately.
If you're going light on a hike and need a large bag that fits easily in your sack this is the one to choose. It's not intended to last for more than three seasons, especially if used in the higher elevations, but comes with a lifetime warranty and does great in warmer weather.
This product is great for using when camping and hiking. If you want something lightweight, easily fold-able than this bag is your perfect choice. It's easy to use, just slide your pad into the bottom sliders. It has 2 sliders, the bigger one where the head is and the smaller one where you can easily stick your arm in there and pull your pad through.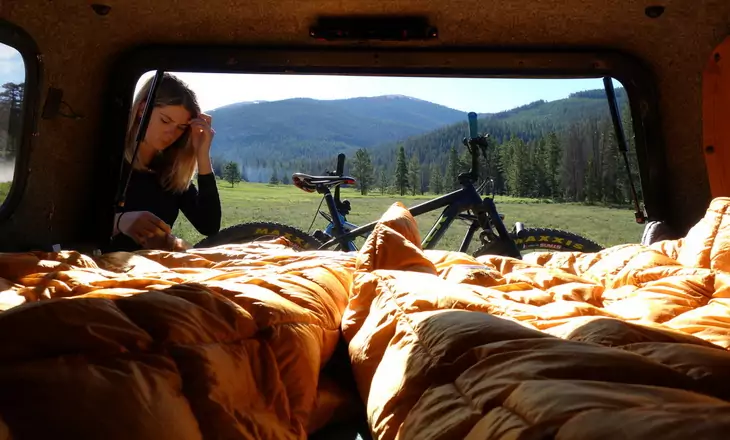 Hold your sleeping bag and roll it over, take your pad, slide it through the bigger pocket right easily, reach through the smaller pocket and grab the rest of the pad. Turn it over and there you go, you're ready to use it.
If your pad is longer than the bag don't worry about it. Most users love it longer because it gives them a little extra room and the opportunity for those who love sleeping on their stomach with their arms locked out in front of them to have a real good night's sleep. In the inside pocket, you can either put a pillow (or use your pad as a pillow) or add some clothes to make it more comfortable.
PROS:
Sleeping Pad Sleeve
Comfortable
Super Light
Packs well
CONS:
Inaccurate temp rating
Quite pricey
While the brand claims that this sleeping bag and the sleeping system will keep you warm for different temperatures and weather situations, the majority of hikers who tried this system agree that the bag should not be used below 45F degrees. All sleeping bags on the market have temperature ratings (it's mandatory for companies by law) which indicate the minimum temperature that the sleeping bag is designed to handle.
They recommend it for early fall, late spring and during the summer months. Considering the fact that there is no standard way to test this system of the sleeping bags (there is no universal method to determine temperature ratings) and people's sleeping habits and physiology is really individualized there are also some hikers who will manage to use this sleeping bag at temperatures below the 45 degrees.
Take this temperature rating with a grain of salt and use your gut as guidance. If you're a person who feels more comfortable at colder temperatures rather than higher temperatures than you're welcome to try it and use it below the "prescribed" 45 degrees.
Big Agnes Pitchpine SL 45
Packaging

Filling

Durability and Design

Insulation

Additional Features

Manufacturer Recommendations

Value for the Money and Guarranty
Summary
This hood less sleeping bag is light in weight, offers maximum coverage for warmth, and is a hit with the camping crowd. With the down fabric, along with the feathers, this comfortable sleeping bag is warm and allows the user to sleep comfortably through the night.
While you do need a sleeping pad, it does fit various sizes of sleeping pads, so you do not have to worry about the perfect size, as it accommodates many. This popular bag does have many features to offer the user, who may have heard about its durability and performance.

Generally, this Pitchpine sleeping bag ranks 86% when looking at reviews on other websites ranked by the lovers of hiking and camping. Considering the fact that it is light and compression gives the opportunity to be easily carried in a backpack, the lack of padding often surprises those who purchased the bag without researching it better.
The materials and design of the bag are the top-notch quality which is expected for this price. Nevertheless, hikers should consider using the bag at lower temperatures than the advertised 45 F degrees, which Big Agnes brand advises for most of their bags.
This Big Agnes sleeping bag certainly stands up to the elements! What do you have to say about this bag? Have you tried it out before? Tell us what type of sleeping bag you use and how it stacks up to this one. Leave your comments below, as we love hearing from you!