Camelbak water bladder cleaning is necessary and should be done after every usage, whether you are utilizing the water bladder for camping, biking or hiking. If you fill the water bladder with some other drinks aside from water, it should be cleaned instantly after use so as to forestall the growth of microbes, discoloration or mold. Fruit juice left in a Camelbak water bladder can serve as an incubator for bacteria and mold and this is exactly why you need to know how to clean a Camelbak properly.
Freezing the empty water bladder between uses is ideal, but you need to be careful because water increases more when frozen. However, freezing forestalls the growth of bacteria if the water bladder is not totally dry before storing it. If any water residue remains in the mouth spout, it will definitely freeze and increase and expand the opening. This can prevent the spout from self-sealing. To avoid this, take off the spout before freezing the water bladder. Water residue left inside the tube could likewise bring about an extension when frozen. Make sure the tube is water-free before freezing.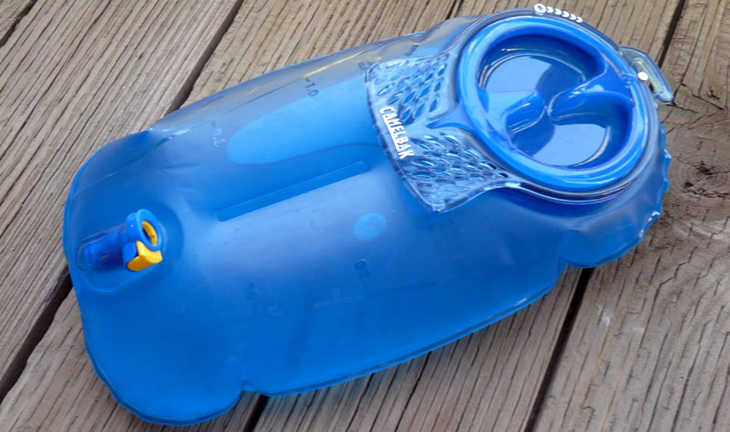 Figuring out how to keep a Camelbak clean, is an essential approach to Camelbak hygiene. Just in case you don't know what a Camelbak is, in this article we are going to show you what a Camelbak water bladder is, and show you the best techniques and methods, with specific guidelines on the cleaning process and storing of a water bladder.
What Is Camelbak Water Bladder?
The Camelbak water bladder is a definitive piece of hydration gear, transforming any pack directly into a hydration bladder. The water bladder framework makes changing reservoirs easy. The Camelbak hydration bladder has a comfy low-profile fit. The hermetically sealed fill port, cuts bulk and weight in your pack, and the fast snap top enables you to fill the bladder with ease.
Remaining hydrated when hiking or camping, is absolutely important. If you turn out to be dehydrated, you are prone to falling sick or even causing harm to yourself. However, you can become dizzy, disorientated and end up getting worse or lost. Anyone who likes outdoor activities, knows how imperative this is, and will be accustomed to carrying water or other liquids with them. However, heat waves, losing your way on a hike, or just neglecting to take a drink, gets out the most experienced outdoors folks at times. Read our tips and guidelines on how to stay hydrated when you're outdoors to stay safe.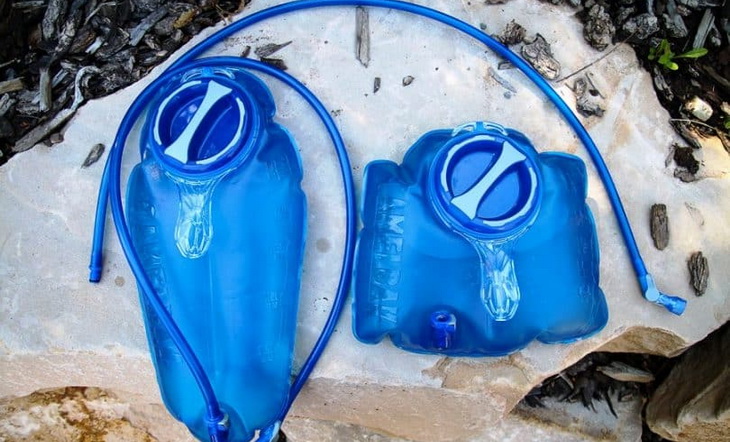 The simplest solution for keeping liquid available to you most of the times, is packing a Camelbak hydration bladder. Normally utilized by athletes, and now by backpackers and hikers. Water bladders concealed in your rucksack, make the liquid available through a tube, all the time. However, could there be anything more awful than slurping down bacteria and mold chunks from the water bladder that has been residing in the trunk for many weeks?
Most likely, but we would prefer not to take note of it. Such water bladders are quite convenient, however, they can be whimsical with regards to sanitation. Leave it sitting for quite a long time, seven days, or since last hiking trip, and the organisms that develop inside could definitely kill a vulture. At that point, what is needed is a thorough cleaning process.
Cleaning a Camelbak Hydration Bladder
Camelbak is a trademarked brand that produces hydration bladders for hiking and climbing lovers. Every water bladder system is intended to enhance the hydration of hikers, with hands-free water capacity. A Camelbak hydration bladder has removable pack parts that require consistent cleaning: the water bladder, mouth piece and plastic hydration tube, and a sturdy textile pack. Intensive cleaning of every component will ensure a comfortable and healthy trip in the outdoors.
Ideally, water bladders would be drained, washed and air-dried, each time you utilize them. Nowadays, packs are removed and hurled in the storage room or secondary lounge of your car, until the next trip, which means it is already stuffed with a large portion of a packet of chews, and some drink the next time you held onto it. Definitely! While that may seem like an efficient win, it actually isn't. Friends don't give friends slimy water to drink—the stale chews are pretty much up to you.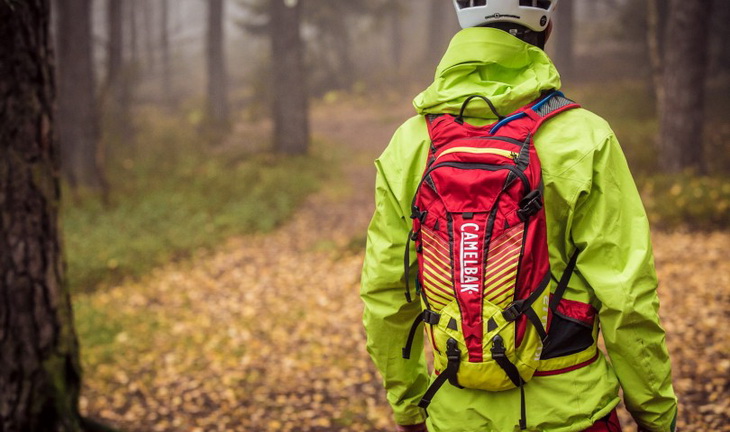 Those stale chunks in your water bladder? They shouldn't be there. However, they happen to be. So do mildews, mold and funky flavors—particularly if you include electrolytes or some other sort of drinks to your water bladder. Through consistent usage, your hydration bladder will amass debris and get to be dirty. The amassing of this debris can bring about mold and can result in sickness. These guidelines will guide you through the straightforward process of cleaning your hydration bladder in less than 10 minutes. Listed below are the materials required for cleaning:
Bleach
Measuring Cup
One-Eighth Teaspoon
Eight Steps to Follow
Step one: Remove the bladder from the Camelbak pack. Rinse with water, both the inside and outside of the bladder with a small drop of fluid dish cleanser and warm water. Don't use hot water. Utilize a froth paint brush or infant bottle to gently wash the inside of the water bladder.
Step two: Wash the bladder with spotless, warm water and do the washing process again. Flush the bladder with water after every cleaning. After numerous cleanings, the water will definitely clear out the soap throughout the entire water bladder.
Step three: Leave the opened water bladder out to air dry. Make sure the bladder is totally dry before putting it back into the Camelbak, keeping or utilizing out on the hike.
Step four: Aerate and disinfect Camelbak water bladder all the time. Douse the unlocked water bladder overnight in warm water with two tablespoons of bleach. The following day, gently scours, wash and flush out the bladder until it is completely spotless. Leave the unscrewed bladder to totally dry.
Step five: Stretch out the hydration tube for cleaning. Utilize a little measure of dish cleanser blended with moderate water and flush out the tube. Utilize a universally handy pipe cleaner or sponge to gently scour the inside of the water tube. Be mindful so as not to penetrate the fragile plastic tube.
Step six: Flush out the water tube with spotless, cold water. For thorough cleaning, drench the hydration tube throughout the night with two teaspoons of bleach and warm water. Completely flush the tube and placed in a place to dry before storage and usage.
Step seven: Hand-wash the fabric Camelbak pack in cool water. Utilize a mild soap to remove dirt, aerate and disinfect. Immerse it in the sink for close to 30 minutes. Flush the pack with cold water and hang dry. Do not attempt to put your Camelbak water bladder in the washing machine, because it will void the guarantee and most likely destroy the pack.
Step eight: Reassemble the already washed, dry Camelbak parts. Hang them on a hanger and keep in a cool, dry place, (for example, a lobby wardrobe) between uses.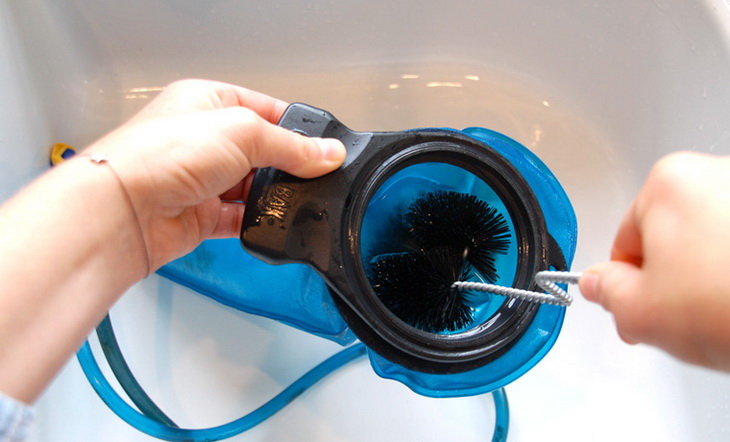 Bleach, White Vinegar, and Baking Soda
This is an ideal way to clean a Camelbak hydrating bladder. Baking soda prevents of foul tastes and odors from the plastic section of the water bladder. Make use of hot water together with bleach or two tablespoons of clean baking soda. Do not empty boiling fluid into your Camelbak water bladder; it can bring about damage. You can likewise include 1.5 ounces of white vinegar substance, which will execute germs, mold, and mildew.
Set up these ingredient solutions and put it inside the water bladder. The baking soda will bubble. After the bubbling has settled, make the solution sit in the water bladder for five 5mins. Lift the water bladder up slightly, over your head, and squeeze the bite valve. Make sure that the bleach moisture is uninhibitedly going through the bladder tube to clean and sterilize it. It is highly recommended to give the cleaning solution a chance to settle in the bladder for no less than 30mins before pouring out the bladder.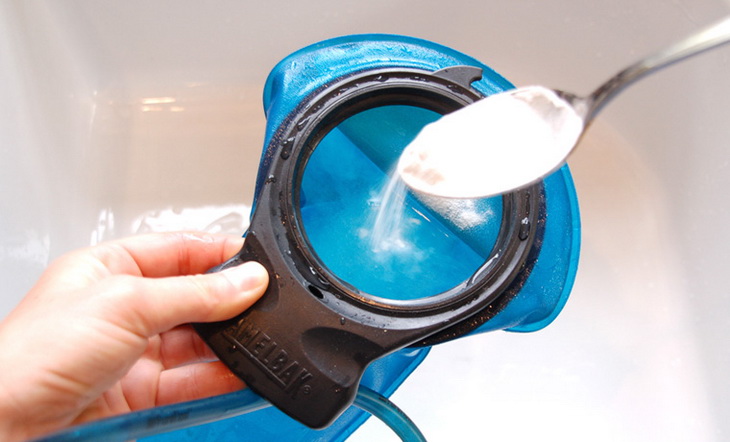 Clean the Camelbak hydration bladder with slightly warm or hot water and a mild cleanser. Always thoroughly wash off any cleaning cleanser or bleach content. If you have Camelbak brushes close by, utilize them to wash your tube and bladder. Brushes guarantee broad scrubbing of all the sections of the bladder bringing about a perfectly clean water bearer.
Air-drying your bladder subsequent to washing diminishes the chances of dampness getting caught inside, which give mold the chance to grow. If after intensely cleaning the Camelbak water bladder, and there are still some mold spots in them, then the Camelbak is permanently defiled, yet should be still safe to utilize.
Most of us are already satisfied with utilizing bleach to clean the water bladder, however, there are some other alternatives out there. Camelbak produces tablets that dissolve in water, like denture cleaning tablets. Most people utilize the baking soda, too. In the next section, we are going to take you through to the efficacy of hydraulics cleaning tablets.
Hydraulics Cleaning Tablets
This is another ideal option for cleaning a Camelbak water bladder. Fill the bladder with moderately hot or warm water; do not use too hot water. Put one cleaning tablet into the bladder and cover the top. Leave the water bladder lying on its backside for close to 5mins. Shake the water bladder for 40secs for mixing and spreading the cleaning solution. Slightly squeeze the nibble valve and softly press the bladder to evacuate any gathered air. From that point forward, fill the bladder bite valve and hose with the cleaning solution. After 15mins, empty the cleaning concoction, and wash the bladder with spotless water. You need to be mindful when utilizing iodine or other disinfectant tablets since their longtime usage could add stain to the bladder.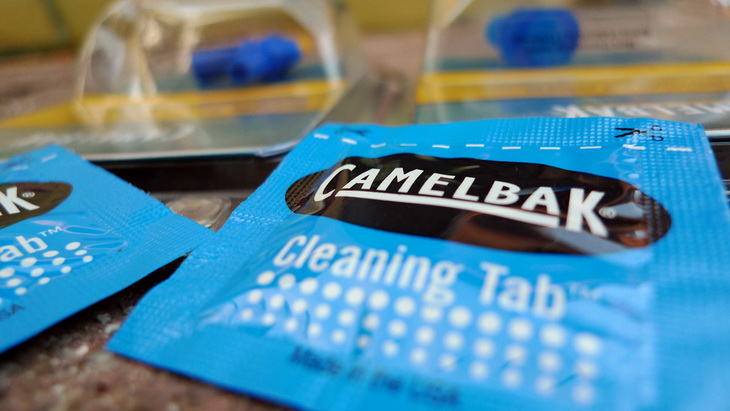 Fill the Camelbak water bladder with warm or somewhat heated water and a gentle washing cleanser; do not make use of boiling water or bleach. Take off the hose away from the water bladder and the nibble valve away from the hose. Utilize a little bladder washing brush to clean the inward area of the hose. Take off the silicone valve cover and the nibble valve. Clean them gently with a mild cleanser. Keep the bite valve and hose in ventilated region to dry; don't place them in direct sun. Embed the drying rack through the top and into the water bladder and allow it to dry in a very much ventilated region.
 Tips and Warnings
Try to use hydration cleaning tablets to help eliminate water bladder microbes. Camelbak water bladder and tube cleaning kits are accessible for procurement. Simply utilize water present in your Camelbak bladder, since sugary drinks enhance the growth of bacteria and therefore makes cleaning a Camelbak a more complex task.
Be cautious when utilizing strong cleaning solutions, like bleach, on Camelbak parts, as strong solutions can cause damage to the plastic coating. Never utilize more than two tablespoons of bleach. Fully flush and wash all hydration areas after each usage in order to guarantee user security and enhance healthy outdoor activities. The components that uncover staining may need to be replaced.
Storing Your Hydration Bladder
The greatest threat associated with a clean CamelBak water bladder is the storage. You can keep a water bladder in a refrigerator, yet after some time, the steady thawing and freezing can harm the tubes and O-rings. What you need to do is to Bend a vinyl-secured metal garment hanger so that the two wings are in the same line with one another. String them directly into the bladder opening and the wings will support the bladder sides separately for drying. On the other hand, clip off the top of the wire in one arm side of the hanger and string the long flat piece directly into the water bladder. Hang it in a warm, dry spot.
After every utilization of the hydration framework, the pack is a no-brainer and we can either hang the bladder to dry or give it a plunge and a fast wash to clean. When dry, it can be easily kept. However, the issue begins with the bladder. While washing it isn't an issue, drying and storing it will definitely be a potential wellbeing risk if not done in the right way.
If you enjoy cycling, mountain biking, hiking or any other outdoors, it is ideal to get a good hydration pack. Conveying your water in a Camelbak bladder kept in your pack keeps you hydrated and your hand free. For the best hydration packs you can use, see our article on this all-important topic.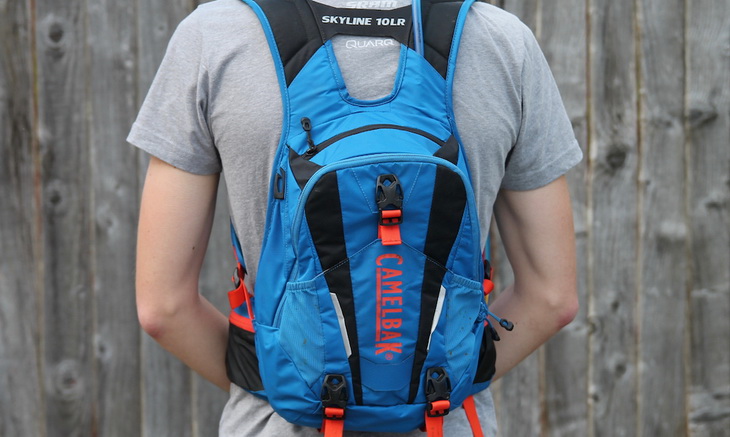 The issue when it comes to using hydration bladders, however, is keeping it clean at any point in time. Attempt as you may, you won't have the capacity to get most of the water out of the bladder when you return home. A breeding ground for microbes is stagnant water, and which will make water poured in your bladder taste crazy and with a possibility of becoming hazardous to drink.
Camelbak water bladders are not cheap, so you would prefer not to supplant them the moment they begin to smell bad. Things being what they are, how would you protect your water bladder and make it safe and clean? Here is a straightforward tip, to stay away from awful smells and more terrible microbes.
Store your Camelbak hydration bladder in the refrigerator. The bladders are not that large when emptied, so you will undoubtedly be able to get some space in your freezer for one. Simply go ahead and place the hose in there, as well. Any water bladder part that may have water residue in it, are required to be put in a chilled storage. The frosty temperatures will eliminate any bacteria and keep eruption of bad smell. Whenever you are in need of your hydration pack, just remove the bladder from the refrigerator, top it off, as you usually do and enjoy how frosty your water stays due to the bladder's temperature. Your water will definitely have a great taste and pure smell, however, only if you are filling your bladder with clean water.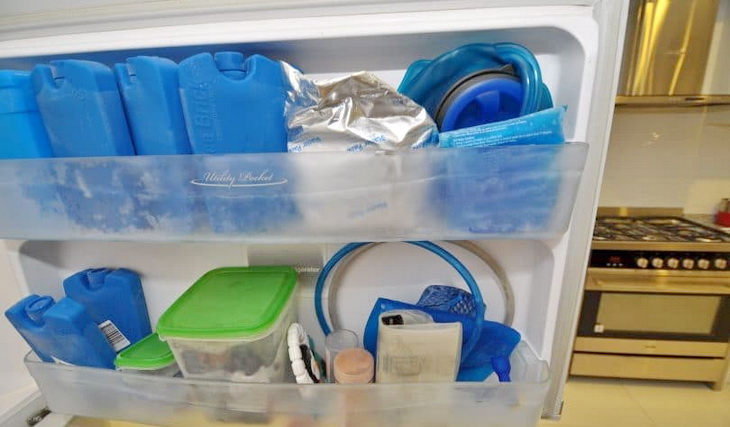 Of course, you can spend the cash on a cleaning gear, however, even those are not ideal for eliminating bacteria and do not guarantee that you get the majority of the water from the bladder once you are done. Also, they cost a lot of cash. You already possess a refrigerator. Storing your hydration bladder inside it is free, simple and an approach to keep it new and fresh.
Wrapping it up
If you want to drink safe and clean water while hiking, biking or hiking, always take the time to clean your Camelbak water bladder by making use of white vinegar and baking soda until it is completely clear and clean.
If you want to employ an ideal approach to clean a Camelbak water bladder with a narrow opening and a longer body, utilize a vinegar and breaking soda solution. A vinegar and baking soda solution blend disinfect and leave the Camelbak water bladder free of mold and bacteria.
In case you are searching for chlorine-free and biodegradable cleaning tablets, make use of Hydraulics Cleaning Tablets. They stand out among the best in keeping up Camelbak water bladder hygiene. These are natural tablets and will keep your water bladder fresh-looking and bacteria-free. Camelbak water bladders are available independently of the entire Camelbak rucksack system, and even with cleaning the bladder frequently, there is also nothing bad, in possessing more than one and exchanging them between the use.
Looking for other ways to store your drinking water? See our reviews of the best water bottles in our previous post – check it out.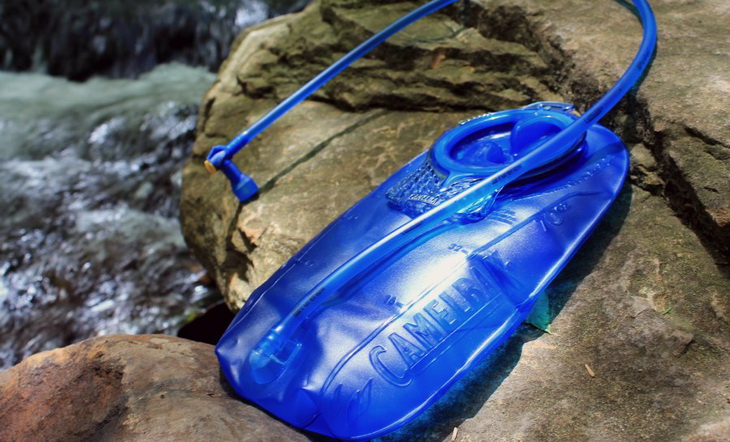 Now that you know everything that is important for keeping your Camelbak clean, we would like to know your experience as regards to the cleaning of your hydration bladder? You can leave a comment in the comments section below, where you can also leave questions if you have any.